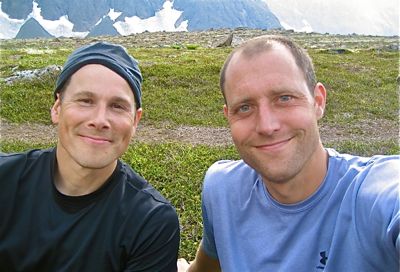 By Matt Evans, Executive Editor, Shout! Outdoor Lifestyle Magazine
"Buzzzzzz," my alarm clock pierces the tranquil morning. I pry my eyes open, hoping I don't really have to get up, but knowing that I do. I swing my feet over the side of the bed and anticipate the pain to come. Slowly I stand up, waiting for the burning in the thighs that always comes after an epic day like yesterday. Only this time, it doesn't come. Yes, I can feel a little fatigue, a little tenderness in the quadriceps, but nothing I would describe as pain: very strange.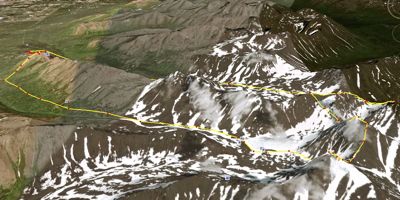 Yesterday, J.R. and I had tackled a challenge that we'd been talking about all summer. We strung together three different 5,000' peaks with almost twenty miles of hiking and a little 2,500' bump for good measure to get back to the truck, all in one, very long day (click on map for larger detail). It was an amazing, sunny, awesome day in the Chugach Mountains. We've done similar elevation and lengths before, but always at the price of walking normally the next day. Yet, this time it is different.
This time, I don't feel near the amount of pain and soreness as I have in the past. I realize for the first time that my workout regime really did work, and is working.
A few years ago J.R. and I began a workout regime that would take us eventually to the roof of South America. Our goal was the 22,841' summit of Aconcagua, one of the seven summits and significantly higher than the 14,000' peaks we'd done up until that time. We followed this workout plan that started out ridiculously slow and progressed even slower for a year and a half. It was designed to strengthen ligaments and joints along with the major muscle groups and thereby avoiding injuries along the way. It was long (the entire plan not each day), and eventually quite hard, and augmented our 50 pound pack climbs that we were doing to ensure being in the best climbing shape of our lives.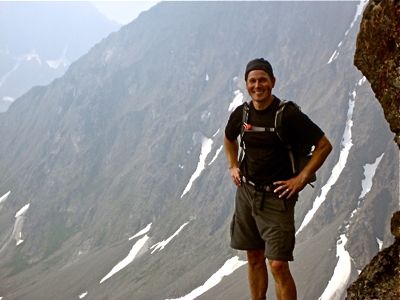 I considered the workout plan a success when we reached the summit successfully and celebrated a nice accomplishment. Reaching such heights helps you to realize from that point forward that everything is different. But what I didn't realize was that this surprising reward awaited me much later.
I continued on a maintenance routine for the rest of the winter without thinking that I was training for anything in particular. But now, for the first time I am really seeing the fruit of my labor. Normally, after J.R. and I went after a big day in the mountains, I would be very sore. I would feel it in my legs and back for the next few days. I thought that's just the way it was, but not this time.
My diligent workout regime, designed to strengthen and sustain over the long haul, has elevated my overall fitness to a level where even a big day on the trail or in the mountains doesn't cause lingering pain or soreness. I still get tired and I still eventually can't go anymore in a day, but with a short bit of rest I am ready to go again.
Just like Sam Eldredge discovered with his buddies on the White Rim Trail in Utah there is joy and pleasure involved in working hard towards a goal. Our society is so focused on comfort that we've lost the very concept behind hard work and challenge as an enjoyable and rewarding process.
Yet true comfort and peace only comes after hard work, and nothing illustrates this truth to us better than our physical bodies. So in addition to the fact that "the soul of the sluggard craves and gets nothing, while the soul of the diligent is richly supplied (Proverbs 13:4)", and that "in all toil there is profit, but mere talk tends only to poverty (Proverbs 14:23)", we also know that "the sleep of a laborer is sweet (Ecc 5:12)." So many places in the Bible remind us that physical strength and hard work go hand in hand with spiritual strength and hard work.
So, just as my maintenance workout plan keeps me in shape and prevents me from getting too sore and tired, a solid maintenance plan of prayer and getting into God's word can prevent spiritual fatigue and pain as well. There are a million daily devotions online and there is probably a small group near you to get involved in: find one and dig in, you too will reap surprising rewards.
---

Ready to get started on your own amazing outdoor adventure? Download Matt and J.R.'s Intense 72+ Week Surprising Rewards Workout and regularly read Shout! Outdoor Lifestyle Magazine to find ideas for the adventure that is right for you.