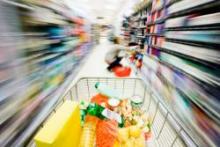 21Jul

Posted by
Arian Moore
Being a mom is having to constantly juggle tasks---fix lunches, prepare for work, and plan activities. Somewhere in between balancing those tasks, we also have to make time to take care of ourselves. Too often moms have to choose between their health and seeing about the health of others. Do I work-out or do I get some work done? The answer for many is work because there appears to be no other choice.
Like all busy moms, I'm always looking for ways to complete more than one task at a time.  Exercise is no different. How can I knock out a work out and accomplish another task on my long list of things to do? In comes the idea of the grocery store workout. I spend a good bit of time at the grocery store each week, averaging at least three visits. So, I figured I could somehow incorporate fitness into my time there.
Now, you can't be shy or crowd conscious with this workout, but it's better to go early in the morning when the store is not as crowded. Here's what I did, I had the baby in the baby carrier, fastened tight (you can also wear a weight vest of at least 12 lbs.) and I parked far away from the store entrance. Here are the step-by-step instructions on how I had a 20-minute workout while also grocery shopping.
Begin with a brisk walk to the door.
Get a cart and your shopping list out and go ahead and get the items you need from the produce section (usually not in an aisle).
Walk briskly down the first aisle then walk back.
Holding on to the cart, complete 20 squats.
Walk briskly down the next aisle then walk back.
Holding on to the cart, complete 30 stationary lunges, 15 on each leg.
Continue to alternate until you go up and down the final aisle (get the groceries you need as you walk the aisle).
Walk briskly to the check-out counter.
After you have paid for the items, jog to the car.
Do squats as you load the groceries into the car.
Run the cart to the cart station to return the cart.
As you walk back to the car, take some deep breaths and stretch.
Now here are some things to consider, to make this workout successful. You will need to have you shopping list ready and know exactly what you need. You also will need to go to a grocery store that you are familiar with so that you don't spend unnecessary time looking for items. Also, it's imperative that you go early because this work-out is nearly impossible if the grocery store aisles are crowded with people.
I know it sounds like a stretch but I really had a good time doing this. My daughter was asleep as I held her in the carrier and the bouncing up and down while I was doing squats and lunges kept her calm in the moments when it seemed like she wanted to wake up. I was not bothered by the few people who were there and looked at me like, "What in the world is this crazy lady doing?" Others smiled at me and my baby, as if they knew that mommy was trying to 'get it in'!
What was most enjoyable was that I didn't have to run home, put groceries away and then head to the gym. My work-out for that day was complete and the ache in my legs confirmed that.
While this may seem a little fanatical for some, the goal is not to make you look silly. The idea here is to help moms like me find a way to make fitness a priority. If this is too much for you, try working out while you watch your favorite TV show. Invest in a treadmill and do intervals of walking and running the entire hour of whatever show you look forward to each week. No matter, what, just find a way to get moving. The fact is, if we aren't healthy, in body, mind and spirit, those that we care about will ultimately be affected.
So, here's to busy moms finding time and being committed to a healthy lifestyle. When we workout we have more energy, and are less stressed, making us patient, fun mommies for the kiddos we love.
---
Use this graphic to share this blog post by Enliven Editor Arian Moore on your social media.