Welcome to Fit For Freedom ONLINE.
I'm pleased you're here to take part in this expanded online Fit For Freedom community. I invite you to take time to explore and use all seven pages. This resource provides a variety of tools you can use with my book, Fit for Freedom. I personally battled many wars with my weight over the years. In my teen years I had anorexia and bulimia, in my twenties and thirties I was overweight. At 37 I decided to turn it around and get healthy, I even became a figure and fitness competitor. To the casual observer I was healthy, but inside I was spiritually bound, longing for freedom.
Without a true healing of the heart and emotions, we only partially deal with our eating and weight issues. We don't get to the root of the problem - sin. Until we encounter the same Spirit that raised Christ from the dead, we will not be empowered to overcome our addictions.
In Fit for Freedom I share my life story with you, completely transparent. I was destined for a life of defeat and food addiction, but God showed me that I am loved, accepted and worthy. I can choose to be free in Him … everyday.
My hope for you is that your understanding of God's plan for your wellness will radically change. As you listen to God's voice and follow His leading, He will design a freedom plan for you. It is a plan that will allow you to lose weight. Become empowered to serve Him with more energy and vitality than you have every experienced in your life.
-Laurie Graves, author, Fit for Freedom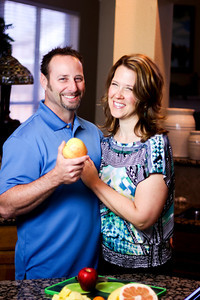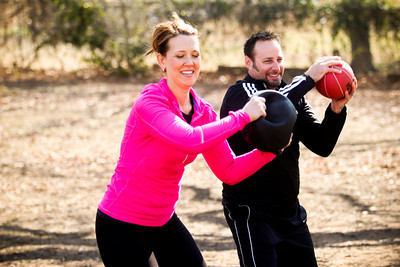 Laurie and Mike both know that freedom comes from being active and eating healthy. Although their workouts and food choices may differ they are committed to support one another with prayer and encouragement as each partner hears and obeys the voice of the Father concerning their own personal health and wellness choices. Contact Laurie
GET THE BOOK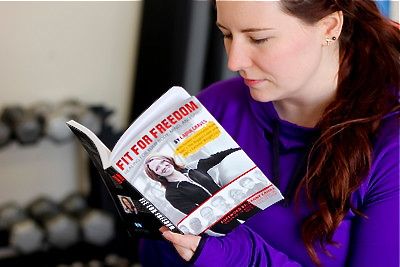 How do you find freedom? Begin by identifying what has you bond. Maybe it's food, attitudes, fear, a busy life or something else. Getting fit is far more than going on a diet, exercising and being positive. Lasting fitness is experienced through the freedom found in God. Fit for Freedom will give you a daily message of hope and encouragement. It will show you that God has a plan and a pathway to freedom that is right for you. Fit for Freedom will help you escape from the legalism of dieting and exercise, creating a more realistic view of how to care of your temple. The teachings in this book will help you get off the merry-go-round of unhealthy behaviors, wrong attitudes, bondage to food, and other addictions so that true health and healing can begin. It reveals that God has the optimal wellness plan for each individual – a plan that is sustainable and enjoyable. ORDER NOW
GET MORE ONLINE
Fit For Freedom ONLINE has been designed to take the message of the book further. Here you'll get nutritional tips, expanded spiritual support, access to free tools, the author's blog and much more. Use the menu at the bottom of each page to navigate all seven pages.

POSITIVE CHANGES GUIDE
This is your destination to get ideas and tips that you can use daily in your Fit for Freedom journey. These Positive Changes are easy to implement. Weather you recently made a decision to get healthier or you already live an active fit lifestyle, these ideas and tips will help you. Look for downloadable resources that you can print and use for individual and group use.

FIT NUTRITION
Recipes, shopping tips and information on how to have a healthy nutritional diet. Laurie has developed this page to help you get familiar with various food groups and to be confident shopping for nutritious foods that will help you have a balanced diet.

FIT FOR MOVEMENT
How do you incorporate worship into your exercise routine? This page features some of Laurie's best body weight exercises that can be done at home, in the office or anywhere. These exercise help you reach your fitness goal and give you an opportunity to worship and meditate with God.

FIT FOR KIDS
Like many mom's Laurie knows helping children be active and well takes effort and commitment. Parents need to be encouraged. That's exactly what you'll find here. Learn techniques to help children live a healthy lifestyle. From tasty cooking to enjoyable play, you'll find easy ways to model your fitness plan and help children make fit choices. This section taps into the rich collection of content found in the Faith & Fitness Magazine Family Fitness Department.

PRAYER PLUS
Scriptures for healing and prayer. Learn how to love yourself, forgive others and be fit for battle. While eating a balanced diet and getting the right amount of exercise is vital to living a healthy lifestyle, prayer is just as important if not more crucial. Your diet and exercise can easily get out of balance if you do not include God. Become spiritually fit and find a strength that only God can give you.

FIT FOR FREEDOM LIVE
The book and online tools are just the beginning.  Bring Laurie Graves and the complete Fit For Freedom message to your church, gym or community. Get guidance to start a small group study, host Laurie for a special presentation, launch a sermon series, do a one-day or weekend event or schedule a multi-week program. Take your Fit For Freedom journey to the next level!