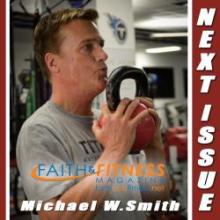 15May

Posted by
Brad Bloom
You'd think, with all the Christian musicians that are in relatively good physical condition and often in great shape, that fitness within the Christian community would be far more commonplace than it is. Perhaps all that singing and clapping and dancing around during the concert gets Christian audiences too winded and by the time they recover they forget just how much the artist or band really was full of energy and moving during the whole performance. Maybe the disconnect happens when Christians go out for pizza and ice cream after the concert. Or quite possibly it is simply easier to admire the musician's physical stamina and choose not to accept their commitment to health and wellness as an example of how God would have us live.
Whatever the case, I personally think one of the main reasons we don't better understand and pursue the fitness that is a significant and important part of life for many Christian musicians is because media rarely asks, explores, reports and celebrates it.
That's why you read Faith & Fitness Magazine. We don't just interview Michael W. Smith and share what exercises he does or what foods he eats. We're committed to telling a much deeper story – one that reflects more fully the passion you already know he has. We help you gain a greater context of how family and friends are important to him. We reveal a physical narrative that helps shape the ministry he does. We do this not just because we think it is cool to help you make connections between faith and fitness but because when you truly make that connection both your physical life and spiritual life will better reflect what God intends for you.
The new June/July 2015 issue of Faith & Fitness Magazine focuses on the theme: Believe It – Preach It.  I think you'll be inspired to see what Michael believes and preaches when it comes to fitness. Take a look at some of the quotes you can anticipate from this exciting interview with Michael W. Smith.
I was always an athlete, but music really captivated my heart. I knew that was going to be a part of my destiny. But I never stopped being active. I kind of have a feeling I'm going to be like that my whole life.
[In the full interview he'll share about his workout routine and how God has blessed him with a unique friendship with his personal trainer.]
Having pizzas on the bus after a show --- those days are over. I think you can do things in moderation. I don't think there is anything wrong with pizza. But you can't eat pizza everyday. The bad is getting worse but thankfully the good is getting better. The devil wants to destroy us. He is reeking havoc on a whole new generation. The way to combat that is to pray.
[In the complete interview available June 1, 2015 Michael details what foods are in his diet and the impact it has made on his weight and well being.]
His story is one of many that will challenge you to Believe It and then Preach It.  Want to share your personal Believe It - Preach It story? CONTACT US.