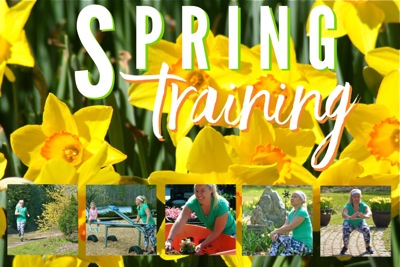 By Angela Edwards, Founder, Biblical Bodies
The sun is shining. The birds are singing. The flowers are blooming. Spring is finally here and we just can't help but get outside!
Health and Fitness became a passion for me when I graduated high school and finally found freedom from my five-year battle with eating disorders. Since then, I have found ways to honor God with my passion. I began an online blog called Biblical Bodies - Scripture and Science Based Health and Wellness for the Whole Being. Through it, I encourage all to have God as the center of their fitness lifestyle. I help guide them on their journey to understand that God created our physical body and He alone knows what is best for it.
5 WAYS TO DO SPRING TRAINING
There are so many ways to enjoy God's creation outdoors. I've organized a spring training program for you that provides variety, fun, vigorous exercise and refreshing spiritual engagement. Do all five to expand how you get active and how you get connected with God and others:
Cardiovascular exercises
Calisthenics with playground equipment
Gardening
Personal reflection and meditation
Interval training
All are great ways to marvel at God's wonderful creation. Click/tap on the numbers below to proceed to each of the training activities. They are illustrated by Mary Kate (see her video below), a YMCA Personal Trainer who recently did all five on location at Brent And Becky's, a beautiful garden in Virginia. Find your own nearby spring training destinations to do each of these training activities. Now, let's take your fitness and faith outside!
Click/tap on the numbers below for each page of the training activities.
Pages