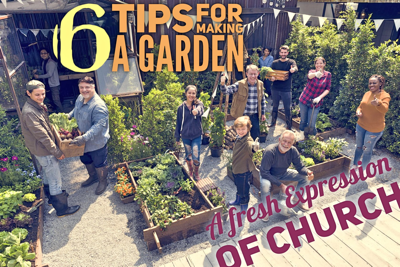 By Kaya Prasad, Fresh Expressions US, student intern from Grinnell College
This is a multi-page article. Use the numbers below to read all 6 pages of this article.
Churches in America often have three spaces: a foyer, Sunday school rooms and the sanctuary. Beyond that many have created additional space to facilitate more interaction and activities like a fellowship hall, a library/bookstore, café, youth center and one of our favorites --- a fitness facility. However, outside the building walls churches typically have a parking lot and yard. A few, often those operating a school or childcare service, have a playground. Additional intentional outdoor church spaces can include a sports field or a quite space like a labyrinth for prayer and meditation. As community awareness and interest in better health and nutrition blossoms, churches are increasingly discovering how a garden is an extremely versatile, practical and welcoming space to build community physically and spiritually.
In comparison to church ministry initiatives that require indoor square footage from an existing building or new construction, a garden ministry has an extremely low cost making it relatively easy to start and maintain. At the same time there is a potential for a high return when it comes to the church's mission to community engagement. Fresh Expressions is a movement that originally started in the UK and has spread to the US. Fresh Expressions is an international movement of missionary disciples cultivating new kinds of church alongside existing congregations to more effectively engage our growing post-Christian society. Faith & Fitness Magazine asked Kaya Prasad to share some guiding principles for those who want to make a garden a fresh expression of church.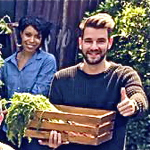 TIP #1:  LISTEN 
If you want to start a community garden that is a garden ministry, it's essential to know the community.  Ask your neighbors what they'd like to see grown in the garden.  Find out what people need, and pray attentively for God to open your eyes and heart to the things He has prepared for you. Leaders like 'Man In Overalls' Nathan Ballentine can help you with this.
Use the numbers below to read all 6 pages of this article.
Pages