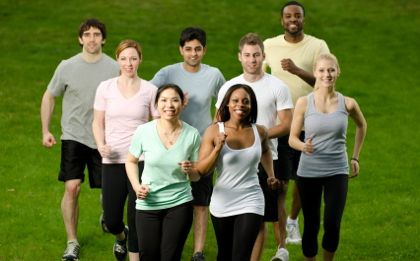 By Brad Bloom

Do your workouts suck? If so, be honest, your workouts probably don't really exist. Hit and miss physical and spiritual fitness don't really accomplish much. In the back of your mind you likely are continually wrestling with challenges that need to be addressed and resolved.
7 STEPS TO FIND THE WORKOUT PLAN THAT IS RIGHT FOR YOU
1. Ask specific questions 2. Explore options 3. Assess experiences 4. Evaluate outcomes 5. Create a plan 6. Stick to it with commitment 7. Revise it when necessary

1. THE QUESTIONS YOU NEED TO ASK
Maybe we think we already have the right answers. Maybe we're just passive. Perhaps we're very busy. Perhaps we just don't know any better. Whatever the case and whatever the reasons, if you don't ask questions you'll never get answers. AND if you don't ask the right questions, you'll not have any chance of getting the right answers. To find the workout plan that is right for you there are four questions you need to tackle. Don't just do this in your head. USE THIS WORKSHEET.
WHAT TIME IS RIGHT FOR YOU? You may not be an early riser but if you have a "9-5" job then maybe the early morning/before-work workout may be most suitable. Morning workouts can help to stimulate your metabolism. It could be that just before or directly after lunch is a better time for you. Things can get busy later in the day, but if that is the time when your brain says, "exercise" then do it then. What days will work best? Maybe getting that top-of-the-week start is critical for confidence and motivation. You might find a Wednesday evening Small-Group faith and fitness fellowship is a new way you can combine Bible study, physical activity and time for community/accountability. Don't rule out the potential for Sunday family fitness.
WHAT FORMAT IS RIGHT FOR YOU? There are so many ways to get active. You likely haven't begun to explore all the options. In fitness facilities there is often nearly an endless variety of equipment. That variety is often there to help people with certain limitations of physical concerns – not everyone can exercise muscles the same way. Don't be afraid to try it all and keep mixing it up. Group exercise programs are endless – from easy to intense. From balls, mats and stretch bands to buckets, tires and ropes, you can find gear specifically for exercise or adapted for exercise. Just keep it safe and functional for your body. Outdoor activities and sports count too.
WHAT LOCATION IS RIGHT FOR YOU? Maybe right in your home you'll get the best workout of your life. If that isn't the case check out the many gym options that range from extensive and amazing to adequate and highly affordable. Churches and faith-focused fitness facilities can incorporate a greater commitment to strengthening your spirit. There are plenty of public spaces like parks, malls and playgrounds. Often you need to find a convenient location that is close to home, work, childcare or your church. Don't rule-out unique, effective and engaging locations that may be further away but worth the drive. Not sure of a location? Go explore and investigate.
WHAT SUPPORT IS RIGHT FOR YOU? If you've professionally studied kinesiology, human performance, nutrition, physical education or rehabilitation or some other exercise and wellness training you may indeed know it all. For all the rest of us – get support! Find a trained fitness professional, personal trainer, a coach, a doctor, a dietician, an athlete, an enthusiast that has been doing it right for a good long time or someone that can give you solid, safe, accurate and result-driven support. Find resources: books, videos, classes, online information, magazines and guides. You need to identify what kind of support you need and then find the right person or service to get that. However, there may be some kind of support you need that you don't readily identify. When you become aware of that, be open to getting that kind of support too.


2. YOU HAVE OPTIONS – EXPLORE THEM
Have you ever been to a candy store, a huge mall, amusement park, a new community, a mega-church or some other place that has a lot to be discovered? Don't go window-shopping for the workout plan that is right for you. Visit, tour and use multiple facilities until you find the right one. Try classes – I once took a free scuba-diving class at a university pool, did a spin class at a Y and tried a free session with a personal trainer. Apply the "you have options" mentality to health care providers, instructional and informational resources, workout and exercise partners, days and times for fitness, equipment and gear, food and supplements and to every other aspect of your physically active lifestyle. Shy? Don't be. You need to realize that you have the license AND the responsibility to find what is right for you. If your vision of God is, "I have to take what I can get", "I'll be satisfied with being sick, in pain, sad, stressed and unhealthy" or "this really isn't important" then know the truth. God gave you a free will. Use it and choose health – choose personal physical and spiritual fitness.


3. WHAT DID I GET? HOW DO I FEEL? HMM…..
To effectively identify and develop the workout plan that is right for you it is important to do more than just try a bunch of places, services, people and options. You then need to assess these experiences. Do this while you are engaged and then immediately after. What are your initial impressions? Consider having a friend with whom you can discuss your first feelings, questions, concerns and ideas. Sizing-up options immediately can reveal factors about your needs and expectations and qualities about you that you may not have fully identified.


4. DOCUMENT AND DISECT
To really evaluate the workout plan that is right for you it is important to not just stick with your initial impressions and perspectives. Make record of your needs and goals, of your experiences and outcomes and both your research and revelations. As you bring all of the insights, notes, observations and intuitions together you can begin to break apart the elements, measure them more effectively, assemble differently and formulate different considerations. You'll likely do most of this evaluation by your self. However, don't be afraid to evaluate with your spouse, friend, pastor, doctor or other person.


5. A SIMPLE PLAN
Completing the first four of these seven steps can take a good bit of effort and time. By now you should have what you need to find the workout plan that is right for you. Instead of making that plan elaborate and detailed keep it simple. When you keep it simple there is a better chance you will stick with it. This is a plan you know will work for you and it's something you want to do. Once you outline the details of your workout plan in your worksheet you are ready to get the membership, purchase the equipment, select the apparel, schedule the time and mark your calendar. But, there is something else you need to do. Share that plan with others. This helps you to take ownership of you personally developed workout plan and celebrate it in front of others. This will give you at least some level of accountability and support, which should contribute to confidence. You now have the workout plan that is right for you. Start doing it and have fun.


6. GO-GO-GO
For everyone, this step is the tough one. Many people start well, with new excitement and hopeful enthusiasm. But, sticking to your commitment will be hard work and take sacrifice. Commitment requires more than sacrifice – we have to learn to have discipline. When you want to quit it is time to ask yourself what it is that you need to quit. As you stick with your commitment you'll find you become, in your own eyes, a top performer.


7. SOMETHING NEW
Inevitably it will be time for change. While that shouldn't happen right away, eventually you'll make changes to your workout plan. That is a good thing. Use this 7-step plan to make adjustments to your workout plan. "Revise it when necessary" is a simple thing to say. But, when is it necessary? Sometimes the need for change is driven by the fact that your workout plan no longer works for you. When that happens, make corrections to fix it. Ideally, make change a positive growth movement that addresses potential. New career opportunities, the chance to get friends or family involved in fitness, improved health and strength, the discovery of great locations or exciting programs… these are a few examples of positive opportunities that can lead to changing your workout plan to grow potential.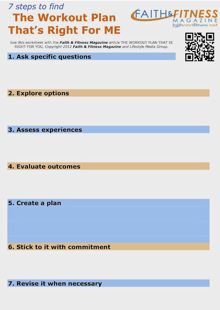 It is easy to get a gym membership, start an exercise class, begin a diet and jump on the latest workout plan bandwagon. If it's not right for you then you won't like it, won't get results or won't keep with it. These 7 steps can help you find the workout plan that is right for you. Get started with your own worksheet then be sure to have fun and tell others.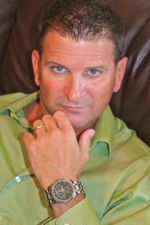 Brad Bloom
is the publisher of
Faith & Fitness Magazine
and
Shout! Outdoor Lifestyle Magazine
. He is president of Lifestyle Media Group, a ministry that develops content to help you connect your active lifestyle with the Christian faith.
Contact Us
to schedule him to speak with your church, organization, group or community.