An interview with DJ and Royal Canadian Mounted Police Officer Kristian Josok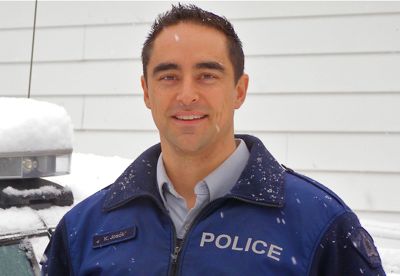 Faith & Fitness Magazine
: Kristian, I first learned of you through a music website. You create some really nice music. I must say though that a progressive trance DJ living in a rural town in British Colombia, Canada first struck me as a bit of a mismatch. Shouldn't you be living someplace like New York City or Toronto?
Kristian Josok
: As a DJ I often wonder that myself. I live in a town of 1600 people. For me, I've always enjoyed small communities and towns, rather than large city centers. The Internet has really helped me to play to the largest audience in the world, and I don't have to leave my studio.
FF
: I want to talk more about your music but since this is a fitness magazine, please take a moment and share some of the ways that you get physically active.
KJ
: Being physically active has always been a part of my life. Not one to sit idle, I have always either been on a bike, on a mountain, in a gym or under the surface of the water. When the snow is on the ground, you can find me riding my snowboard on a steep mountain searching for the deepest powder, and high cliff's. In the spring, summer and fall, you can find me outside running, at the beach or hiking. During all fours seasons, you can find me in my gym covered in sweat.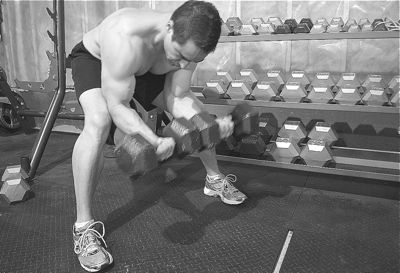 FF
: Give a bit more detail about your workouts in your home gym.
KJ
: My workouts in my home gym have been bit of an evolution. For over a decade, I really enjoyed the classic Olympic bar bells, dumbbells and good old fashioned hard work pushing and pulling the weights with my body. Now however, I have been cross training for the past three years. I started with an internationally recognized training group called CrossFit. Most of their clients are either police officers, fire fighters, navy, army, seals or rangers. These people need to be in top physical condition all the time. CrossFit pushes people to the brink all the time. As an example, I once watched a man do 100 pull-ups all at once. If you want "100 pull-ups", CrossFit is your answer. Recently I have been training with the P90X extreme home fitness program. This program is by far for me the most well-rounded, versatile and results-based program I have ever experienced during my 16-year fitness career.

FF
: Now all that exercise isn't just so you can be buff and feel good. You're a member of the Royal Canadian Mounted Police (RCMP)– a pretty tough job. Describe the kind of work you do.
KJ
: I am a regular member of the Royal Canadian Mounted Police, and am a general duty police officer. What that means is I am working in a local community taking calls for service made by the general public. You would see me out in the public wearing a uniform and driving a patrol car. General duty policing is the bread and butter for any police officer. It is where all police officers get their experience before branching out to specialized sections or different facets of policing. It is also one of the more dangerous and tougher parts of policing. You never know what the day will bring, and what type of calls for service you will receive in the course of a shift. Name the scenario, and chances are I've likely been involved in it. I've seen and done many things that the general public will never have an opportunity to do. The work is hard and often dangerous. It is rewarding however to know that the work and dedication that I bring to the job makes a difference in lives.
FF
: What kind of exercise and training do you find is most useful to build and maintain the strength and endurance necessary to do your job?
KJ
: For the type of work I do, I have found that a program consisting of cross training is most beneficial. That type of training will cover endurance, strength and speed. Many times a police officer is required to react in seconds. It is almost always a physical reaction. A program that trains the fast twitch muscle is important as is strength because it is a necessity for policing. There are many times where physical force is required. A strong body aids the police officer in coming out on top and alive. I have to be prepared for anything during the course of a shift. There are not many jobs out there that require the use of body armor, ceramic plates, a gun and other intervention options to be worn. I have to be at peace knowing those intervention options are there for a reason. It may come down to a vital decision one day to use them. Physical fitness strengthens me thought and mental health to make those tough decisions.
FF
: Share a work experience (perhaps a rescue or dangerous intervention) where both your faith and physical fitness were challenged.
KJ
: Three years ago, I was working in the city of Vernon BC. I was in the downtown directing traffic around a motor vehicle accident in the middle of an intersection. I noticed one driver pull up who appeared to be in distress. Before I knew it, this driver accelerated his vehicle into the intersection on a red light nearly missing other motorists and pedestrians. As his vehicle crossed the intersection I radioed for help, and started running after the driver and his vehicle. The vehicle swerved into the oncoming lane of traffic, drove onto the sidewalk and started running down parking meters. Pedestrians jumped out of the way watching the vehicle turn back toward the road, cross traffic and run down meters on the other side. He then turned suddenly toward the road, and a second intersection. While running on foot behind the driver and his vehicle, I knew this could end either really well or really bad. It was my job however to catch the driver and stop him. I had now been running after the car for two city blocks at full speed. The vehicle started to slow, and I was able to run along side the vehicle, and look at the driver. I called out to him to stop the vehicle, and asked if he was ok. The drivers face still showed me that he was in distress and could not comply. I looked ahead and saw that we were approaching another intersection. This time it was controlled by a light, and the cross street was a busy main road with dozens of cars and pedestrians. I reached and opened the door to the car. I jumped into the driver side of the vehicle, saw that it was an automatic and put the car into park. Once the car was stopped however, the ordeal was not over. The driver began to attempt to put the car back into drive, and continue driving. It was at this time, after having run three city blocks after a car, opening the door and jumping in to stop the vehicle that a struggle ensued with the driver. The driver was suffering from a seizure and was as strong as five men. In the end, the struggle lasted almost 2 minutes, but felt like an eternity. The only reason I came out on top is I pray before every shift, and keep my fitness at a level higher than most members.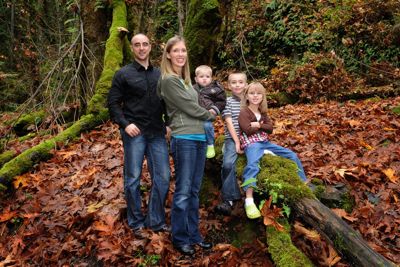 FF
: Work is just a part of your life. You are married.
KJ
: Yes I am. I've been married to my wife Karissa more than ten years.
FF
: What fitness or recreational activities do you do as a family?
KJ
: In the winter, we ski and snowboard. In the summer, we bike and swim.
FF
: In terms of being a husband, father and simply a Godly man what do you feel are the biggest challenges that men face?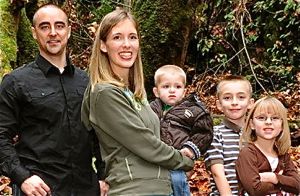 KJ
: To be quite frank, seeing what I do in my professional, family and spiritual life, I would say that the biggest challenges that men face today is leadership. Too many times, men are groomed to not be the leaders whether at home, at work or in the church. Apathetic is a word that comes to mind when I see what men are these days. Men must remember that we are naturally built to be warriors and leaders. It's ingrained into our very soul. We as men need to take hold of our God given responsibilities and lead our nations, homes, churches and places of work.
FF
: I understand your music is one of the key ways you express your faith and positively impact the lives of others. How did your "music ministry" start and how is it evolving?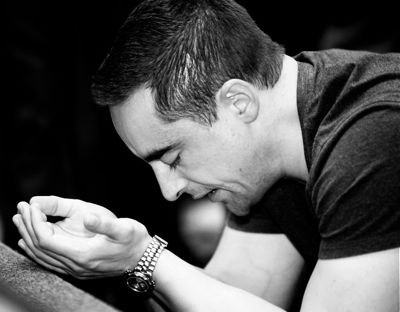 KJ
: My music ministry started off as a hobby about ten years ago. Back then, Internet radio was in its infancy, and I owned and operated an online trance music radio station that had many listeners, and enjoyed many djs from all over the world. It wasn't until 2008 that I purchased a set of turntables and a mixer. At that time, I was new to the DJ'ing world, and set out to learn how to DJ, and what made other DJ's successful. God had put a vision on my heart of an endless sea of people dancing before him and me leading them in worship with my turntables. Since then, my music has been able to touch and reach ten's of thousands of people in a profound and positive way. God has been leading and shaping my music style that touches the hearts of my listeners, and takes them on a journey wherever the Holy Spirit leads them.
FF
: On the Internet you are known as
DJYosek
. Describe your music and tell readers what makes it "Christian".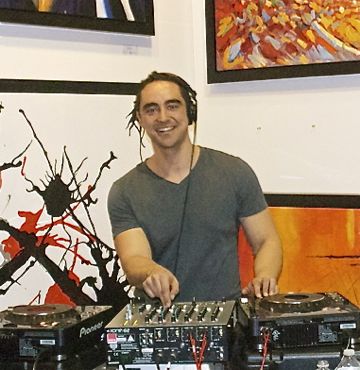 KJ
: The music I spin on my turntables is Progressive Uplifting Trance music. The music is very positive, lofty, and has distinct peaks and valleys that will take the listener on a journey. My mixes have lovely melodies complete with piano, and guitar lines. What makes it Christian is the incorporation of some Christian produced trance music, but also the absence of negative lyrics, and anything that does not bring glory to God. I also will often read scripture out loud while I am in the mix. That makes for a very blessed time.
FF
: Share some of the feedback you get from your audience.
KJ
: The feedback that I receive from my audience is very positive. Many will approach me, or contact me saying that the music has touched them on a very profound level. They've never heard the genre of music prior to listening, and absolutely love it. There's something about Trance Music that affects a persons soul. Once they've gotten a taste of it, there's no turning back! The largest mistake people will make is calling the music Techno music. Techno is a genre of electronica music, however is nothing like Progressive Uplifting Trance. Techno is very fast, has a lot of mechanical sounds, and is generally very repetitive. So when I explain to people what I play, some recoil stating, "Ugh, I don't like Techno at all. It drives me crazy!". I'll respond by saying, "Great! I don't spin Techno". This intrigues them to listen to a mix of mine. After that, the love affair with Trance begins, and the rest is history!
FF
: You cover a lot of territory: family, fitness and career. How does God help you to find balance in all these areas and where is he challenging you to push further and grow?
KJ
: I am happy to report that God has broken me more times than I can recall. In doing so, he has brought me to a place of complete and utter dependence on him for everything. There is nothing that I can do without him. There are times when he uses situations, and trials to mold me into what he wants. It's up to me to live in that, and walk in obedience. In the end, he is glorified in it and my life is blessed because of it.

DISCUSSION QUESTIONS - For Group Or Self-Evaluation


1.How much "territory" do you cover in your life during the week? How do you turn to God for strength and wisdom to do that? In what ways do you want to improve or change your lifestyle? 2. As you listen to Kristen's music, Wide Open Spaces, think about what tools you use to get motivated, relax, free your mind and hopefully refocus and refresh. How are some ways that you can make more time for solitary personal restoration? What are some new things you could try this season in your life to reinvigorate your vision and daily activities? 3. What fitness or recreational activities do you do with your family or friends? In terms of being an important person in the life of someone else what do you feel are the biggest challenges that you face?