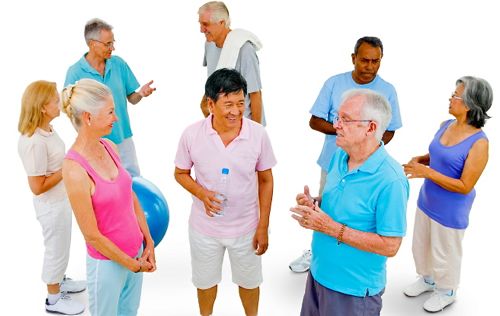 The Boomer generation (now between the ages of 50-68) has driven a lot of changes and trends in the fitness industry as they've grown up.  In fact, you could say that they single-handedly launched a complete fitness revolution in the U.S.  From Jane Fonda-esque aerobics (seriously, leg warmers?) in the 70's and 80's to Tae-Bo and Curves in the 90's to the rise of personal training to mind-body fitness (Yoga, Pilates, Yogalates), bootcamps and now the current crazes such as Crossfit, functional fitness and corrective exercise…Boomers have been behind it all.  And, I predict that as Boomers get older we will see even bigger shifts in fitness especially in the emerging area of brain and body fitness (exercise programs that include both physical and cognitive exercise).
From aerobics to Tae-Bo and mind-body fitness to even Crossfit ...
Boomers have been behind it all.
Now, as the Boomers are in their 50's and 60's their influence is being felt once again in the fitness industry.  Enter Small Group Personal Training (SGPT).  SGPT involves 4-6 clients working out with a personal trainer at the same time and it has been steadily rising in popularity over the past few years in large part because it is a huge hit with the aging Boomers.  I know firsthand the power of SGPT with the 50+ population because it is the cornerstone of my facility, Miracles Fitness, which has specialized in serving mature clients since 2007.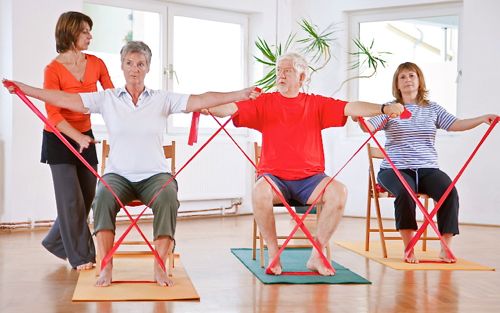 SGPT combines the best aspects of personal (1-1) training and large group exercise while being way more effective than just having a gym membership and is a great fit with the needs and values of Boomers.  It is not surprising that SGPT has been identified by several organizations as one of the top fitness trends today.  For those of you over the age of 50 that have not yet had the opportunity to experience SGPT let me give you some reasons to do so.
Small Group Personal Training (SGPT) involves 4-6 clients working out with a personal trainer at the same time.
Large group exercise programs are usually pretty fun because of the energy that everyone brings to the class.  However, group exercise has its drawbacks.  Not everyone feels totally comfortable in these kinds of large group environments and it is very difficult to get good individualized instruction or to get a program tailored to your needs.  It can be embarrassing to be the "newbie" that doesn't quite know how to do the movements properly or can't keep up with the other participants.  So messing up in front of lots of other "seasoned" exercisers can be discouraging.  If you have a specific issue, such as a knee replacement or low back pain, you might get some quick tips from your instructor but they won't be able to spend any length of individual time with you because they have lots of people to keep up with.
Small group personal training is able to retain the fun of the large group atmosphere while being much more personal and less intimidating.  Let's face it, we have been created to be social creatures but some of us are much more social than others.  I have found that in a small group format the individual can choose how much interaction they have with the other 3-5 people therefore getting what they want out of the experience.  We have several training groups that have been together for several years now.  They are comfortable sharing matters of faith, family, work and whatever else is on their mind because they have forged great new friendships through their time exercising together.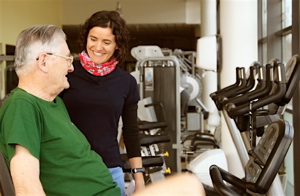 As a comparison, one-on-one personal training is really the most effective way to get the best results.  Having a fitness professional completely customize an entire training program for your individual needs and goals and focus all of their attention on you is definitely going to lead to the most effective program.  However, just as some people don't feel comfortable in the large group exercise class; many people are intimidated by having a trainer focus all of their attention on them.  In SGPT you still get the benefit of the trainer customizing the program for you without having him/her focus solely on you.  This is important because 1) most Boomers have aging-related issues that need to be addressed; 2) Boomers value customization and expect products or services to be tailored to fit their specific wants; and 3) Boomers still highly value social connections.
Another benefit of SGPT is high financial value.  One on one personal training can be very expensive ranging from $55-$100+ per session depending on location and trainer's expertise.  SGPT is typically about a third of the cost of personal training making it much more affordable.  Boomers, as a whole, are financially successful but they look for high value in their purchasing decisions.  They understand that cheaper is usually not better and that it is wise to get high value out of what you pay for.  SGPT is definitely a high value option which is important since we are called to be good stewards of our resources while here on this earth.
From my experience I can attest that the vast majority of mature adults get far greater results from being in a small group training program compared to just having a gym membership.  A gym membership is usually pretty cheap because gym owners know that most people will not utilize their membership consistently.  And when they do exercise they won't follow a solid training program (most just stick to the basics) and won't push themselves.  SGPT provides individualized training from a professional; holds people accountable to their program; ensures proper progression; gets people to work much harder than they would on their own; and is very motivating and inspiring.  I have seen people struggle with motivation and results for months as a gym member only to have both go through the roof after joining a small group training program.
Kristy, for example, joined a six week small group program after having a serious cancer scare and deciding she needed to take charge of her life, lose weight and get healthy.  She had belonged to three other gyms in the past yet never got the results she wanted and never really found what she felt was a "good fit".  At the end of the six week program she knew every employee by name, had made friends in her group and was being "pushed" by the others to stay motivated.  She stuck with small group training and, after six months, had lost more than 50 pounds, ran her first 5k and "accomplished goals I never thought I would be able to accomplish".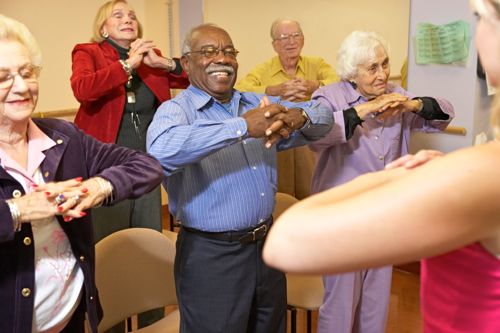 WHAT TO LOOK FOR IN SGPT
So now you need to go out and find a small group personal training program.  However, not all programs are created equal because not all facilities and trainers are created equal.  You want to find a balance between consistency and variety while meeting your individual needs.  You don't want a template program but rather one that takes into account your abilities and goals.  It is common in our training groups for all four participants performing the same move in four different ways because we customize the exercises for each person.  When checking out programs be sure to ask how your individual needs and goals will be taken into account.
The trainer's expertise is critical to your success as a client especially if you are over the age of 50.  In addition to a basic personal training certification the trainer should ideally have advanced training in aging and exercise.  The Functional Aging Specialist is quickly becoming one of the leading credentials for fitness professionals working with mature adults.  Ask the trainer if they have this or another advanced credential that shows they have the knowledge, skills and abilities necessary to work with older clients.
Trainers can also incorporate faith-centered programming like Fit For Freedom into SGPT. Doing this enriches the experience by consistently helping you focus on God.
The personality of the trainer can have a huge impact on your exercise experience.  Trainers come in all shades and varieties – loud and brash; quiet and timid; high energy or low key; funny and lighthearted or a little more serious.  If you've never been in a training program before then you might not know which type you will respond the best to.  Be sure to meet the trainer and chit-chat with them for a bit.  If you don't feel comfortable with them then keep searching until you find the one that is right for you.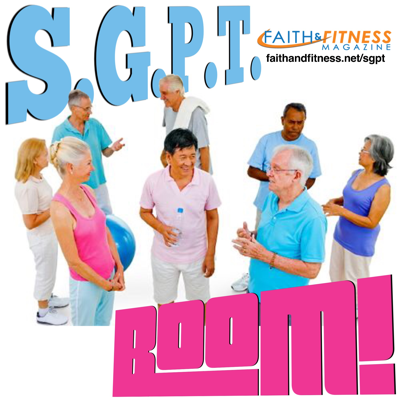 SGPT - A "MATCH MADE IN HEAVEN"
SGPT is an effective approach for fitness that is a great fit for Boomers.  It combines the best of group exercise and personal training.  I highly encourage you to try one out if you haven't already.  It can make a huge difference in your life and might be just the right thing to get you on your path to amazing levels of health and fitness.
Are you in the 50+ category or do you know of someone or work with adults 50 and older?  CONTACT US with your questions for our 50+ Department Editor. We're here to help you and strengthen your church and community.
---
This article appears in the 50+ Department of the June/July 2014 issue of Faith & Fitness Magazine.