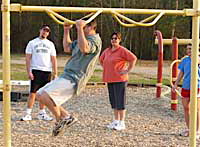 BOOT CAMP TRAINING
NOTE: This and all content in Faith & Fitness Magazine is for information only. You should consult with your own health care provider, personal trainer or other professional for all your health and fitness.
THE FAITH-FOCUSED HISTORY OF MY BOOT CAMP TRAINING
For 12 years I owned a traveling personal training service in Las Vegas. I moved to North Carolina in 2003 where I continued my Christian based business as a way to give my testimony. My Bible traveled with me to each client at his or her home. By the end of the first session I knew if that client went to church and if they were searching for a church home. Each client was always invited to attend church with my family and me. Unfortunately, due to my large territory I was not able to witness effectively.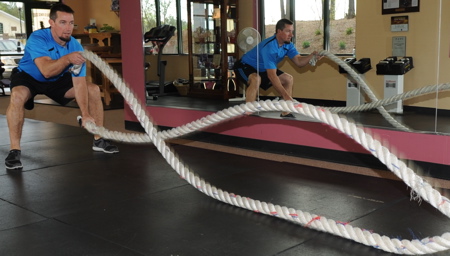 God has always led my training business. Through it I am committed to reach more people each day. So in 2004 I found an empty office space about five miles from my home where I could better fulfill commitment. I first prayed within the empty confines of the space and simply asked God if it is where He wanted me to be. I asked God for wisdom in identifying this as the location for a private fitness studio for ministry to the surrounding community. With His guidance and blessing, things fit into place. The bank loaned me the money to get started the same day I presented my business proposal. The clientele that I was servicing at their home were eager to come to the new personal training studio. Everything about this venture progressed smoothly. I prayed and continue to pray for God's guidance and wisdom.
I have never owned a private facility before and had no experience with what it would be like to have overhead. Whenever times got tough or money got very tight, God always provided. My family has never gone without and our needs have always been met (although not always in the timeline that we wanted). God has always taken care of my family and His business. God is the owner of this business and I am just a steward of it. Today, more than six years later the studio is still here and the ministry continues to grow.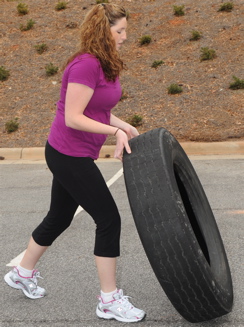 My Bible is prominently displayed at the front of the studio. It is always open and everyday I notice that a different book of the Bible is displayed. I know that my clients are reading through it. When my clients have questions about faith or religion I turn with them straight to the Bible. My Bible has been a guidebook for me and them. Once a week I hold a Bible study in the middle of the studio and I play mostly Christian music at the studio during the workouts.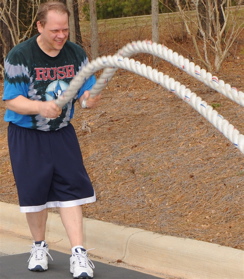 Last year the senior pastor of my church came to me and asked if I could be more active in the Men's ministry at church. I said of course, but I didn't know to what capacity. My pastor suggested a group fitness class as way to minister to the men of the church. Eagerly I created a Christian Boot Camp for the men of the church. We open the boot camp with prayer and read a passage from the Bible. We then discuss the passage. From that, we jump directly into our boot camp training! Each week a different passage of scripture is read and each week the men have a different discussion topic. This has been my first attempt at Christian group fitness training and as always, God has really blessed it.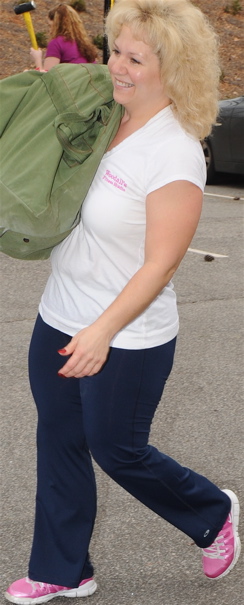 My Christian Boot Camp has lead to other programs being offered at the studio. Now there is a boot camp class every week, with a different emphasis for each class! I now have men and women and whole families coming together here at Woodall's Fitness Studio for fellowship and exercise. Most of my clients are seeking a church home or are just seeking to know God through fitness. I am a firm believer in the important role group fitness can play in training the spirit and creating fellowship.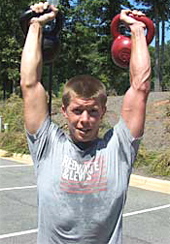 THE DESIGN OF A CHALLENGING AND SPIRITUALLY HIGH-IMPACT BOOT CAMP
My boot camps begin with group exercises and drills focusing on the Woodall's Fitness Methodology based on Underground Fitness and Z Health. Some of the drills my clients love include tire flipping, kettle bell routines, Battling Ropes and body weight training. I end every boot camp with a total group challenge that allows everyone to come together, cheer each other on and compete. My final challenge is a forward facing power rope drill. Each person is striving to have the best time. Whoever has the fastest time wins the challenge!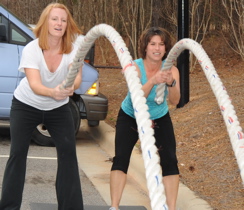 Whole families come together at my boot camps and cheer each other on. These families don't typically see or speak to each other throughout the week because of their schedules. Here at the studio they experience quality social interaction as both a family and as part of the Woodall's Fitness Family.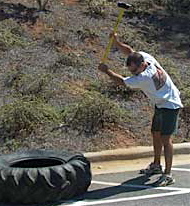 One example of how boot camp style training has changed the life of a client is Janell. She is a teen with low self-esteem who needed to lose about forty pounds. She came to boot camp with her parents but for a long time would not participate in the class. Eventually, she decided to give it a try and get moving. Eventually she won a power rope drill challenge with the best time ever for a woman at my studio. This moment made a huge impact on her and empowered her to believe in herself and commit to her fitness. She is now a boot camp regular and has a standing weekly personal training session with me. The enthusiasm and satisfaction she and her parents gained as a result of her victory have been immeasurable.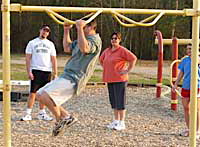 This boot camp model was designed through incorporating what God has shown me through my own family and my church family. It is a dynamic fitness format that helps each individual to be a part of the whole group. Boot camps are effective in strengthening the experience of family and fellowship through movement. By everyone training and experiencing the same challenge within the workout they gain greater self worth and empowerment. Jesus Christ is the example by which I live and train. Christ's teachings are a key knowledge base at these boot camps, which help shape the lifestyle of all who participate. These boot camps are built on the foundation that faith and fitness go hand and hand --- they are inseparable.

James Woodall
is a certified personal trainer and owner of Woodall's Fitness Training in Clayton, North Carolina.
Visit his website
to learn more about boot camps, see video clips and get support to start a boot camp in your community or church fitness facility.

Jason Rhymer
, is the Training Department editor for Faith & Fitness Magazine. He is the president of Rhymer Fitness and a Z-Health Level IV Trainer. Drawing on science, faith, creativity and his personal fitness background, Jason meets the physical, spiritual and social needs of our reader.
CONTACT JASON
with training questions or ideas for our Training Department. For more training ideas read
Jason's Blog
.