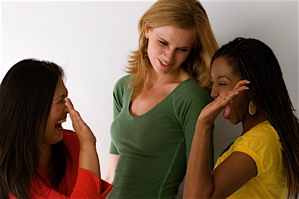 The experts say that an effective fitness routine is one that gets your heart pounding, challenges your muscles, and helps increase your strength and stamina. But even the best workout won't do much for you if you'd rather do almost anything else—wash the car, do your taxes, visit the dentist—instead.
If you want your fitness routine to succeed you have to find a program that you look forward to doing. You want something that is fun and also fulfilling. Helping people have fun while growing physically and spiritually stronger has been my mission for the past five years. It is a core value of my exercise program, Faithful Workouts. Through our classes, DVDs and TV programs, we challenge students to push themselves hard—and to have fun doing it. They feel spiritually uplifted after each workout and can't wait for the next class. Do you feel that way about your exercise routine?

SHARE FAITH & FITNESS MAGAZINE - GET A FREE DVD
The Faithful Workouts DVD is a great group exercise resource. Now you can get a copy free when you send us 10 or more names and email addresses of people that want to be subscribed to the free Faith & Fitness Magazine Newsletter.
Simply use the
CONTACT US
form to enter the names and email addresses of at least 10 people from your church, group, fitness facility, family, workplace, club or your other personal contacts that want our free newsletter. Then be sure to include your full name, phone number and mailing address where you want the DVD shipped. We'll add your contacts to our mailing list and get the DVD shipped to you. Let your group enjoy the benefits from our free monthly newsletter and fun exercise with your free Faithful Workouts DVD. (Submit email addresses for only those people that voluntarily want to receive our monthly newsletter.)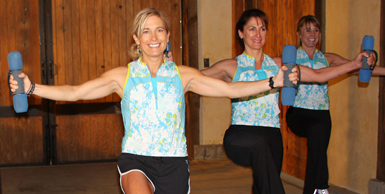 If you look toward your workout time with dread instead of excitement, it's time to make some changes.
Ask yourself what you really find enjoyable. Is it spending time with your spouse, your kids or your friends? Being outside on a sunny day? Listening to great music? Feeling closer to God? All of these things can be part of your exercise routine. Incorporating them into your workouts will make exercise seem less like a chore and more like the best part of your day. Finding the "fun factor" is key to having good personal fitness and a spiritually fulfilled life. Here are some ideas:
BUDDY UP
One of the best ways to add fun and accountability to your workout is to do it with others. You'll look forward to seeing your workout buddies, and you won't be tempted to skip a session if someone's counting on you to show. I've seen many examples: A mom who works out every morning with her four children, a 78 year-old couple who work out together, and, one of my favorites. a live-in caregiver who workouts beside her 80 year-old client, marching in place to music.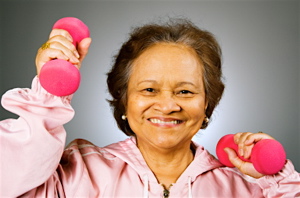 Exercising with other people can also motivate you to push yourself a little harder. I continually hear people say they go to group fitness classes or work with a trainer because they work harder than they would on their own. Some people find that joining a basketball league or another kind of team really spices up their workout and adds some friendly competition to their routine. Other people like to have "races" with their kids on a running trail or in the pool, or tackle new athletic challenges like rock climbing with a spouse or buddy.
If the thought of working out with others sounds fun, then make it happen. One woman told us how she invites other moms from her neighborhood to her home for a workout. She was amazed at the response she received. They now have a group getting together several times a week. They exercise together, laugh, encourage each other and sometimes get into wonderful discussions about family, faith, and life in general. The camaraderie leads to accomplishment, which then leads to results. Talk to your church about hosting an exercise class. It is a great way to connect with people who need a lifestyle activity for social interaction. Such a class can ultimately be an entry point for people to discover a Sunday church service.
MIX IT UP
Boredom is one of the top reasons people quit exercising. Variety doesn't just add more fun to your fitness time it also makes your workout more effective. The scientific reason behind this ever-changing exercise strategy is called "muscle confusion". Doing this keeps your body "guessing" instead of working the same muscles in the same way every time you exercise.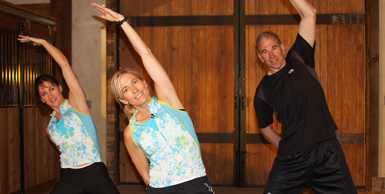 It can be challenging to continually make changes to your routine, but with a little imagination you can keep your muscles on their toes so to speak. For instance, if your real love is running or biking, you might want to mix it up by adding strengthening moves and upper-body conditioning to create a total body workout.


TURN IT UP
Listening to music can have positive effects on a person — both physical and mental.
Boosts athletic performance - Studies show that people who exercise to music report significantly less fatigue and can exercise longer than those who work out in silence. Music can also trigger other changes, including improved breathing and better posture, which make your workout more effective.
Reduces stress - On the flip side, calming music can relax your muscles and lower your heart rate, breathing and blood pressure, all of which can be negatively affected by stress. Listening to music has also been shown to reduce pain and induce profound emotional responses.
Makes you happy - Music can alter your brain waves and stimulate your body to produce both serotonin - the "happiness hormone" and "feel-good" chemicals called endorphins (the ones behind the "runner's high"). Thus, it can elevate your mood, with the effects lasting long after the music stops. Music therapy has been used to treat all kinds of psychological and emotional problems, including depression, grief, autism and Alzheimer's disease.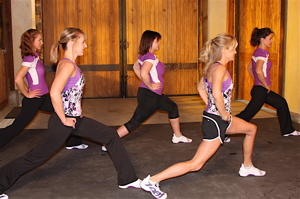 Society can put pressure on you, telling you to hit the gym for all the wrong reasons: "You're not thin enough," "You're not good enough," or "You're not attractive enough." However, when you put your focus on doing your best for God, exercise is more enjoyable, rewarding and effective.
When you put the fun factor in your exercise routine you have the potential to enhance your overall day. When you listen to the words of faith-building songs you can focus on your relationship with God. This can help you connect with Him throughout your daily activities. Essentially your workout helps you to put your focus where it belongs – on God. This will improve your overall health, your physical appearance and reduce your stress.
No matter how fun your workout strategy is, there is no better motivation for complete fitness than having vision for your life. Seek God for that vision. With your body and spirit in good shape you can better attain that vision.
Keep your goals in focus. Go find a workout that excites you—one that you can't wait to do every day. Then --- go have some fun.



Michelle Spadafora
is the founder of Faithful Workouts. She has worked in the fitness industry for over 20 years. Faithful Workouts is on Direct TV and Dish Network. She leads classes in Colorado where she lives with her husband and three children. The program helps you find variety in exercise with a TV program that offers a new routine every morning. The DVD workout, challenges all the major muscle groups in a single session. The program incorporates Christian music to motivate and deliver a spiritual boost. For more information go to
faithfulworkouts.com