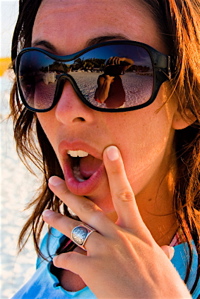 PUBLISHER'S LETTER
Women, have you shown off your breast implants lately? Men, under your priestly cassock are you wearing pants? The close connection between the physical body and the spiritual condition of humans has recently become the subject of media reports and public opinion. Ms. California, Carrie Prejean and South-Florida Catholic Priest, Father Alberto Cutie have helped us realize how little we understand yet how much we want to know about the relationship between God and our physical bodies. If the paparazzi had been around to take pictures of Jesus nude body hanging on the cross, how would your vision of the Son of God be different?
Christians are quick to quote a Bible verse that says our bodies are a temple of the Holy Spirit intended to bring honor to God. Nice, quick, cliché. But like Carrie and Alberto you may have found that having God as the vital essence of your life isn't without challenges. These bodies that God gave us have more curves and hot spots than we can see and touch.
Carrie Prejean publicly expressed her position on marriage during the 2009 Miss USA pageant. The controversy over her stating her perspective and connecting that with a Christian worldview was further fueled when a few days later photos of her appeared partially nude. Father Alberto Cutie, known as the good-looking "Father Oprah" for his relationship advice on television is on a leave of absence after photos surfaced of him with a woman on a beach. Both are examples of how people of faith contribute to the ongoing human pursuit to understand the relationship between body and spirit. We can do so much with our bodies. What does God want us to do with them?
What do you do with YOUR body? The opportunity you have is to become engaged in our world far beyond the public debates that try to determine how we as humans pass judgment on others. Your responsibility in life is to respond to the "Twitters" God personally communicates to your heart. Would you, like Prejean and Cutie, risk losing your crown or take a leave of absence if it meant you could, with some pain, grow in your relationship with God?
It certainly would be convenient if you could lose sin and look righteous without changing a thing. Just take a one-a-day holy pill and be God-like. Don't laugh, spiritual living is often promoted, pursued and understood in the same manner as hyped diet pill solutions.


But --- you know better. No doubt when you pursue God with genuine passion and honest commitment, someone will spin it as scandalous. Don't be afraid to show 'em what-cha got. Let there be nothing left to the imagination. There are tools to measure your physical and spiritual fitness. Use them and achieve growth. Deep down we all know the quick fix isn't real. A snapshot doesn't tell it all. Let's pursue to live life with integrity.
Train strong,
-Brad Bloom