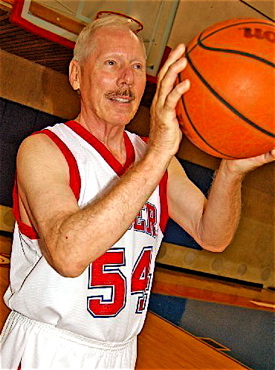 As a small boy of twelve living in the Appalachian Mountain coalfields of Southeastern Kentucky in 1947 I did not have many opportunities to possess many material things in life. A bag of colored marbles and twenty-two pennies, which I must have counted and recounted 500 times and arranged in dozens of stacks and formations, pretty much constituted the extent of my personal property.
So, when my big brother, Oscar, who was about fifteen years older than me, showed up one day at my home at Vicco, Kentucky, with a shiny new bicycle in the trunk of his car and presented it to me, it was like I had won the lottery. That bike became the centerpiece of my life for the next several years. I must have put 5,000 miles on that two-wheeler. It also established Oscar as my hero, a man I would look up to for the rest of my life. Oscar went on to become a Baptist minister, serving God for nearly half a century at churches in Ohio and Arkansas.
Oscar has been gone for many years now, but the impact of his teaching lives on through me. He was the man who had the patience to sit with me for hours, explaining the workings of the Bible, the incredible life of Jesus Christ and the infinite power, knowledge and glory of God. His time with me led to me accepting Jesus Christ as my savior and becoming one of God's faithful servants.
Like all of us, I have sinned many times and regret each and every one of them. As a child I remember stealing a small $2 pocketknife from Martin's Department Store in Vicco. This nagged at my conscience for years. Later as an adult I wrote a check for $10 and sent it to the store, explaining I was paying for an item I had taken years earlier. One time in elementary school I lied to my teacher about cheating on an examination. I saw my teacher many years later and admitted my indiscretion and explained I had been so ashamed of myself I had never told my friends I had made 95% (an A) on the test. I learned that a grade not earned is a grade not deserved and is a hollow victory. I try to carry these principles with me in my adult life as I continue to frequently seek God's forgiveness.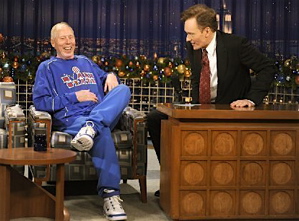 It is a shame that my big brother could not have lived long enough to see me emerge as one of the world's most famous people in 2008-2009 as I became the world's oldest college basketball player at age 73. My story has been told in nine national TV broadcasts, hundreds of newspapers including the New York Times and New York Daily News and numerous magazines including Sports Illustrated and dozens of radio stations. My life as a septuagenarian college basketball player at Roane State Community College in Harriman, Tn. (near Knoxville), has been reported many times by the media, but here is a brief background on how this came about: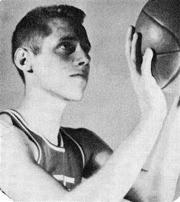 After becoming a star high school basketball player at Dilce Combs Memorial High School at Jefferson, Kentucky, near my hometown of Vicco in 1954-55, I received several college athletic scholarship offers and decided to attend Lees Junior College at Jackson (about 35 miles from my home). I was somewhat of a star at Lees in my freshman year and served as the vice president of my freshman class.
My sophomore year began with the hopes I would be even more of a star and perhaps win a scholarship to my dream school, the University of Kentucky. That never happened because one day about a week before the opening of our season in October 1956 I was summoned to President Robert Landolt's office and advised I was being accused of spraying shaving cream into the coach's shoes in his office. I did not do it and denied the whole thing but nonetheless I was kicked out of college. My dream was shattered. I joined the U. S. Air Force, where I spent four years. After discharge, I began a journalistic career that lasted some 38 years, with my retirement in 1998.
My dream of playing a second year of college basketball had been put on hold for 53 years because of my need to support a family. But in the fall of 2007 after many workouts at my church, Central Baptist Church of Bearden in Knoxville, Tennessee, I had proven to myself that I could still play the game pretty well and got the incredible notion to contact eight area college basketball coaches to see if they would give me a chance. Not to my surprise, weeks went by without even so much as a "thanks, but no thanks" note from anyone. After all, I thought, why would any coach be interested in having a slow, 73-year-old white guy on their team. Not exactly a secret weapon, that's for sure.
Finally, Roane State Community College Coach Randy Nesbit, emailed me and said he was willing to talk to me about my proposal. I was overjoyed. Perhaps someone would give me a chance after all. After considerable discussion about how tough college basketball and college classes likely would be on me and getting my vow I could live through it all, Coach Nesbit decided to give me a chance to make his team. But it was too late to enroll for the 2007-2008 team. I would have to wait for 2008-2009.
I spent the summer of 2008 working out at Central Baptist Church of Bearden and playing Senior Olympics basketball with a 70-74 year old team, the Smoky Mountain Papas, traveling around several states competing with other basketball players in my age group. I won six team and individual medals that summer, including the Tennessee Senior Olympics Free Throw Championship gold medal by hitting 19 out of 20.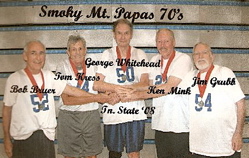 I also spent many hours working out at Central Baptist Church. Among those who encouraged me along the way was my pastor, Dr. Larry Fields, and my Sunday School classmates such as Dick Biggs, Ernie Miller, Bob Spurling, Al Wilson and my associate pastor Rev. Archie Fendley.
I enrolled at Roane State as a fulltime student in August 2008 and incredibly wound up actually making the Roane State basketball squad. I had envisioned some local media becoming interested in the facts but I had no idea the story would become a worldwide point of interest. As the Roane State season opened with me actually playing and scoring in the team's first game, my 53-year-old dream had reached fruition. Decades of frustration and disappointment had ended.
Obviously, I was not the most talented player on the team -- indeed, far from it. I was on the end of the bench, entering games in which the outcome was pretty much already determined. But that was okay with me. I understood that was to be my role. But I did get some minimal playing time in seven games during the season, scoring a total of 5 points and leading the team in free-throw shooting percentage at .750.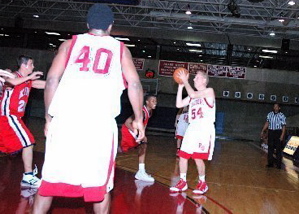 Instead of giving the old guy a break opposing college basketball teams started targeting me when I came into games. They apparently did not want the embarrassment of a 73-year-old scoring against them. One opposing coach was quoted in the press as telling his players: "If the old guy scores, you are all walking home!" As it turns out, that was one of the games in which I scored. I don't think those players had to actually walk home, though.
As I moved through my incredible season of 2008-2009 I realized what a tremendous break God had given me. We are all guilty of sin, and as Paul says, I sometimes felt I was chief among the transgressors. I frequently talked to God about the tremendous difficulties I faced as a greybeard athlete in a young person's game.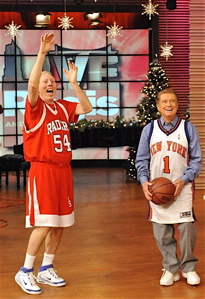 I regularly sought God's strength and guidance and prayed that He would let me get through the extremely strenuous practice sessions without physically breaking down. My knees ached, my legs ached, my back ached, my feet ached -- I often found myself barely able to walk to my little truck after basketball practice. But I told God that if He helped pull me through this valley of pain I would try to serve Him as his personal ambassador, acknowledging that only through His love and grace was I able to make it through the year. God pulled me through day by day and I gave Him thanks each day. I know that without His love and grace I would never have been able to make it through the season and I have continued at every opportunity to spread His glory and magnificence around the world.
I hope that God and Oscar sometimes take time to look on me and say: "Good job, old man. We knew you could do it."


Ken Mink
lives with his wife, Emilia, in Knoxville, Tennessee, where he is the editor of the online magazine
The Travelling Adventurer
. He is also author of the book So You Want Your Kid to be a Sports Superstar. He is considering continuing his college basketball career and is nearing completion of a book about his life. He has also signed with a major Los Angeles talent agency to work with movie studios about a proposed movie about his life.