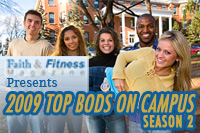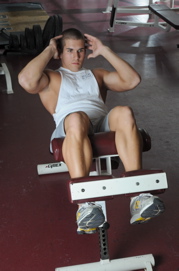 Age: 20, University: Indiana Wesleyan University
Year: Junior, Height: 6'1" Weight: 205 lbs.
Degree he is pursuing: Bachelor of Science in Exercise Science, Minor in Nutrition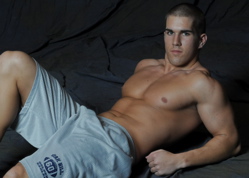 Faith & Fitness Magazine: What physical qualities do you think your friends feel best qualify you as a top bod?
Brad Needler: To be nominated is an honor. I feel blessed God has given me the passion for fitness and the work ethic that goes along with it. It is difficult to discern what exactly my peers think in regards to my physique. From what I know through talking to them, they respect that I have a good deal of strength while keeping a defined look.
F&F: How did you first get interested in exercise and living a fit lifestyle?
BN: Ever since I was little I have always been active and involved in sports. My drive for production in fitness stemmed from having two older brothers that lived in the weight room. They committed themselves to being the best they could be for their respective sports. This weightlifting dedication was passed to me as I prepared my body for athletics and now today in setting a high standard in my fitness life.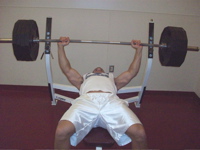 F&F: Tell us about your workout routine. What are your goals and how are you working toward them? What are your favorite exercises and why?
BN: I am a firm believer in consistently mixing up your workout routines. I rarely will keep the same routine for more than a month. I generally will workout five days a week in the weight room with three of those days incorporating cardio at the end. I split my routine as follows: Monday and Thursday I lift for my chest, triceps, and deltoids. Tuesday and Thursday I lift for my back and biceps. Wednesday's is my heavy leg day. Also, a weak point is my legs, therefore I squat on Monday's and Friday's as well to bring those up to par. I am looking to increase my overall definition without sacrificing much strength. I love to do 3-4 sets of each lift in the 8-20 rep range. I enjoy the bench press and cable crossovers for my chest the most. Those each require strict technique which makes them enjoyable to do.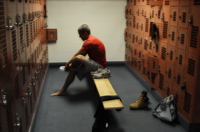 F&F: Describe the fitness culture on your campus.
BN: Indiana Wesleyan University has a very active campus culture. Our intramural program is very popular and it attracts many students. Our fitness facility is one of high standard and is consistently busy at all hours of the day. I was fortunate enough to get a job there my first year where I worked in the weight room. This year I continued working there and became the director of the REC and Wellness center during the time my boss went on maternity leave. Not only have I been active participant in our fitness atmosphere on campus, I also have been involved with creating and improving the culture.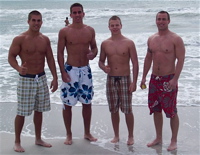 F&F: How do you feel living a healthy life and being active impacts both your academic success and your relationship with God?
BN: I'm constantly striving to become more Christ-like daily. One way I do that is to honor my body as the temple God intended it to be. He made our bodies so complex. It is our job to keep them pure and healthy the way he intended it. When we don't treat them well, we know it. We get sluggish and unmotivated, which directly affects our school work. Exercising is a great stress reliever, which is key to living the college lifestyle.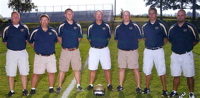 F&F: What is on the horizon for your career? Is everything coming together well for it? How do you feel you will balance your career and your commitment to fitness in the future? Will it be more difficult to maintain your fitness regimen?
BN: I feel that God is leading me into the field of Exercise Science. I originally was a Business major but God intervened. I am passionate about strength and conditioning and would love to continue in that field. I'm currently a high school junior varsity football coach at a local high school. This allows me great time in the weight room with high school athletes. I look forward to working in this field which in turn allows me to maintain a consistent fitness level.
F&F: Do you workout with friends? If so, tell us about that and how it is different from when you workout alone.
BN: I have the tendency to be a social butterfly in the gym. One of the great things about being the REC Center Director is I get to form many relationships through my position. I love working out with others. This facilitates feeding on each other's encouragement. However, I feel like sometimes when I need to strap on my boots and get serious work done, I workout alone.
>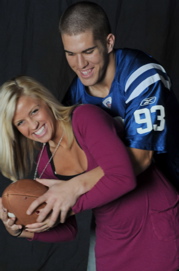 Brad is one of the most hardworking guys I have ever known. Not only is he dedicated to staying physically fit, he is dedicated to his family, friends, education, job and most importantly his faith. Brad's walk with the Lord is the most impressive characteristic about him. Brad is never complacent; he is constantly striving to be better in every aspect of his life.
- Tara Owen, friend
F&F: How do you keep active? Do you play sports, do outdoor adventure activities, do physical work or volunteering, group exercise or weight lifting or something else? Why do you like doing these things to keep active?
BN: My job at the REC allows me to always be around active people. I will join in about any game of Racquetball I can. I also enjoy to golf and play basketball. During the fall when I coach football, I find that I can get a pretty good workout by jumping in drills or wrestling with those ornery high school kids. I love the competition aspect of sports and the social interaction that comes with it as well.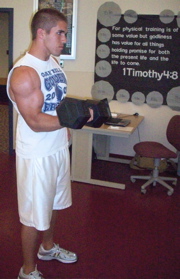 F&F: How do you feel your college has helped you mature physically, academically and spiritually?
BN: The college lifestyle allows you to develop a detailed workout regimen that you can consistently do if you want. My flexible schedule has allowed me to really develop my body shape and overall strength. I am flat out impressed daily with the knowledge and teaching ability that the Professors have here at Indiana Wesleyan. Their talent really developed my academic well being. There is a real genuine sense of compassion and love here on the campus of IWU. This university is on fire for the Lord and that fire has certainly made my flame brighter as well.
F&F: Why did you decide to go to this university? What were your expectations when you first started and how has the school and campus life measured up to them?
BN: I grew up in this area so I knew what wonderful things were going on here. I transferred to IWU after a year at Huntington University. I had no reason to leave Huntington because it was a tremendous school that is really on the proactive stage of higher learning. However, as we all know God works in his own ways and he landed me here at Indiana Wesleyan. I feel very blessed to be a part of such a beautiful campus that has an expectation for academic and spiritual enhancement.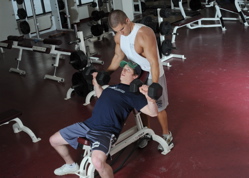 F&F: What are some of the spiritual discoveries you have made while at college? How is that shaping the way you live and interact with others?
BN: I felt called to do something on this campus to attack the negative self body issues that many 18-23 year olds have. God led me to start a fitness ministry called BODY OF FAITH. I offer personal training services to people who want to improve their physical well being. Along with that I also develop a spiritual accountability relationship with them throughout the program and meet with them weekly to discuss where they are at on a physical and spiritual level. I'm excited to see where God takes this and if it is His will then it will be a success.
Brad is the perfect candidate for the Top Bods contest. His passion for fitness is only outdone by his amazing passion for his faith. When students used to come to him for advice on workouts he felt he wasn't doing them justice by just giving them a workout, so he decided to incorporate a Bible study time with those students so that they would not only work on their physical well being but also their spiritual. Not many college students would take the time out of their day to do such a thing.

- Jilliane Mellanson, IWU Director of Campus Recreation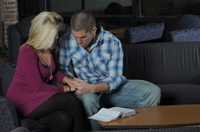 F&F: What are the most visible characteristics of your personal faith in God? How do you live out your Christian faith? What is the biggest spiritual challenges you face OR in what ways do you feel you still need to grow spiritually?
BN: One of the most visible characteristics that I show is how God has given me such a loving heart for others. I am blessed to be in many different opportunities to influence and love on other people. Being a college student, it is very easy for me to become selfish in my daily life. I find myself too often putting myself first and other things second. Becoming better in this area will come with my maturation as a man of God over time.
F&F: Any plans to compete in athletics or in fitness or bodybuilding competitions? If so, tell us about it.
BN: I played baseball my freshman year of college. Once that was over I started to get into power lifting and won a bench press competition last April. Now, I'm focusing on becoming as fit as possible.
F&F: What do you do for fun? Tell us what makes it fun for you.
BN: I am a football buff and love to watch, play, and coach it whenever I can. I also enjoy reading and watching movies. Mostly though, I really love to just kick back and be a country boy singing to some good time country music.
2009 Top Bods on Campus
Brad Needler
David Pat
Elisabeth Bloom
Evan Sharpley
Shelby Gordon
Wade Rice