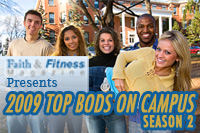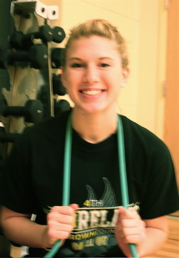 Age: 18
University: Oakland City University
Year: Freshman
Degree she is pursuing: Biology
Height: 5'5" Weight: 125 lbs.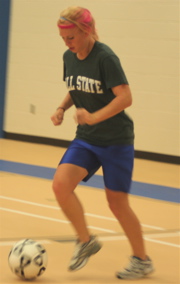 Faith & Fitness Magazine: What physical qualities do you think your friends feel best qualify you as a top bod?
Elisabeth Bloom: I am a very competitive player on and off the field. I try very hard to gain skills during the season and in the off-season. I love to play and every game I give my all. I am fast and aggressive every minute I play.
F&F: How did you first get interested in exercise and living a fit lifestyle?
EB: I have always liked to play sports and get that physical activity. When I started playing sports in high school I began to realize the importance of keeping my body in shape. It was important to stay fit the whole year, so when training time came my body would be ready.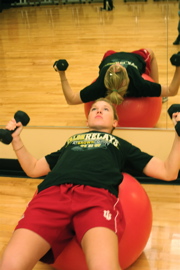 F&F: Tell us about your workout routine. What are your goals and how are you working toward them? What are your favorite exercises and why?
EB: I like to run a few miles every other day. I do a lot of sit-ups and leg lifts. I also like to do some cardio dancing and work with the soccer ball whenever I can. My goals right now are to stay in shape during my off-season. I really like my cardio dancing DVD and working with the ball.
F&F: Describe the fitness culture on your campus.
EB: I think everyone is serious about being fit some are more than others. I often see people running around town trying to stay in shape.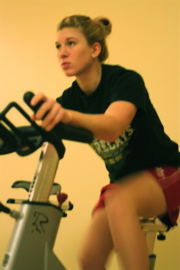 F&F: How do you feel living a healthy life and being active impacts both your academic success and your relationship with God?
EB:I believe the way I train and practice should be like the way I worship God. I need to work at it, believe it, and put it into action. The ways I discipline my body and mind while I am working out helps me discipline my mind and body for my spiritual relationship. Academically I know that I have to study like I train - All the time.
F&F: Do you workout with friends? If so, tell us about that and how it is different from when you workout alone.
EB: I do workout with friends sometimes, when I do I think it makes both of us train harder. We both push each other to our limits. If I work alone I might decide to stop early.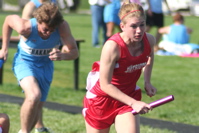 F&F: How do you keep active? Why do you like doing these things to keep active?
EB: I keep active by running and doing dance cardio. I run track and play soccer, but I like to do any sport for fun. My family likes to go outdoors a lot. When it is just my younger brother and I, we always find something to do.
F&F: How do you feel your college has helped you mature physically, academically and spiritually?
EB:I don't think I realized how much college soccer would take of my time. It definitely consumed more of my time then when I was playing in high school soccer. I felt like I literally slept it and breathed it. College soccer really helped me manage my time with homework, family, and friends.
F&F: What are some of the spiritual discoveries you have made while at college? How is that shaping the way you live and interact with others?
EB: I've discovered that God can help me with everything. He will give me the strength to go to practice everyday. He will give me faith to know that every thing will be okay and that he will be there for me always.
F&F: What are the most visible characteristics of your personal faith in God? What is the biggest spiritual challenge you face?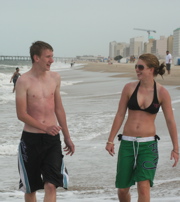 EB: I think I am a happy person and I think sometimes people see that and wonder why. I want to show people that to be truly happy you have to have God in your life. That is my biggest challenge; I want people to see what I see.
F&F: What do you do for fun? Tell us what makes it fun for you.
EB: I really like to hang out with my family. I am very close to my family and I have the most fun with them. I feel very comfortable with them and I think that is why I like to be with them so much.

2009 Top Bods on Campus
Brad Needler
David Pat
Elisabeth Bloom
Evan Sharpley
Shelby Gordon
Wade Rice