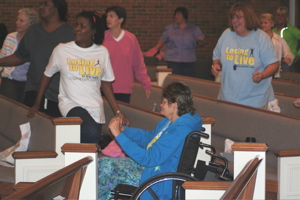 UPDATE: Today.com the online home for NBC's "Today" show did a feature story on Pastor Steve Reynolds, his church and the Bod4God program in January 2012.
The "belt"way around Washington D.C. may be getting thinner. While politicians in the nation's capital can't cut the fat from the budget, some of the city's residents have lost much more than confidence in government. Bod4God is a diet and fitness program that delivers sustainable weight loss. It was developed by Pastor Steve Reynolds of Capital Baptist Church in Annandale, Virginia (part of the greater D.C. area). This program is the key resource for the Losing to Live weight-loss competition held regularly at the church. Both the book and the weight-loss competition are popular resources for churches everywhere.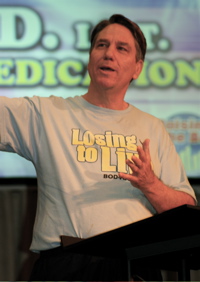 The Bod4God program has four main points built around the letters D – I – E – T. Reynolds first questioned if using DIET would be appropriate. After all, the word tends to invoke thoughts of a crash diet or quick fix weight loss program. The program isn't about dieting it is about making and keeping a long-term change in lifestyle. To help people remember the main points of the program, he decided the acrostic DIET would be effective.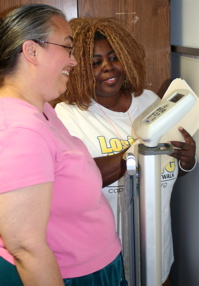 The D stands for Dedication: honoring God with your body. The I stands for Inspiration: how do you motivate yourself to change? The E stands for Eat and Exercise: habits that you have to build into your life. The T stands for Team: building your circle of support. Take a closer look at all four.
(D)EDICATE: Reynold's says, "The Bible says the flesh is weak. That's the human aspect of who we are, our flesh. For me the flesh is particularly weak when it comes to eating and exercise. But the Bible says you won't fulfill the lust of your flesh if you will walk in the Spirit. That means you allow God, the Holy Spirit, to control you. I was one with the Spirit when I preached, but I needed to add the Holy Spirit when I sat down to eat dinner. Here's the deal. We sometimes have a difference between belief and behavior. I had to bring those two together. For me, the first step was to DEDICATE this aspect of my life to God totally."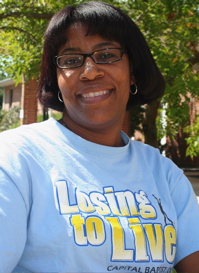 ON MY TEAM YOU HAVE TO GET INVOLVED - Patricia Dutchie
I am a high school administrator. I think it is important to get the word out in schools about the importance of exercise and healthy body weight. While kids have an understanding that it is a good thing to work out I don't think they have any sense of the spiritual component.
I'm a team leader for the Losing to Live program at Capital Baptist Church. In my opinion, the best thing about the Losing to Live program is the accountability and the Word (Bible). The Bible says, "The Word is good for training, instruction, reproof and correction." The Word is the biggest thing. The thing that helps the people in it is the accountability piece. We are accountable to a team once per week. If you're on my team, I'm going to go around the room individually asking, " Did you gain or lose and how much?"
I usually exercise alone. My "live it" plan is to workout four days per week for thirty minutes. It can be any kind of workout. That is something I can do for the rest of my life. Yesterday, I got home at 11 pm. As tired as I was, I put that DVD into the player and did the workout.
My co-workers at school know that I'm in the Losing to Live program. This program helps us to match our beliefs with our behavior. What we are doing is to change the rest of our life.
I don't cook but I love to eat. My husband and daughter actually cook around the home more than I do. So, it is important to me to make sure our home is stocked with healthy foods. The program has helped me to use other resources and gain knowledge. For example, I love to read books and learn more about my metabolism.
This program is very small group oriented. It creates many opportunities for close conversations. The church has to create the opportunity and then you have to get involved.
(I)NSPIRE: What would it take to inspire you? For Pastor Reynolds inspiration came from life itself. He says, "I chose to focus on my desire to live. Perhaps the best thing about life being your motivation is it's a permanent sort of goal. It wasn't just pounds I wanted to lose – I wanted to live a longer life and a better life on this earth. Life INSPIRES me more than anything else." Bod4God helps participants rely on God, refine their attitude, renew their mind and remember the benefits.
(E)AT AND EXERCISE: When it comes to EAT and EXERCISE, this program draws on one of the most challenging Bible passages, "Deny yourself, take up your cross and follow Jesus." This Christian concept was the basis for the concept of 'losing to live'. The program founder explains, "Jesus said that if you are going to go into this type of journey, you have to deal with self. You have to deny yourself. Self wants to eat things that aren't healthy. Self doesn't want to exercise. Jesus said you have to deny yourself if you want to live, really live."
(T)EAM: As with all the other letters, Reynolds draws on a key Bible verse to support the fourth letter T, which stands for TEAM. That verse says, "As iron sharpens iron, so a man sharpens the countenance of his friend." Christians often understand this on a spiritual level but they don't connect it to the physical. For Reynolds own life he observed, "I had to find some people who would sharpen me physically and help me. I had to have a team – a circle of support." The book offers guidance on how to understand the value of team, deal with naysayers on your team and how to choose a top-notch team.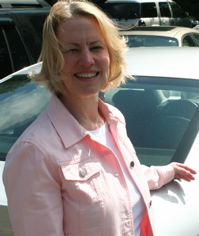 GROUP CONNECTION IS THE PAYOFF FOR TODAY'S URBAN CULTURE - Wendy Simonson
I found out about this program through a local Christian radio station. I'm not currently a member of this church. I've been looking for a good church since I left San Francisco. I've been struggling with both leaving California and struggling with about twenty extra pounds. I can't even get into my San Francisco jeans!
As a Development Consultant, I was intrigued when I heard about Losing to Live. You don't often hear the connection between health and the church. I was also looking for a place to connect. To come to this church is a forty-five minute commute for me. But – I love the idea of connecting with others around this subject.
Counter to what culture says, weight loss is not just about a diet program. It is about a pattern of thinking. The Bible talks about pulling down mental strong holds. Those are addictive habits that we use for artificial satisfaction as a substitute for something real. So, the spiritual place is where people need to go… it makes sense.
Urban America I think has a wide range of people. I suspect people in an urban community would see this program being presented by a church as a very relevant way for the church to serve in the city.
This program gives me consistency. I belong to a gym and have a trainer. Getting a gym membership and enlisting the services of a trainer were one-time acts that I did. But they didn't give me consistency. To make a lifestyle change demands a support system. There is tremendous value in being connected with a group. That is the payoff.
Bod4God and Losing to Live are transforming the way people experience church. They blow away the tired routine of sitting in a pew, standing to sing a song, sitting in a pew to hear a sermon and standing to leave. If you want a church that is transformed with real energy --- this is it! Everyone moves, breaths deep, sweats and gets involved. There is no falling asleep here. BUT – it isn't an exercise class. True to the mission of the church, participants are invited to recognize their real needs, confront their challenges, seek God and make commitments on a spiritual level rather than just self-determined wellness motivation.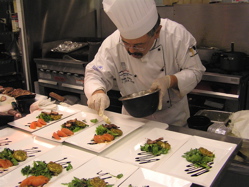 The Losing to Live program uses the Bod4God book. It includes motivational presentations by speakers, instruction, group study and support and even introductions to healthy food preparation. For example, in the D.C. program, Reynolds brings in Bobby Vickers, the Director of Culinary and Beverage Operations for a local Hilton Hotel to prepare an amazing feast of delectable and nutritious entrees.
Bod4God is a weight loss program to fight against obesity. It is being used by other churches throughout the United States and the world. The entire resource includes reflection and application questions for each chapter of Bod4God as well as other helpful tools. It can be used for individual study or group participation in the Losing to Live program.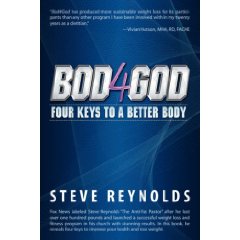 Go to the Bod4God website for complete information about this program or to start a Losing to Live weight-loss competition in your community.