Copyright 2006 Jaletta Albright Desmond. Used by permission.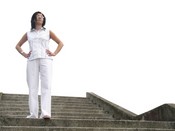 I am one of those people who actually enjoy getting up early and working out. Some people don't understand this, but it is a lucky truth for me. I head to the gym, strap on my CD player, crank my music, and pump metal, run, or do yoga. I've been doing this since I was 18—and that was a long time ago.
The funny thing about working out is that if you slack off two or three weeks, it feels like you are starting all over again. Even the muscular, heavy weights lifters on the third floor of my gym will tell you that. It isn't something you can do inconsistently or half-heartedly. In fact, it is something that you might benefit from doing every day.
Like many things in life, the more you do it, the greater the benefits—if done responsibly in moderation, of course. Exercising once or twice a week is better than nothing. But to really grow strong and healthy, four or five times weekly may produce better results.
I've found prayer is kind of the same way. You knew this was going somewhere like that, but I think it's true. When I first started coming back to God, I wrote him a letter. I told him (and this is getting quite personal I realize) that I'd sort of forgotten how to pray, and that I was a better letter writer—so I tapped out my prayer on my keyboard. I believe he listened (or read it?) anyway.
Some people will find that approach to God irreverent, offensive, or just plain weird. Some would say I should've been on my knees, humbly asking forgiveness for my years of silence. Don't worry. That came later. But God knew how I was going to be most comfortable coming to him, and he met me there, in that space, on my computer screen.
I ended up making written prayer a daily practice several years later. It is known as journaling prayer, an idea promoted by many authors and inspirational speakers. I've found that the more I do it, the more benefits I experience and the more productive I feel. I have seen a big difference in my life—maybe not obvious to others, but undeniable to me. I've changed as a woman, wife, and mother. I've taken chances, followed urges, and taken paths I might not have otherwise pursued. My weakened spiritual muscles that once couldn't utter a prayer—and certainly wouldn't have allowed me to open a Bible or seek anything vaguely "religious"—have been strengthened by daily exercise.
There were times my "muscles" were sore, or I didn't have the stamina to run that extra mile, spiritually speaking. It may seem like a lot of extra work. Why not simply tie on your tennis shoes and go for a stroll in the warm spring air? Why not roll over and go back to sleep, rather than get up to pray in the early morning hours? Why put so much effort into it? Wake early and God will bless your time. You won't just have more time, you'll have better time.
Some people might say a leisurely walk is good exercise. Yes, but then when you have to walk up, say four flights of stairs because of a sudden emergency – you may not have the stamina to go the distance. You may plop down on the eighth step and give up. And if you face a mental, an emotional or spiritual emergency, you may personally find it difficult to reach up to God because you haven't stretched out or tested those muscles.
The tough thing about exercise is it requires commitment. I know I'll never get to the point where I don't have to work out anymore. I don't just naturally stay in shape. That's true spiritually and physically. But I enjoy working out, as I said. I feel empowered, strengthened, energized, and more alive when I make that extra effort. Spiritually and physically.
Jaletta Albright Desmond is a columnist who writes about faith, family, and the fascinatingly mundane aspects of daily life. She lives in Virginia with her husband and two daughters. She can be contacted at
jdesmond@bdtonline.net