Commentary by Brad Bloom, Publisher,Faith & Fitness Magazine
The practice of bringing together faith and fitness is nothing new. However in popular culture and the Christian community there has been limited coverage of news and best practices resulting in an even greater limited understanding of how to dynamically integrate the two.
Fortunately, with each passing day, more people are doing it and their stories are being told. In this article I want to share with you links to a few of the recent stories making headlines and offer you my own commentary as Publisher of Faith & Fitness Magazine.
I know you'll find these examples encouraging and insightful. AND I hope they'll inspire you to consider how you can create your own story by doing faith and fitness in your community and being the life of Christ to others.  We (I and a huge network of professionals) are here to support you. CONTACT US to get started.
Click/tap the large blue headlines at the top of each page to link to the original source of the news articles.
Use the numbers below to read all the pages in this commentary.
PAGE BREAK
RUN THE PLANK COMBINES FAITH, FITNESS
– Macomb Daily News
RUN THE PLANK – FAITH, FAMILY, FUN 5K
Click/tap the large blue headline above to link to the original source of the news article.
Summer race events are always a great way to build community. This race, held in June, in Macomb, Michigan is especially worthy of recognition because it is a collaborative effort by three churches all part of the race course starting at Immanuel Lutheran, going past Saint Isidore Catholic and finishing at Saint Peter. Race event chairman Michael Fontana estimates the event will draw 1600 participants this year. The organizers have kept an important element in mind in developing this faith-centered event --- fun!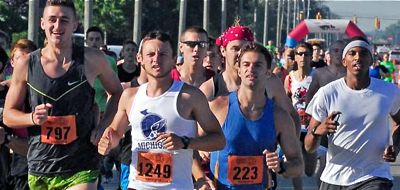 Their focus on fitness continues past the race event by providing a Fun and Fitness Fair after the race, which includes a dietitian, a personal trainer, a physical therapist and other vendors. My friend Debbie Brown, Fitness Director at Houston's First Baptist and her team organize a similar fitness expo every January providing a really concentrated and comprehensive focus on fitness for attendees. Fun, collaboration, community development, and fitness awareness are all a part of what positions these churches to be an even more integral part of their community.  More churches across the nation need to organize events following this formula.
Use the numbers below to read all the pages in this commentary.
PAGE BREAK
FAITH AND FITNESS NEW GYM OFFERS CHANCE TO GROW SPIRITUALLY
- Hickory Record
Click/tap the large blue headline above to link to the original source of the news article.
In downtown Hickory, North Carolina (population a little over 60,000) there is a new (as of May 2017) business. This gym, in a building that formerly housed an Army/Navy store has a sharp interior design, good selection of equipment a smoothie bar and more at a renovation investment over $400,000.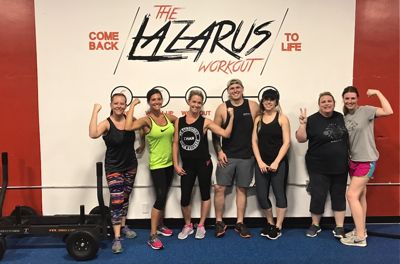 While I think church fitness ministries and fitness facilities are great, I'm a huge advocate for Christians being entrepreneurs. Start-up and growth can both be fast. Beyond the financial investment, you can bet the owners are personally invested in wanting to do ministry right. zRock Mind & Body Fitness has a lot of what it takes to do fitness ministry well. The owners are degreed, business smart, fitness trained and passionate about their faith. Their Lazarus Workout is innovative programming rather than an adaption of a commercially available program. Their location is in a marketplace environment. The staff/membership relationship model is incarnational.  All of these are trends and qualities I identified as key to how faith-centered fitness is redefining the fitness industry and Christian culture in 2017.
Their website is engaging and membership is priced right. Also huge is that they make nutrition an important component of their service. I think owners Dusty and Brittney McGuire along with Operations Director, Jordan Parker are poised to make a big impact for Christ. A new business is always a lot of work, but their vision and energy can drive a new level of physical and spiritual fitness in their local community.
Use the numbers below to read all the pages in this commentary.
PAGE BREAK
FAITH COMMUNITIES ENCOURAGE HEALTHIER LIVING
- Hattiesburg American/ USA Today
BALTIMORE FOOD AND FAITH PROJECT
Click/tap the large blue headline above to link to the original source of the news article.
A huge area of opportunity for the Christian church is to make a more positive impression on the nutritional wellness of their members and community. However decades and generations of poor diet history make that unlikely. Most church leaders and members just don't know where to begin or what to do.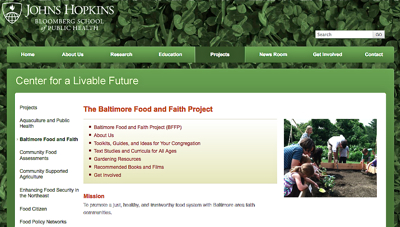 The Baltimore Food and Faith Project, a partnership between John Hopkins University and faith communities in Baltimore is changing that.  Immediately impressive is that they have developed a resource called The Good Food Toolkit so churches can evaluate their food policies and practices and to develop and implement a personalized action plan for improvement. They promote gardening too.
This is all on one hand very brilliant for strengthening the role of the church in today's culture and the daily lifestyle of the community and on the other hand it is simply following Jesus Christ's example. He connected with people time and again through meal times and food connections.
Faith & Fitness Magazine's 2017 Redefined Conference collocated at the Athletic Business Show in Orlando, November 8-11 offers a 3-track format this year.  One of those tracks focuses on the increasingly important role of nutrition in the fitness industry and the unique ways fitness ministry is redefining how nutrition is done.
---
Do you have or know of a faith and fitness news story for a future news commentary in Faith & Fitness Magazine? CONTACT US and tell us more.
This commentary appears in the June/July 2017 issue of Faith & Fitness Magazine in the news section.