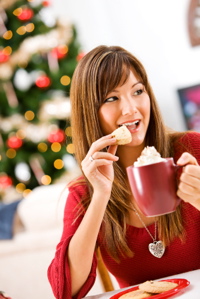 It is commonly reported that the average American gains five to seven pounds between Thanksgiving and Christmas. It's easy to see how this can happen. Great food, parties, and stress all contribute to the holiday weight gain. Throw in a few more months of winter weather and the annual flu season, and we're often in sorry shape by the time spring rolls around.
It's easy to think that winter weight gain is inevitable, but it's not. What I've discovered in recent years is that it's not the holidays and the seasons that make us gain weight—it's what we believe about the holidays and the seasons.
The idea that beliefs influence behavior is actually a biblical concept. In the Bible we are encouraged, "Do not be conformed to this world, but be transformed by the renewing of your mind." It doesn't say, to be transformed by forcing yourself to do something you don't want to do. Although there are certainly times in your life when you'll need to do just that, it's important not to miss the life-changing principle presented in this Bible passage. Changing the way you think will change the way you act. Renewing your mind will transform your behavior.
HAPPY HOLIDAYS, EAT RESPONSIBLY!
More content to make this your best holiday season ever.

Trimming Down The Trimmings
This concept applies to all areas of life, including the area of health. This hit home for me personally when I began to look at my own beliefs about food and exercise. What I realized was that my annual winter weight gain was caused in large part by the things I believed about food and exercise. As I worked on changing my beliefs, my desires and habits began to change, and I no longer gained weight every winter.
Perhaps you struggle with some of the same behaviors I did. See if you recognize yourself in the following list. If you do, take the time to renew your mind—because it's the truth that will transform your behavior.
 
1 - IT'S A HOLIDAY. IT'S OKAY TO EAT AS MUCH AS I WANT.
Truth: When you eat as much as you want you gain weight and feel uncomfortable. The truth is that your life will be better if you practice moderation—even on holidays. If you eat slowly and savor each bite, you'll actually enjoy the experience more than if you eat quickly and stuff yourself.
Tip: The night before the holiday, make a list of the advantages and disadvantages of eating as much as you feel like eating. This will help you realize that your life will be better if you eat a reasonable amount.
 
2 - THIS HOLIDAY SEASON I'M BUSY. I DON'T HAVE TIME FOR EXERCISE.
Truth: If you take the time to exercise, you'll feel more energetic which will help you get more done.
Tip: Plan some walks during the holidays with friends and family members. You'll enjoy the visit and get your exercise in at the same time.
 
3 - THIS HOLIDAY HAS ME STRESSED. A TREAT WILL HELP ME RELAX.
Truth: Although you might relax while you're eating the treat, in the long run too many treats will add to your stress level. A little exercise or some time spent with God would be a much healthier and more effective way to relax.
Tip: Make time with God a priority during the holiday season. He'll help you to focus on the true meaning of each holiday, and He'll give you the peace you seek.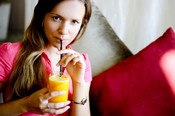 4 - IT IS TIME TO PARTY! I DON'T WANT TO BE THE ONLY ONE NOT EATING.
Truth: It's dangerous to base your eating decisions on what others are eating. After all, what if someone at the party had six pieces of pie—does that mean you should have six pieces of pie? Your life will be better if you eat what's good for you, not what everyone else is eating.
Tip: Before the party, try this exercise. List the ways you'll suffer if you eat a lot at the party, and then list the ways you'll suffer if you eat a healthy amount at the party. Which is the better choice?
 
5 - IT IS FLU SEASON – I'M WORN OUT AND TIRED. A SNACK WILL HELP.
Truth: An unhealthy snack might energize you for a short time, but in the long run, unhealthy eating habits will make you feel worn out and tired. The best way to find energy is to exercise and eat well on a regular basis.
Tip: If you're tired, try doing five minutes of calisthenics or dance to a song or two on the stereo. Even a little bit of exercise can energize you. If you have time for a short nap, that will also help.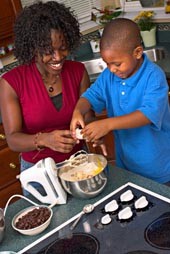 6 - IT'S WINTER AND I'M FEELING LAZY. FOOD WILL MOTIVATE ME TO GET SOMETHING DONE.
Truth: Having extra food probably won't motivate you—it will just make you want more. You'll feel better in the long run if you jump in and get something accomplished on your list.
Tip: Break big jobs into smaller jobs. Then forget about the big job and focus on the smaller job. This will make the job less intimidating, and you'll be less likely to procrastinate.
7 - I'M LONELY THIS HOLIDAY. SOMETHING TO EAT WILL CHEER ME.
Truth: A treat will only cheer you up for a short time. After the treat, you'll still feel lonely plus you'll probably regret eating the treat.
Tip: If you're alone for a holiday, find other people who are alone and reach out to them. They'd probably love an invitation to dinner, and you'll experience the satisfaction of reaching out in love to others—and who knows—maybe you'll make a new friend.

A WORD OF ENCOURAGEMENT
The next time you find yourself eating too much, ask yourself, "What am I thinking that's making me want to eat when I'm not hungry?" When you find yourself neglecting your exercise, ask yourself, "What am I thinking that's making me not want to exercise?" Recognizing the beliefs that fuel your unhealthy desires and actions is the first step in changing your behavior.
The second step is taking the time to renew your mind—replacing the old thoughts with the new thoughts. Renewing your mind on a regular basis will lead to a transformation in your behavior—and even help you avoid that winter weight gain this year.