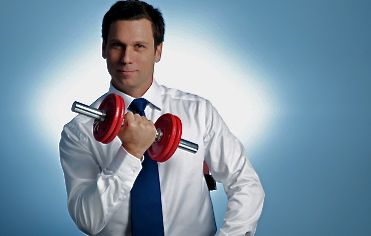 When Brad Bloom asked me to become a columnist for Faith & Fitness Magazine, I immediately became self conscious about the blubber that's gathering around my gut. Lets get straight to the point: I'm not a fitness guy…I'm a guy who is working on his fitness. I'm 48 years old, and I have a desk job (sort of). I'm an author, speaker and executive coach — and even though I'm standing in front of leaders on a regular basis, my 48-year-old metabolism isn't what it used to be. So, I need to learn to work out (and cut down on the chips and salsa.)
So, as I'm pondering my resolution to drop-at-least-15-pounds strategy, I came across this magazine article: Anytime Fitness CEO's Book: "Working Out Sucks" Chuck Runyon's new book acknowledges that "working out may suck," but it cites alternatives like heart disease, diabetes, and less sex as much worse. THIS GUY GETS IT! He's Chuck Runyon, CEO and co-founder of Anytime Fitness, a franchise business headquartered in Hastings, Minnesota. I just met my hero.
I'm motivated to start taking better care of the temple because the spirit is going strong!
Forget about the 'alternatives' he mentioned for a second. I really like my life! Its not like I'm shriveling up. I can run five miles, and I can still hit a golf ball 265 yards straight down the middle. I can slalom water ski, and throw a football with my college age son. I feel great…and I'm seriously making plans to live at least another 48 years. I'm not even half way done yet. So…I'm motivated to start taking better care of the temple (think Buddha at the moment – in terms of the shape of my body), because the spirit is going strong!
---

Attended the only conference that can help you redefine fitness with a faith-centered approach. Co-located at the Athletic Business Show.
---
Looking closer at Chuck's book, the extended title more clearly explains his point of view: Working Out Sucks! (And Why It Doesn't Have To): The Only 21-Day Kick-Start Plan for Total Health and Fitness You'll Ever Need. Its not a stretch to think he is making a compelling argument for why we should consider joining a local fitness franchise …maybe Anytime Fitness? But alas, I don't care — I love his attitude. Deep inside the book he posed rhetorical/societal dilemmas like: "Should parents of fat kids go to jail?" and "is money allergic to fat people?" This guy has me thinking…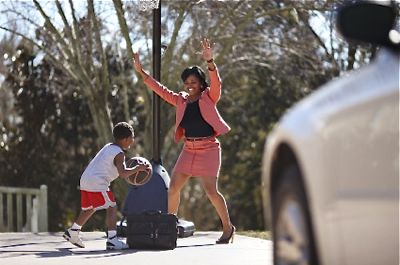 My deepest personal/professional conviction is simple: I believe we are all 100% accountable for the mood and tone of the person we are when we go to work, and the person we bring back home. For me, its easiest to manage that truth through The Seven Fs: Faith, Family, Finances, Fitness, Friends, Fun and Future. This concept — or framework — is a copyright that I own, and I use it in my executive coaching business. By routinely holding myself accountable to a respectable level on each of the Seven Fs, I like the person I bring to work and to home. And, when recited alphabetically, I find meaning by the fact that "Faith" is first, "Fitness" is at the center, and "Future" is the final f-word.
My commitment is to blend together fitness, with friends and fun, so I can learn to actually enjoy working out.
In the simplest terms: I believe my faith is calling me to bigger and better ways to spread the Good word — therefore, I need to put Fitness at the center for awhile so I can fully realize my Future. Makes sense…but I still think working out sucks.
Every Tuesday morning, I write a personal/professional leadership blog. On Tuesday, January 3, 2012 I published this photograph of myself, under the heading: How are you feeling about your fitness today?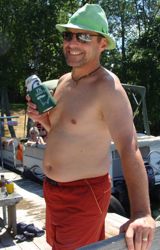 I'm deliberately trying to leverage the concepts of Transparency and Peer Pressure to help reduce the suck-o-meter. So far I've received dozens of suggestions — from P90X, to fasting. From running a marathon, to invitations for Hot Yoga by women I shouldn't hang out with in a sweaty gym.
For now, my personal pledge is simple: Break a sweat every day; burn more calories than you take in. My commitment is to blend together fitness, with friends and fun, so I can learn to actually enjoy working out. For now, my mentors are Chuck Runyon, and my new friend Brad Bloom.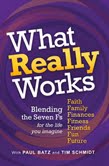 Paul Batz
is an entrepreneur, author, leadership coach, and inspiring professional speaker. His leadership coaching and publishing company --
What Really Works
-- is a branded statement of his belief in practical everyday wisdom that makes a difference. He is quickly becoming one of America's favorite
bloggers
and his signature book is soon to be in second printing.
This article appears in the
February/March 2012 issue
of
Faith & Fitness Magazine
.