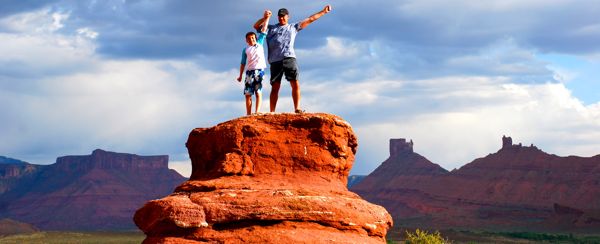 By Shane Freels
All photos copyright Shane Freels except the father and son on Moab butte, copyright by Andrew Chapman. All photos used by permission. READ BELOW ABOUT HOW YOU CAN SHARE YOUR FATHER-SON LIFESTYLE PHOTO HERE FOR A CHANCE TO WIN.
I want to tell you a story. It's about one amazing relationship and then another.
When I considered what I was going to write for this article my first thought was the memory of the way my father worked out with me. At his dentist office he would come up with all kinds of exercises and drills for me to do when I got home from school. I was raised on a farm. I spent most of my time outdoors running, fishing, hunting and doing other adventurous activities. I also loved sports and wanted to excel in every competition.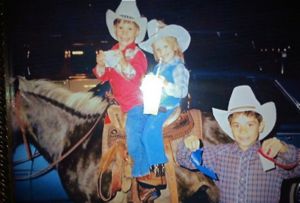 I started with gymnastics and then went into the world of rodeo. Once I began seventh grade I added football, basketball and track. I was busy. My dad would come home and do drills with me in the back yard preparing me for football season.
He bought me my first weight set when I was in sixth grade so that I could start gaining some strength. He taught me proper techniques like not using heavy weights at first so that I could continue to develop muscle without causing any damage. I loved those days and still remember them as if they were a recent memory.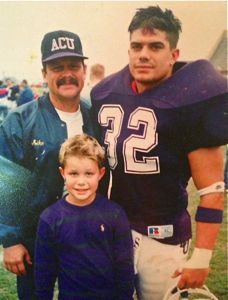 I excelled in high school football and earned a four-year scholarship to play football in college. Even at this age we spent considerable time together working out and going over drills to improve my athletic ability. We bonded in many ways. To me it was more than just a father and son relationship. He taught me about respect, honesty and never giving up. He helped me to always strive to be the best and love others as God loves us.
The summer between my freshman and sophomore year in college I lost my father to a drunk driver while returning from a team roping event.
That was one amazing relationship. Here is another.
When I was blessed with my son, Triton (he is the second of our four children) I started thinking about all the awesome memories of my dad. I just prayed that I would be half the man that my dad was for me. He was amazing. I knew I had big shoes to fill but my love for Triton is overwhelming in so many ways. With God's strength, I'm not going to fail. No matter what challenges arise, I'm going to give him my all. He is "My Boy!" and we have an amazing relationship.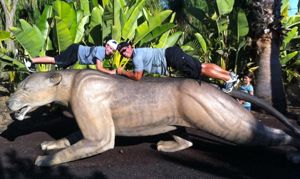 HERE IS HOW A MAN DOES FITNESS – WITH HIS SON!
I have been in the fitness industry for over fifteen years. I love every minute of it. As a Region Director for Camp Gladiator in the Dallas-Fort Worth area, I get to help people everyday accomplish their goals and dreams. I challenge them in new ways to improve their lifestyle though health and fitness.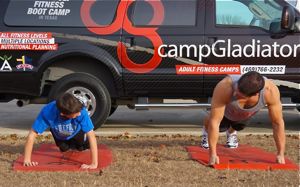 From the time my son could crawl we have been exercising together. I'm not kidding. When he was young, I was doing single squats with him on my shoulders. As he got older I used him for my one arm bench press. Today, we get to workout together in many different ways. He attends my Camp Gladiator sessions while I'm training. Everyone loves it when he joins us. Beyond that, I get to run drills with him in the backyard as we are preparing for his upcoming flag football season or soccer. I am constantly teaching him proper techniques while we both have fun. He is only nine yet we workout together. A key concept that I teach at Camp Gladiator is the same thing I teach him: learn to handle your own body weight before you start adding any additional weights. I am a huge believer that we have our own gym with us 24/7 --- it is the body God gave us. When you learn how to control it, push it, pull it and balance with it, you will be a better functioning human.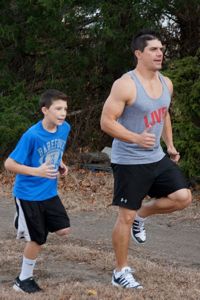 Here are some ideas about how you and your son can workout together no matter what age. Start with body weight exercises like squats then progress to jump squats and do everything according to time not reps. You both can do these exercises for thirty seconds of each and progress to another exercise by making it a circuit that uses the whole body. Body weight exercises include push ups, lunges, jumping jacks, high knees, shuffles, Carioca, Pull ups-vertical or horizontal, mountain climbers, burpees, cone drills, sprints and partner ab exercises. The COURAGEOUS Men's Fitness resource in Faith & Fitness Magazine offers a wide range of simple and practical ideas and tips to help you create a strong father-son fitness plan that works for you.
IT'S NOT ABOUT WHAT YOU DO – IT'S ABOUT DOING IT WITH HIM
As you do your workouts with you son think about how you can help him in life with challenges and successes. The exercise has value. The conversations and relationship have more value.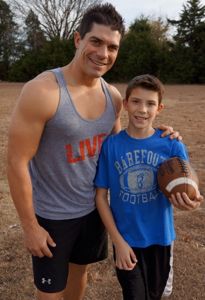 In life we always look back and either say "I did everything I could" or "I wish I would have done more". My philosophy has always been to give it everything you've got and never stop short. Be open to new things with you son. He may not love football or sports. But if you develop a relationship around a healthy lifestyle then you'll find and have activities that you can both do forever.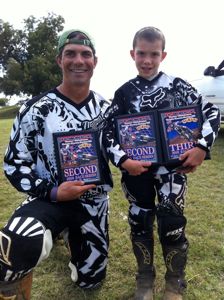 Listening to your son as you workout will teach you more about his view on life, his fears and challenges and his hopes and goals. This gives you the opportunity to be his father with direction and advice. We are in a society that believes we should be friends with our children. Instead, parents need to set guidelines and not give-in because of fear that the child will not like them. Your son is going to be influenced by many people throughout life. You should be his strongest source of influence.
Healthy workout teaches your son to have commitment and discipline throughout life. A child's eating and physical activity habits are 70% developed by the age of thirteen. It matters what you teach your son in his younger years. Build a foundation now for the future. Own the vision that you will be around when he has kids and when his children has kids. God wants you to have the opportunity to build into their young lives with wisdom and experience.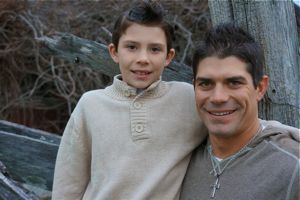 My father instilled a faith in me that helped me deal with his passing and now I am instilling that same faith in my son. God is good. He most certainly has a plan for your life that is different from what you plan. Be patient and kind with your son and love him like God - your father in heaven, who loves you.
Shane Freels
B.S. Professional Fitness Trainer/Lifestyle Coach works with trainers to create an opportunity where they can help as many people as possible. Additionally, Shane works with elite athletes of the world from the NFL to the NBA. He also gets to train a bunch of people at one time through Camp Gladiator, which gives people a community that is inviting and Fun. Visit his website
ShaneFreels.com
.
SHARE YOUR FATHER-SON LIFESTYLE PHOTOS: As you can see Shane Freels has had just a few pictures taken of him and his son Triton exercising, being outdoors and just having fun. We bet you have too. Contact us with "Father-Son Photo" as the subject and tell us about your photo. One photo will be randomly selected in January 2013 and that winner will receive a free father-son gift.