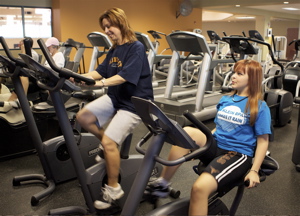 The Family Life Sports and Fitness Center at Champion Forest Baptist Church in Houston, Texas is a good example of how a larger church can build a larger fitness ministry facility to serve members and do outreach. While smaller churches may decide to start small and grow their fitness ministry, a big church can often combine their size with a bigger vision to do a comprehensive fitness ministry.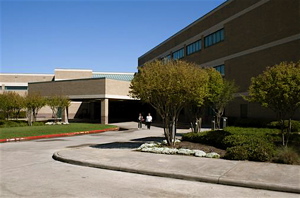 Champion Forest provides a place where the entire family can enjoy a fun filled time together in a positive atmosphere and grow not only physically but spiritually too. Their mission is to help people make sense out of life through Christ-centered living. The facility is attached to the church. It also serves as a multi-purpose facility for church events, Sunday morning Bible studies and more.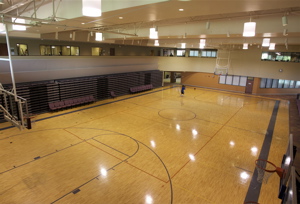 TRY THIS ON FOR SIZE
The church decided to develop and offer a facility that includes a wide range of services and amenities:
- GROUP FITNESS ROOM - Many classes offered such as high and low impact aerobics, strength training, Pilates, step aerobics, Senior fitness and more.
- CARDIO EQUIPMENT – This includes elliptical trainers, treadmills, stair-climbers and both recumbent and upright bikes. The cardio equipment includes cardio-theater for personal viewing and music.
- WEIGHT ROOM – This area offers Cybex machines, smith machine, cable machine and free weights
- INDOOR TRACK - The 1/8 mile track provides space for both jogging and walking.
- GYMNASIUM – This expansive area includes two state-of-the-art full court gyms for basketball & volleyball.
- LOBBY AND GAME ROOM – The church created an extremely social environment by designating space for ping pong, pool, air hockey, foosball and interactive Digital Praise Moves.
- WALLYBALL AND RACQUETBALL COURTS – This space is ideal for one-on-one, couples or very small group use. Due to the usage nature of these spaces and the sometimes high-demand for the space, advance reservations are required.
- LOCKER ROOMS – To assure that the facility delivers a high-level experience, the shower and locker facilities include towel service and personal care amenities.
- CHILD CARE – This space is maintained to provide a safe, staffed and engaging environment for young children so adults can use the fitness facility with complete peace of mind.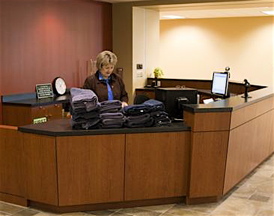 BIG VISION = BIG OPPORTUNITIES AND BIG IMPACT
On this scale fitness ministry isn't more difficult or complicated. Done with wisdom and excellence it can be simply better. A timid church may conclude that more space, more equipment, more programs and more staff mean more problems and costs. However, a bigger facility will bring into the church a bigger membership and a bigger opportunity to serve the community and fulfill the mission of the church.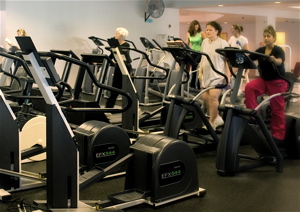 At Champion Forest Baptist Church the fitness ministry membership growth is a direct result of church members telling others about it. Jeanette Hill says, "Our fitness ministry reaches out to the community through members who personally invite a neighbor, co-worker, friend or other person. It is our church members who invite others to come and use the facility." While this is a good model for membership growth it is important that it be done in the right context.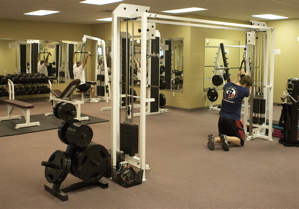 Restricting new fitness facility memberships to only those people who know a church member can potentially backfire. It can create an appearance to both the public and church members that the church has a narrow vision and wants to create an "exclusive" environment. The message, "Keep out unless WE invite you" isn't what any growing church wants to communicate. However, when church members come alive to Christ's call to reach out, extend compassion and be involved in the lives of others then they become eager voices to invite others to become new members of the church fitness facility.
Once a member, the Champion Forest fitness facility offers a wide assortment of programming:
- PERSONAL TRAINING – Certified personal trainers provide one-on-one training support to members for an additional fee.
- FIT FOR SENIORS - An hour long class that incorporates low impact aerobics, toning and stretching.
- PILATES - An exercise of slow movements that flow together to focus on strengthening the core, lengthening the muscles and increasing flexibility.
- BODY BLASTER - The best of both worlds. Alternating sets of strength training with laps on the track.
- STRENGTH/CARDIO CIRCUIT - Go twice through a series of exercise stations. The class uses strength training equipment and an exciting variety of cardio exercises.
- WHOLLYFIT - A gentle body exercise program that strengthens and tones all muscle groups, builds endurance, improves balance, flexibility, spinal agility, range of motion.