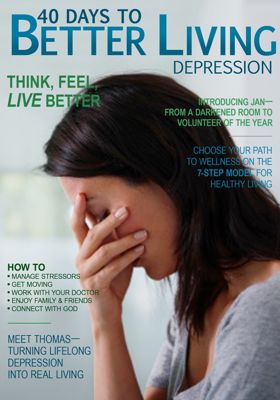 How do you think, feel and live better? We all need support to move through life's challenges. There are many sources for depression. Finding a source to overcome that depression shouldn't be difficult. Take a look at these people to identify ways depression can enter your life:

Liz was exercising, losing excessive weight and enjoying life. However, she experienced some major setbacks that didn't have much to do with her exercise or nutrition.

For years Nadia had a persistent feeling that something was wrong. Ever since childhood she tried to make big changes in her life to make things better. She discovered that small changes made a difference in her overall mood.

Clinical depression was a longtime diagnosis for Greg. He found that a series of antidepressant medications left him without energy and regularly sleepy. He was looking for ways to manage his depression and achieve overall wellness.

Michael used alcohol and food as self-medication for his depression. But when his doctor gave him a surprising health diagnosis, Michael got a wake-up call that it was time to find other solutions.

From her early-childhood experiences Ada had a home life of abuse and trauma. Nonetheless, once she was an adult she married, had children, and got a job. Her struggles continued and led her to a stay at a mental health hospital.

As a child, Dawn wondered why everyone else seemed so happy all the time. At eighteen years old, she skipped school and made her first suicide attempt. Going to church was a step toward recovery but she needed more.
The
40 Days To Better Living
series of books offers clear, manageable steps to life-changing attitudes and actions in a contest of understanding and grace for all people at all points on the journey to optimal health. The books offer practical advice, spiritual encouragement and real stories of those who have found a better life. The books help readers to customize their own path to wellness by using the 7-Step Model for Healthy Living as a guide:
7-STEP MODEL FOR HEALTHY LIVING
- NUTRITION: pursuing smarter food choices and eating habits - FRIENDS AND FAMILY: giving and receiving support through relationships - EMOTIONAL LIFE: understanding feelings and managing stress to better care for yourself - WORK: appreciating your skills, talents and gifts - MOVEMENT: discovering ways to enjoy physical activity - MEDICAL CARE: partnering with health care providers to optimize medical care - FAITH LIFE: building a relationship with God, neighbors and self
Along with tips from the Model for Healthy Living, the easy-to-read format features a Morning Reflection and an Evening Wrap-Up as well as a place for documenting plans, progress and perspectives. Targeted scriptures and prayers undergird the focus of each day's message. As Doctor Morris says, "True health is grounded in the spiritual life that embraces the physical bodies God gives us. Finding balance by nurturing our spiritual, mental, emotional and physical needs is essential to the real health of the whole person."
These companion pages in Faith & Fitness Magazine share the real life stories from the 40 Days To Better Living – DEPRESSION book, offer follow-up thoughts for individual reflection or group discussion, provide links to additional related content in Faith & Fitness Magazine and provide a space for you to post your on COMMENTS and interact with others.
Faith & Fitness Magazine OVERCOME DEPRESSION pages:
How Do I Think, Feel, And Live Better? - 7 PRACTICES TO OVERCOME DEPRESSION
How Do I Think, Feel, And Live Better? - LIZ'S STORY
How Do I Think, Feel, And Live Better? - NADIA'S STORY
How Do I Think, Feel, And Live Better? - GREG'S STORY
How Do I Think, Feel, And Live Better? - MICHAEL'S STORY
How Do I Think, Feel, And Live Better? - ADA'S STORY
How Do I Think, Feel, And Live Better? - DAWN'S STORY