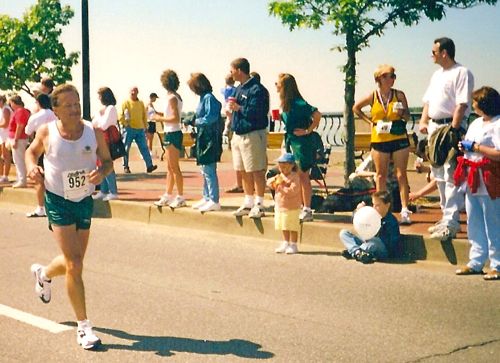 Peddling my old rusty brown bike (balloon tires and all) along Grand Ave. in the summer of 1962, I would have laughed at the idea that 18 years later I would be a "health statistic," weighing in at close to 250 pounds and married to the girl who sat on her front porch waiting for me to deliver the afternoon newspaper.
The F.A.T.S.O. story began at age 12 in my bedroom sitting on my knees as my Mother introduced me to Jesus. A powerful force was about to impact my life. Unaware, this force would save my life later. A seed was indeed planted. As a teen in high school I was very active running track and cross-country, playing basketball and dabbling in wrestling. Prior to graduation, at 162 pounds, I casually worked out. Physical fitness and proper nutrition weren't my focus. I figured I was young and in fairly good shape. I didn't see it coming. According to the American Medical Association, "Normal weight teens gain an average of 30-37 pounds from their teens to age thirty and they exercise less."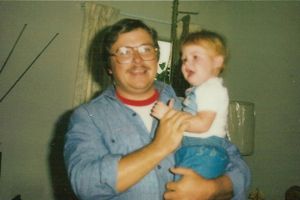 Astonished as I looked at a family photo of me holding my then two year-old daughter, it hit me like a ton of bricks, at age thirty I was walking down a path of self-destruction. Abandoning exercise and proper nutrition, I was swimming in a sea of futility. More revealing I became a wandering Christian, vulnerable to Satan's attacks and temptations. I now understand that Satan comes to us at a time when we are the weakest spiritually, physically and emotionally.
At 248 pounds I had lost all confidence. Filled with negative thoughts I had no direction or focus. I became angry with myself and at everything. I felt inadequate as I was challenged by my own fear. I did not look good and I didn't feel good either. Eventually I came to a decision point: make a total transformation or there may not be a tomorrow. Knowing that my actions would mirror my attitude, I embraced a philosophy to turn my weaknesses into my strengths.
Those unflattering pictures were a wake-up call. Despite how I looked my Mother never gave up on me. She was the strength I needed. She once shared a Bible verse with me about strength and courage. She said, "Accept yourself and who you are. Believe in yourself and be willing to give your life ENTIRELY to God. He will not forsake you. Be patient and walk in his light."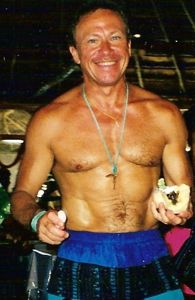 Empowered by that moment I declared my independence. This freed me to discern and avoid situations that affect my vulnerability. I built a personal strategy that balanced faith and fitness. My faith gave me strength to battle failure, temptation and low self-esteem. Armed with this strength I gained victory over my mismanaged and misguided physical and spiritual choices. I wouldn't be held hostage again.
That was over thirty years ago. On a cold November night I stepped into my garage to start exercising. I started with a chart in hand with my name, the date, and a grim reminder of why I was there-248 POUNDS. The feeling that consumed me as I knelt down on that hard and cold floor was chilling, almost angelic. I did not have to do this by myself. God was there to guide me.
Slow and painstakingly a "new creature" was being born-again. I focused on the future one step at a time. I worked out several days every week. Initially, I did mostly cardio exercises like jump rope, walking, jogging, and riding a bike. For six days I would resist the cravings for fast and greasy fried foods, pizza snack cakes. I formulated a simple nutritional plan (I never use the word diet) of balancing carbohydrates and proteins that became routine. What I ate was patterned after a nutritionist's simple statement, "If it comes from the ground, it's good!" That seventh day was my "rewards" day to break from the plan.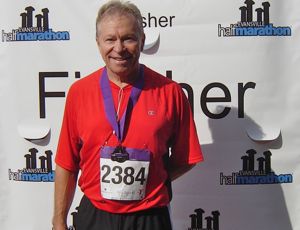 STRETCHING FURTHER - FROM "CARDIO" TO HALF-MARATHON
Training for a half-marathon is more than just running on a treadmill in the gym. I progressively increase distance over a period of time. When I train for a half I begin with mental conditioning followed by the physical conditioning. To train for a half-marathon you need to understand your strengths and weaknesses. I find it helpful to study and understand the course. They are different and unique with varied terrains. In order to be strong I embrace a combination of aerobic and strength training with three days of running and three days of weights. The results achieved from strength training I feel are nothing short of amazing. I believe many runners neglect the core exercises that are so valuable for agility and balance. For example I work my abs frequently. To me they are the engine that drives the rest of the body. I combine legs, arms and shoulders in order to train for ever-changing terrains.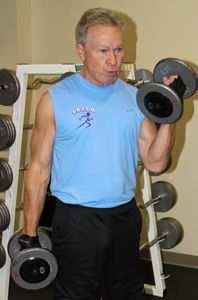 Eventually I incorporated weight training into exercise routine. With every pound I shed, I gained more confidence: 10, 20, 40, 60 pounds… gone. My creation took a little longer than the Greatest Creation; about nine months. Now in my sixties I consistently weigh between 164-166 pounds. I call this simple plan, "The Forever Young Express". It is an all natural approach requiring no shots or surgery. This plan is not a "biggest loser contest' nor is it intend to build some super-star. It is about each individual, no matter what size or shape, embracing a new and healthier environment.
A few years ago while preparing a Sunday School lesson I came across a Bible verse that reminded me of those words my mother had shared with me, "You were taught with regard to your former way of life, to put off your old self, which is being corrupted by its deceitful desires, to be made new in the attitude of your minds, and to be put on the new self, created to be like God in the true righteousness and holiness."
SENIORS, CHANGE YOUR LIFESTYLE TODAY
Now in my 60's I often reflect on my life during my 30's - who I was and where I was going. Controlled by my environment, I was a statistic. I was borderline obese at almost 250 pounds. Lacking self-confidence, I lived in fear and negativity. I was unhappy and probably would not have seen age 50. As a senior today, I have been blessed. I'm happier and healthier than ever before and maintain my weight at 164 pounds. I have some older age issues like a minor heart condition and knee and hamstring problems. However, the program I embraced over thirty years ago is still part of my life. It is simple and fun. Your age doesn't matter. You can change your lifestyle today. Take control of you environment and make health important to you and your loved ones. There are programs and options for everyone. Find one that works for you.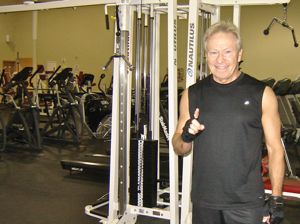 In addition to a healthier life God gave me a bonus. The girl on the front porch on my paper route today is my wife. She saved part of a newspaper that I delivered. God delivered Becky to me. To complete the road to success you need a healthy physical, mental and spiritual relationship. I thank God everyday for bringing her into my life; the Christian relationship we share has challenged us to a new level of happiness. Our focus first and foremost is God. Our faith has been our strength and inspiration. My wife and me now share the seed that was planted long ago. Do not neglect the gift, which was given to you, watch you life and doctrine closely, and persevere.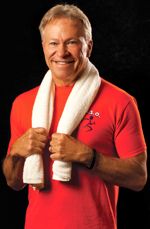 Aaron Biggerstaff is the author of I Am A F.A.T.S.O., which tells the story of his personal journey from obesity to health. Today, Aaron as a senior runs half-marathons and encourages people to find strength in Jesus Christ. He and his wife live in Evansville, Indiana.