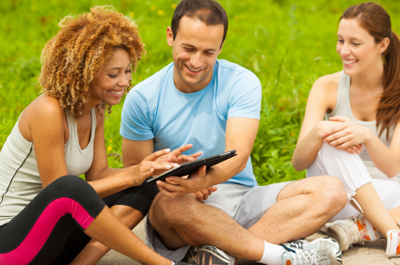 The 2013 themes of
Faith & Fitness Magazine
provide a basis for us to take the mission of our ministry and the content we produce to a new level that is confrontational and gripping and yet grace-defining and power rich. We're challenging our writers to be blunt and bold as they build stories that may make us uncomfortable and then affect change. At the same time we've identified key Christian-faith components to imbed into the message. There's a very clear agenda – define fitness through faith and help our readers to be engaged with God to be life.
We want you to participate. You may be a pastor, a wellness professional, an athlete or an everyday fitness enthusiast. Maybe you are really on target, inspired and empowered but maybe you are struggling, convicted or just really seeking God's grace and wisdom. If you or someone you know has a message to share that relates to one of these themes, we want to hear from you.
CONTACT US
with the subject line "2013 story idea". Print this page and keep it handy. Join with us to make the 2013 issues of
Faith & Fitness Magazine
your tool for powerful, healthy and passionate living.
Let's be clear. Today's culture packages God as a bobble-head deity, a theological artifact to be dissected in Time Magazine as an outdated out-of-touch concept of the naive. Muscle-up your understanding. Replace your OMG smart-mouth mentality with a lot of fear and trembling. This is the God that not only created the Big Bang but that tiny little cell that has grown up to be you. Lots of people don't believe in a miraculous God. We've found a few that do. They're boldly living out an example that life without God is weak. Take on your tough world with a God-sized plan.
High in fat, overly processed and excessively packaged --- and we're just getting started about how people are "spiritual". If the obesity crisis is to be effectively addressed there has to be a spiritual conversation and a faith-driven solution that has origins in the church. Attitudes need to be challenged and changed. Practical solutions need investment and commitment from all Christians to bring leadership to the most basic daily human activity – eating. Waging war isn't too aggressive of a stance. A steady diet of bad food is killing people physically and spiritually. We're looking for Christians that are taking a bold stand. It's time to be hungry for God.
Somewhere along the way "everyone endowed by his or her Creator for life, liberty and the pursuit of happiness" got corrupted. Look around. There's a lot of pride, arrogance, and unbridled-self. We've seen too many fitness models, action heroes, super stars and otherwise glorified humans emulate and encourage a message of self-created determination and success. Nice try. But it's time to stop the attitude, and experience genuine freedom. We all need a different message and a different kind of messenger. "Don't give in" and "don't give up" don't give you real change.
Take it off --- take it all off. Time to strip away the things that cover what we don't want anyone else to see. We've all become expert Haute couture designers. Like the tale of the Emperor's New Clothes our skimpy efforts honestly cover nothing. Your modesty is risqué if you don't first get intimate with God. Time to put on the garment of praise and get robed in righteousness. Don't wear your faith on your sleeve. Dare to adorn your body with nothing but a beauty that only God can reveal.
We'd all like to think we could be spontaneous, creative and continually fresh. But the honest truth is that we're creatures of routine. Not that it's a bad thing. In fact since it's a part of your "DNA" you deserve to give your routine a real workout. Build habits that develop true strength and character. Make good health, vigorous activity, being in the presence of God and spiritual passion your default way of living.
Exercise, get outdoors and travel. Be invigorated, adventurous and explore. The messages we see daily are clear: live life fully, richly, dangerously… selfishly. God's message is distinctly different. Don't just live your life, be life to others. It is the real difference that makes your life healthy, action-filled and engaged. Our year-end/year-beginning issue presents real-life stories that celebrate what it means to BE LIFE.