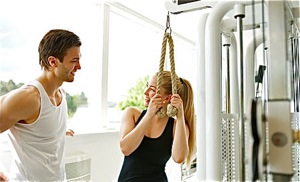 TEMPERING TEMPTATION
Some women exercise in their underwear. I'm not exaggerating. I've never taken a count, but I'd guess that over ten percent of the women at my gym work out in sports bras. I'm not sure why they do this. Do some women dehydrate so easily that they can't handle a t-shirt? Is it a fashion thing, like wearing a little black dress to a party? Or do they want to draw attention to their bodies? If that's the case – mission accomplished. It's against the rules to work out in jeans at my gym, but apparently wearing next to nothing is no big deal.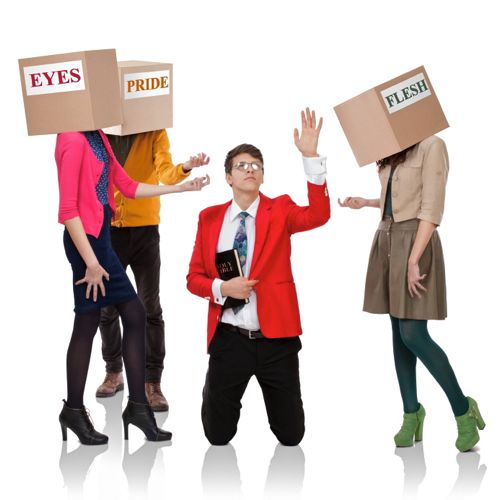 If you struggle with wandering eyes and lustful thoughts, you'll be exercising your will power more than your body at most gyms. Sometimes pop culture and the media even imply that sex and fitness go hand in hand. For example, most muscle and fitness magazines nowadays resemble soft porn. They're filled with scantily clad men and women covered in oil, staring out of the page with bedroom eyes. The implicit message is that working out leads to sex. It's a marketing technique. It also sends gives tacit permission to show up to they gym almost naked. Focusing on fitness can be a challenge when you're surrounded by so much female skin.
Don't let a trip to the gym result in sin. If lust gets the better of you, consider changing some things. Look for a gym with a predominantly male population. Weight rooms affiliated with sports facilities sometimes provide this. See if there's a local college or high school that opens its facilities to the public at certain times. Exercising with football players amidst the aroma of gym socks will do anything but turn you on. Larger churches sometimes have places to exercise where people dress modestly. You can also work out at home. The cost of exercise equipment can be cheaper than a gym membership in the long run.
Then there's my personal favorite – outrunning lust. When unwelcome thoughts enter your mind, go into an exercise frenzy. Hop on the treadmill and crank that puppy up until you're panting. Lift more weight and do more reps until you're exhausted. This redirects your energy. Not only will you be too tired to think about sex, but the biochemical elements of sexual desire can fuel a more intense workout. God made our sex drive flexible so we can channel it in productive ways.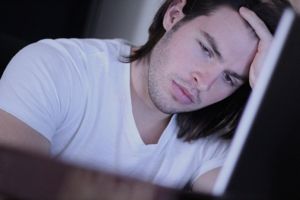 Modern culture bombards us with plenty of illicit images, making life difficult enough for guys who don't go to the gym. If your health club makes sexual purity a challenge, ask God for help finding ways to cope. I've given you some general ideas, but He can reveal the perfect plan for you.
Though friendships can begin at the gym, it's usually not the best place to find love. You're much better off at church, a friend's social event, or even an online dating service like eHarmony. Rebecca Brown, editorial director of women's magazine Divine Caroline says, "Don't ask a woman [at the gym] something petty just to talk to her unless it's related to your workout, like, 'Mind if I work in with you?' People go to the gym to work out, not get hit on; women will see through lame small talk or excuses and just be annoyed."
It's not hard to tell if a woman is open to mixing sweat and sweet talk. If she's wearing headphones or appears focused on her workout, leave her alone. If she's taking her time and smiles as you pass, it might be okay to say hi and strike up a conversation. Finding out if the two of you get along and have things in common should be your first goal. See if you have fun chatting and exercising together before asking her out. The gym is a good place to see a woman on a regular basis and form a friendship over time. Just remember that most health clubs aren't filled with ladies looking for a stud who'll teach them how to use the bicep machine.
A gym isn't a temple. It's not a place to worship hot women or your own rippling biceps. It can, however, help keep your temple healthy. Before a man pursues romance he needs to pursue health and balance in his life. The gym can help keep you physically healthy, but it won't make you whole. Neither will a girlfriend. Only God can do that.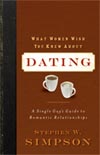 Stephen W. Simpson, Ph.D.
is a psychologist in Pasadena, California and a clinical professor at Fuller Theological Seminary. He is author of What Women Wish You Knew about Dating: A Single Guy's Guide to Romance (Baker Books), Assaulted by Joy: The Redemption of a Cynic (Zondervan), and co-author of What Wives Wish Their Husbands Knew about Sex: A Guide for Christian Men. Check out his new ASSAULTED BY JOY website at
http://www.assaultedbyjoy.com
. For information on speaking engagements, books, and counseling visit
www.stephenwsimpson.com
Pages