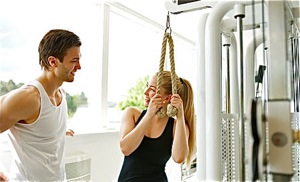 PAGE BREAK
HAVE THE GUTS TO TALK WITH HER
This is how a real man does it. No games or maneuvering, just good old-fashioned communication. Here's how it works: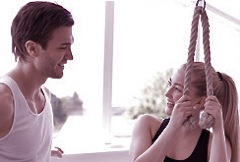 Introduce yourself and get acquainted. Say hi, tell her your name, find out hers, and then ask her some questions. Keep the conversation light in the beginning. Don't interrogate her about politics, religion, and her family history. Tell her you've seen her around and ask her how long she's been coming to the gym. What does she like and not like about it? It might be fun to discuss your grievances about the gym. Most people enjoy complaining, so ask if the women's shower has as much mold as the men's.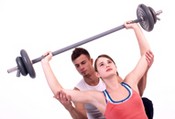 Evaluate her response. You know all that stuff you hear about women being more verbally expressive than men? That's not the case here. Research shows that women switch to nonverbal forms of expression whenever a man initiates any type of courtship behavior. This means the woman won't tell you whether or not she wants to talk to you – she'll show you. If she crosses her arms, looks away, or stands perpendicular to you, she's less than enthused. If she looks you in the eye, smiles, and gets closer as the conversation continues, it's a good sign.
Be authentic. Research also shows that women expect men to be deceptive when they flirt. Blow her mind by doing the opposite. You don't have to reveal your most embarrassing moment; just be honest. If she tells you how much you she loves country music and it makes you nauseous, say, "I'm not much of a fan." Though it's too soon for transparency, don't hide who you are.
Don't take it too far. After a few minutes, say something like, "Well, I better get back to my workout. Hope I see you again." If she tells you when she usually works out, that means she wants to get to know you better. If she just nods and smiles that means she's not sure yet. Be patient and see how things go next time. But no matter what, don't ask for her phone number the first time you talk to her. Healthy relationships begin slowly, so wait until you've talked a few times before trying to score digits.
Use the numbers below to advance to the next and final page to continue reading.
Pages