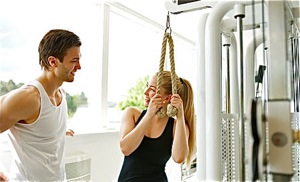 A single man sits at the bench press, resting between sets. He's wondering if he can do eight more repeats if he adds twenty more pounds to the bar. That's all he cares about . . . until he sees her.  
She's doing tricep extensions on the cable machine across from him. She's finished her thirty minutes on the treadmill and after a few more sets, she's getting ready to leave. She's got blonde hair and she's wearing her usual outfit – black sweat pants with a matching black tank top. He's always wanted to talk to her but never seems to find the right time. Or the nerve.
She looks up at him and he feels his face flush.
Oh no! he thinks. She caught me gawking. Wait – was that a smile? Should I smile back? Should I go talk to her? Should I bench press my max to show her how strong I am?
---
4 GUYS PLUS ONE MORE
Ah, the gym. Of all the environments in which courtship occurs, it is one of the most difficult to navigate. Established rituals are few. Conversations can be awkward. Still, many a man hopes to meet Miss Right in this place where people congregate to sweat.
I've been going to the gym a few times a week for almost twenty years. Though I do this for my health, it gives me the chance to do informal field research as a psychologist. For over two decades, I've observed the courtship rituals of fitness facilities. I've noticed behavioral patterns in the human male when a female of the species is nearby. Most men employ one of five different tactics to engage the attention of women they find attractive.
Let's take a look at these four guys and each of their tactics and talk about how well each work. Then we'll look more closely at the fifth approach - the kind of guy you want to be. It is the recommend way to attempt to get to know a woman at the gym.
Use the numbers below to advance to the next page and continue reading.
Pages