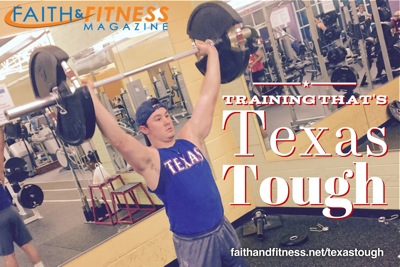 STRENGTH TRAINING THAT'S TEXAS TOUGH
Training Texas Tough, incorporates supersets throughout the whole workout.  Supersets equal fat loss and strength gain. When performing supersets, the key is to move from your first exercise directly into your second exercise with very little to no rest. The object here is twofold: 1. You want to tax your energy systems to help build your overall endurance. 2. If you choose an exercise that is working the same movement pattern or muscle groups, it will push you to work to failure, which is something most people don't want to do. Let's use chest day for a simple but effective example of this type of training.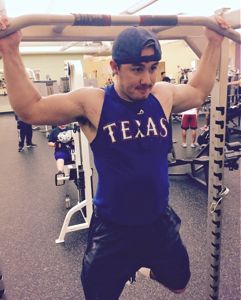 CHEST TEXAS TOUGH STYLE
1A. Dumbbell Bench-press x 12-15 reps
1B. Plyometric Pushups x 5-8 reps
BACK TEXAS TOUGH STYLE
1A. Pullups x 8-10 reps
1B. Horizontal Pullups x 8-10 reps
LEGS TEXAS TOUGH STYLE
1A. Dumbbell Front Goblet Squat x 12-15 reps
1B. Squat Jumps x 10 reps
SHOULDERS TEXAS TOUGH STYLE
1A. Standing Dumbbell Military Press x 12-15 reps
1B. Dumbbell Lateral and Front Raise x  10 reps
Again, if you really want this to be Texas Tough, there is no rest between the exercise sets. You will only rest for 30-60 seconds after each superset and repeat. You will be surprised how challenging this is, and you may only be able to repeat this 2-3 times in the beginning. These supersets are tough because just like in Texas, we work hard and rest when we can.
Use the numbers below to read all the pages in this article. Proceed to the next page for CORE TRAINING.
Pages