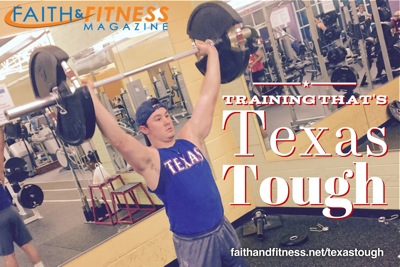 By: Marrin Ellis, Owner, I Am Sports & Fitness
NOTE: This is a 4-page article. Be sure to read all the pages.
Publisher's Note: Personal trainer Marrin Ellis has participated in Faith & Fitness Magazine's Redefined Dallas conference. He has built a solid training business in the DFW area and his passion to do faith-centered fitness is evident. He is committed to the physical and spiritual growth of his clients and to being life to the community he serves.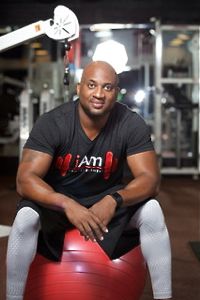 As a Personal Trainer in the great state of Texas, I have changed my training style to one that I and my clients consider to be "Texas Tough". My clients usually expect that same old style of fitness training one may see when they go to a box gym anywhere in the world, but when they come to train with me, they are in for a not so rude awakening. Texas style training has many benefits, which we will touch on, but first it is important to know the definition of fitness to see the true overall benefit of this style of training. True fitness is not just about how big your muscles are or what you look like in your bathing suit, it is more about being able to move properly, feeling good inside and out and being ready for anything life will throw your way.
I like Texas Tough training because all the aspects of fitness are built into one package. You not only build lean muscle and drop those unwanted pounds, but you will begin to move better and see an increase in your dynamic flexibility. You will notice your muscles will start to look longer and leaner, you will begin to run faster and become more agile. These areas of improvement are great and will not only aid you now in the short term, but also in the future.
When you are preparing for a good workout, you must start with a great warm-up. I feel this is the most important part to a workout session. My advice is, even though training Texas tough is an intense workout, make sure you have a good sweat going before your start the strength, core and cardio components of this workout.
DYNAMIC WARM-UP DEFINED: A series of sport specific movements that are designed to prepare the muscles for performance and are performed in a safe and controlled fashion.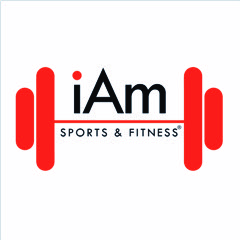 Focus on doing dynamic warm-ups as not only does it get your heart rate up but it will also prepare you neurological system, muscular system and skeletal system for what your body is about to do. Once you are done with a ten to fifteen-minute warm-up session, it's time to get started with the workout.
Remember that training this style is all about going one hundred percent, then completely resting during the rest periods. In other words, it's time to work hard and play hard. Are you up for the challenge? Let's go!
This article has four sections:
- Introduction and warm-up
- Strength Training
- Core Training
- Cardio Training
Use the numbers below to read all the pages in this article. Proceed to the next page for STRENGTH TRAINING.
Pages