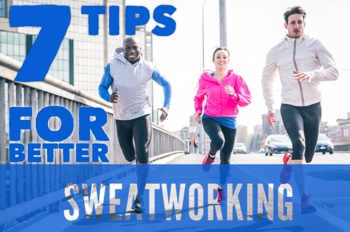 By Brad Bloom, Publisher, Faith & Fitness Magazine
NOTE: This is an 8-page article.  Click the page numbers below to read all eight pages.
It used to be that networking, having important conversations and making business deals was done while knocking around a ball on the golf course or sipping a cappuccino at the coffee bar. Today more people are having that outside-the-office meeting while lifting free weights at the gym. They're hammering out agreements while pushing through a spinning class. The next big opportunity is being visualized while doing some group meditation.
Susan Richardson in her NewsWorks Human At Work blog spoke with Marketing Director of City Fitness Philly Tom Wingert. He says, "The workout space — whether cardio, training, barre, or yoga — can enhance those personal business relationships precisely because of the vulnerability of our human bodies in those places. When people work out together, they need people. Whether they're pushing themselves or trying something new, they're at a vulnerable spot. So spontaneous interactions and conversations — like 'Wow, that was hard' — can start relationships or take them further".
This is networking while working up a good sweat --- sweatworking! And --- It's not just shaping business muscle in the marketplace it's also a great way to fuel the metabolism of the church and make stronger gains.
It's common knowledge that making good friendships, crafting market influence, and doing good in your community and beyond happen when we network with other people. Making your faith a part of your relationship building, rather than excluding it, is an honest and smart thing to do.
We've been told that religion and business must not mix. So you may presume that also applies to your personal faith in God – people won't understand you, they'll decide you're too risky to the norm or they'll immediately be offended.  While you may indeed find that to be the case with some people, you can find many more who are looking to expand their contacts, understand ideas that are new to them, envision possibilities and grow opportunities. Christians have incredible passion and capacity to address needs, support causes and define solutions not just through traditional pragmatic, humanitarian and competitive approaches but also through a broader faith mindset that is both wise and compassionate.
So, based on the evidence that people are achieving results by networking while working out and given that many of those people are open to how faith can drive those results, sweatworking is a great way to bring faith and fitness together.
OK, NICE --- BUT WHAT'S NEXT?
We all know that good ideas are just that – well-intentioned potential that doesn't happen without strategic next steps.  We've got you covered! Here are seven ways you can make real gains through sweatworking. Check out each one, try several and find the ones that work best for you.
NOTE: This is an 8-page article.  Click the page numbers below to read all eight pages.
Pages