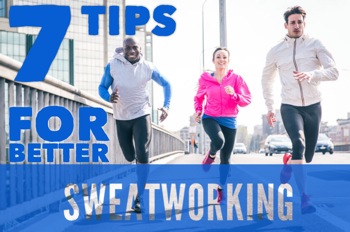 By Brad Bloom, Publisher, Faith & Fitness Magazine
NOTE: This is an 8-page article.  Click the page numbers below to read all eight pages.
It used to be that networking, having important conversations and making business deals was done while knocking around a ball on the golf course or sipping a cappuccino at the coffee bar. Today more people are having that outside-the-office meeting while lifting free weights at the gym. They're hammering out agreements while pushing through a spinning class. The next big opportunity is being visualized while doing some group meditation.
Susan Richardson in her NewsWorks Human At Work blog spoke with Marketing Director of City Fitness Philly Tom Wingert. He says, "The workout space — whether cardio, training, barre, or yoga — can enhance those personal business relationships precisely because of the vulnerability of our human bodies in those places. When people work out together, they need people. Whether they're pushing themselves or trying something new, they're at a vulnerable spot. So spontaneous interactions and conversations — like 'Wow, that was hard' — can start relationships or take them further".
This is networking while working up a good sweat --- sweatworking! And --- It's not just shaping business muscle in the marketplace it's also a great way to fuel the metabolism of the church and make stronger gains.
It's common knowledge that making good friendships, crafting market influence, and doing good in your community and beyond happen when we network with other people. Making your faith a part of your relationship building, rather than excluding it, is an honest and smart thing to do.
We've been told that religion and business must not mix. So you may presume that also applies to your personal faith in God – people won't understand you, they'll decide you're too risky to the norm or they'll immediately be offended.  While you may indeed find that to be the case with some people, you can find many more who are looking to expand their contacts, understand ideas that are new to them, envision possibilities and grow opportunities. Christians have incredible passion and capacity to address needs, support causes and define solutions not just through traditional pragmatic, humanitarian and competitive approaches but also through a broader faith mindset that is both wise and compassionate.
So, based on the evidence that people are achieving results by networking while working out and given that many of those people are open to how faith can drive those results, sweatworking is a great way to bring faith and fitness together.
OK, NICE --- BUT WHAT'S NEXT?
We all know that good ideas are just that – well-intentioned potential that doesn't happen without strategic next steps.  We've got you covered! Here are seven ways you can make real gains through sweatworking. Check out each one, try several and find the ones that work best for you.
NOTE: This is an 8-page article.  Click the page numbers below to read all eight pages.
PAGE BREAK
1. MULTI-SITE MEETUPS
Spread your wings and discover who is out there beyond your current circles.  Many churches and gyms these days have multi-site locations. Visit each one, introduce yourself and get to know people.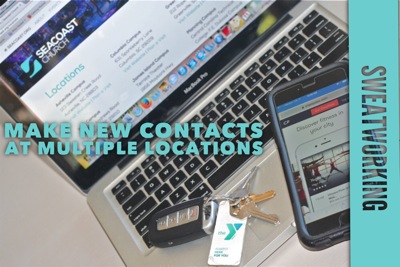 With a bit of effort you'll likely find other fitness enthusiasts that also want to get in some good sweatworking. Then take it a step further and visit other churches. The only one that says you can't do this is YOU. Beyond the church you can really multi-site in the fitness culture.  YMCA members have been doing it for years. Y memberships have an "Away" feature, which typically gives them limited free access to hundreds of Y's in their local community, nationwide and even globally. Many other gym brands have similar arrangements. It gets even better. With programs like ClassPass you can have a monthly membership that connects you to more than 8000 fitness studios (and some very fun top rated classes). Once you get acclimated to who is out there and what they're doing then a logical next step is to use the social media tool MeetUp and start your own MeetUp groups.
NOTE: This is an 8-page article.  Click the page numbers below to read all eight pages.
PAGE BREAK
2. SOCIAL STUDIES 2.0
Do something more with your Facebook, Pintrest, Instagram, Twitter and other social media. Use your existing social media or create a new faith and fitness profile to initiate and grow your sweatworking opportunities with prayer gatherings, Bible studies, book readings, fun-filled fellowship, worship/praise and more.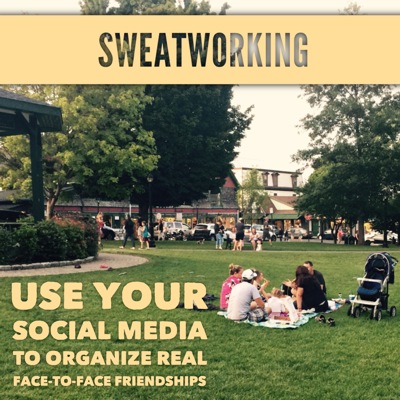 Sure you start by doing this socially. Anyone worldwide can become a friend and connect. However, you'll likely be able to really develop a local network with these tools that can morph into mall walking, families gathering for recreation and cookouts at local parks, bike/hike or other outdoor activities, community gardening --- whatever positive fit activities you want to bring to your community. AND – it's natural to make faith a vibrant part of each experience. Christians are the church and with a little sweatworking you'll find there are a lot of people out there that will really appreciate your fresh expression of church.
NOTE: This is an 8-page article.  Click the page numbers below to read all eight pages.
PAGE BREAK
3. GET CERTIFIED
What's your favorite fitness or wellness activity? Get certified to do it! Fitness businesses need trained and skilled professionals to lead group exercise classes, personal training and provide other wellness services.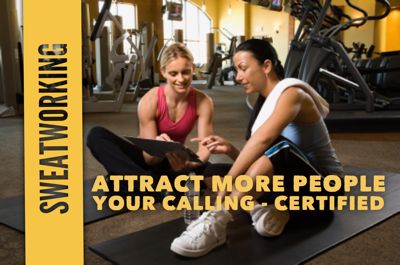 Churches doing fitness ministry especially need people on their team that know what they are doing and have the credentials to back it up. In many cases, you providing the instruction or service is only part of the job. You need to be able to continually attract more people to the fitness facility or church. That's exactly why you want to do better sweatworking already, right?.  So, it's a win-win for everyone. Today, certified group exercise, personal training and spa services are all being expanded with Christian faith components.  AND – events like Faith & Fitness Magazine's Redefined Conference at the Athletic Business Show provide that perfect mix for you to get Continuing Education Units (CEU's) and on-point fitness ministry instruction.
NOTE: This is an 8-page article.  Click the page numbers below to read all eight pages.
PAGE BREAK
4. THE NUTRITION ADDITION
Food! Some time today you'll probably think about it. You'll probably eat some too along with everyone else. Eating food is a shared activity that correlates closely with both fitness and faith.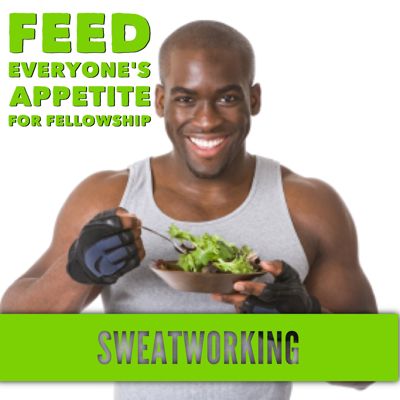 "Let's get a bite to eat after the workout" is often a natural next step to good sweatworking. Beyond the post-cardio meal, food is a favorite way we've found to connect with each other.  Now with the pervasiveness of social media more people are doing the, "I eat for Instagram" approach where meals become nutritionally rich, flavorful photographed works of art. Everyone has a recipe to share and eager to try something new. Some Planet Fitness Clubs regularly have a free pizza night. What would church fellowships be without an excessive amount of good food? While neither would be classified as best practices for a healthy or low-fat diet they show that food is closely integrated into both fitness and faith. That means you may be able to get healthier foods for sampling introduced at a fitness facility, invite people to a food tasting you host, do farm to fork community meals, organize a cooking event/class or do a progressive dinner.
NOTE: This is an 8-page article.  Click the page numbers below to read all eight pages.
PAGE BREAK 
5. WORKOUT TO OUTWORK
It's another day at the gym with another group exercise class and another workout or another WOD. So you and tons of other motivated fitness enthusiasts in your community are all strong. What do you do with that? Time to organize some OUTWORK.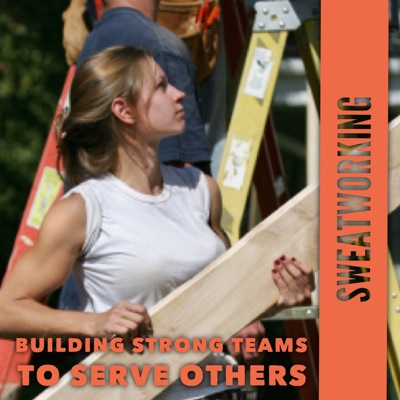 Outwork is any kind of community-benefiting outreach that requires muscle. Think of organized efforts like Habitat For Humanity, emergency relief volunteering or food assistance programs. But – also think of physical work you can do yourself like lawn work, home repair or 1-on-1 care for a disabled, shut-in, elderly or other person in your community. This kind of outwork should be the permeating ethos at faith-centered fitness facilities. As Devin Johnson of Destiny Fitness in Rocklin, California says, "A Faith-Based Fitness Facility is a great place for people who have similar passions and interests in Fitness, with completely different vocational backgrounds and resources, to be able to come together with common ideas and goals for how to be a blessing to the Kingdom through both local and global outreach."
NOTE: This is an 8-page article.  Click the page numbers below to read all eight pages.
PAGE BREAK
6. BRING A FRIEND TO…
Does your church have a fitness ministry and fitness facility? If so they could have a policy in place where you can bring one or more people each time you participate in a program or use the space. If they don't they should.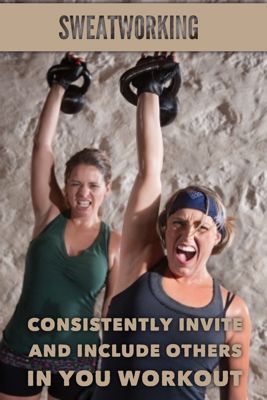 Consistently bringing a friend to the gym is one of the best ways an organization can get the word out about what they do and grow interest. AND --- You need to seriously be working that. See this not just as a member benefit but rather as your personal obligation to be a good steward of the ministry to which you belong.  In other words just because you CAN bring someone doesn't mean you WILL bring them. You've got to be intentional. Make a list of all the possible people you can bring to your gym or exercise class and grow that list. This is a smart and obvious way for the church to "market the ministry" but more simply put this is and what Christians call --- the Great Commission.  This isn't about converting people to Christianity but it is about giving them the opportunity to experience Christ through you and others.
Now if your church doesn't have a fitness ministry and you go to a gym then the "bring a friend to the gym" is engineered differently. Your gym membership gives you an opportunity to invite church acquaintances, probably one at a time, to join you in a workout and get to know each other better. Invite the church leadership too, the deacons or board members, the youth and family pastors and yes even the senior or executive pastor.
NOTE: This is an 8-page article.  Click the page numbers below to read all eight pages.
PAGE BREAK
7. do unto others as you'd have OTHERS DO UNTO YOU
If you're going to fully embrace a Christian worldview, sweatworking has to be especially counter intuitive to the go-go hustle that is so highly valued in the self-directed self-made person. We all need to adjust our motivated agendas to allow for others to take the lead.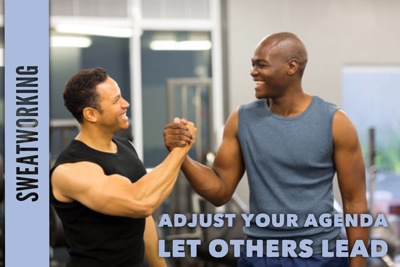 Repeatedly the Bible presents examples of how Jesus Christ certainly was out there and available to be used of God. People came to him and often initiated the sweatworking rather than him. If you're so busy working your own agenda, you'll be making too much noise in your own head to hear the friendly invite or urgent plea from someone else. The Bible's instruction is to be prepared and waiting. Let your next sweatworking encounter be orchestrated by God. This is the defining difference in a Christian approach to sweatworking. It's not about you and others working out to work out your plan. This is you and others exercising your commitment to be led by God's spirit together. Like the end of the Bible, expect some real good ---Revelations.