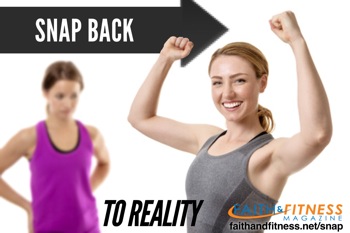 FANTASY #5: IT'S ALL GOOD
My fitness journey started as a way for me to feel good about myself. Fitness empowered me to stop smoking and start eating right.  I joined a gym and got a personal trainer and she changed my life. I felt better than I ever had.  I was getting more attention than I ever did before because of the way that I looked.  I even quit my job and became a personal trainer.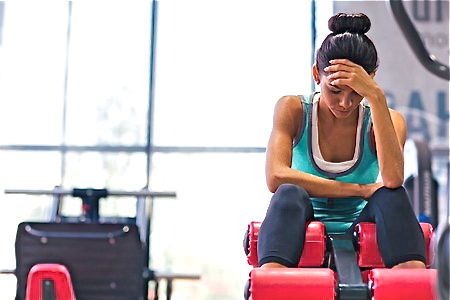 Good right? Well, when a good thing turns bad, no. My appearance began to define me.  I missed date nights with my husband because my strict diet didn't allow me to eat out. I had no energy to play with my daughter because I was spending hours in the gym. My fitness became the center of my world. I had lost objectivity and balance. Working out, eating right and my appearance became my obsession and my idol.
No servant can serve two masters, for either he will hate the one and love the other, or he will be devoted to the one and despise the other. You cannot serve God and money. Luke 16:13
Replace money with fitness and there I was. I had lost sight of why I was getting fit. I was seeking my worth in the scale and not in God.
This led to a twenty-year battle with an eating disorder. Losing your identity can happen to anyone, especially if your identity is changed because of losing a large amount of weight.
TOOL #5: FIND DAILY BALANCE AND IDENTITY IN GOD
For me finding balance again meant spending time in the Bible.  By reading my Bible daily I realized who I was to God no matter what I looked like or weighed.  I found my identity in Him and not in my appearance.  I realized that no matter what the world said, my size didn't matter, God still loved me and always would.
Keeping that obsession at bay is a daily battle. I must always keep my mind focused on God and His purpose for my life. Instead of my workouts being fueled by my need for approval my workouts are fueled by thanksgiving. I am so grateful to God for His love and grace that I want to be my best self for Him.
If you are finding yourself focusing on your appearance or letting your workouts and eating habits take over your life, first pray then speak to someone. Silence will only keep you in darkness longer. Secrets hate the light.
Continue reading – proceed to the final page. Use the numbers below to read all 7 pages.
Pages