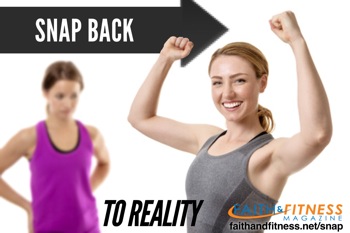 By Tabitha Sierra, Owner, Brick House Bodies
NOTE: This is a multi-page article. Use the numbers below to read all 7 pages.
Most gyms are crowed the first weeks of January with New Year resolutions and then empty out by the beginning of February. As a coach and personal trainer I see it all the time, people hit it hard at first and then give up on their commitment.
Why does this happen?  What causes us to start our own personal quest for fitness with such high hopes only to give up a few weeks later?  I think it is all about mindset and how you handle adversity. There are many days that I do not want to work out.  There are many days that I just want to sit home and eat pizza all day. But those days are fantasy. It would be nice if I could just snap my fingers and get back to reality. It doesn't work that way. What does work is having tools and strategies to cope with those days. God-given tools are what will get you to the finish line.
What makes some able to stick to their goals no matter what?  They have TOOLS that help them overcome. I've identified five ineffective thought patterns (fantasy thinking). More importantly, in this article I give you some tools to combat them and keep you on track.
Continue reading. Use the numbers below to read all 7 pages.
Pages