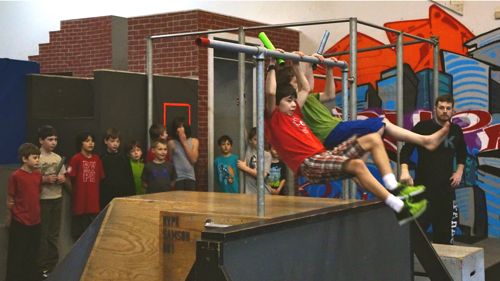 By Brad Bloom and Matt Antis, Revolution Parkour
Parkour --- Is it rooftop antics or skillful exercise?
(After you read this article be sure to take time and access all the additional resources below to get a better understanding of parkour.)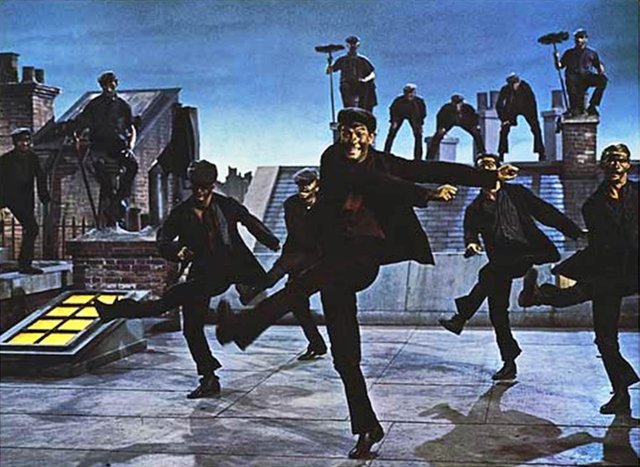 Who would have thought back in 1964 when Walt Disney Studios released the movie Mary Poppins that Bert the chimney sweep, played by Dick Van Dyke would foreshadow a modern day approach to fitness. Welcome to the world of parkour. Want to give it a try? You'd better get some solid training first. Revolution Parkour in both Beaverton and Gresham, Oregon (near Portland) provides the instruction. (photo by Walt Disney Studios)
Would Jesus do this? Well, certainly this isn't walking on water. But some modern day Christians are doing parkour and conversations about faith in Christ aren't excluded from this group activity. In fact, Daniel Ilabaca from the UK (links to his videos are below), one of the most talented celebrities of parkour often takes the opportunity in this sport to help those around him consider God.
Developed in urban France in the late 1980s, parkour is the art of using your environment as an obstacle course. David Belle, a French actor, film choreographer and stunt coordinator, is considered the founder of parkour; its name is derived from "parcours du combattant," an obstacle-course method of military training.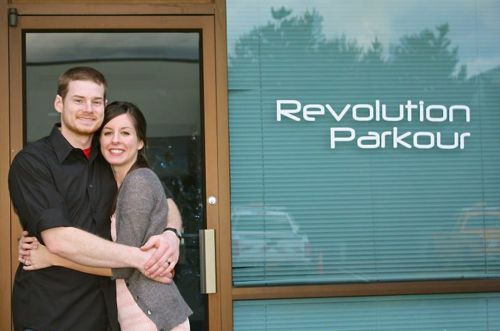 Here in the United States, Matt Antis and his wife Whitney are the husband/wife owners of Revolution Parkour. Their parkour gym is home to instructor's who balance the teaching of proper parkour technique along with its philosophy and purpose, with training the physical condition comprised of strength, range of motion, aerobic endurance, bone density, joint alignment, and structural efficiency.
After returning from Iraq with the United States Army and marrying Whitney in 2010, Matt began parkour in February of 2011. Matt's favorite classes to teach are classes with real life or worst-case scenarios where parkour is necessary for survival or success. However, Matt is most passionate about Jesus, the son of God, who has changed his life forever.
Matt shares, "Christ is important to me. From an early age I was aware of my need to be saved from my sins. I asked Jesus into my heart when I was four with my Dad who lead to me to the Lord. My wife and I have attended Athey Creek Christian Fellowship since 2001. We are currently planning to start attending a small group and getting more involved now that our son is older."
From their early upbringing to their present-day parenting Matt and Whitney certainly have the heart for youth. But tame "Sunday School" classroom this is not! "Parkour may seem reckless to the untrained eye", note Matt and Whitney, "but there is a mentality, philosophy and practice behind it, including respect for your body and the environment."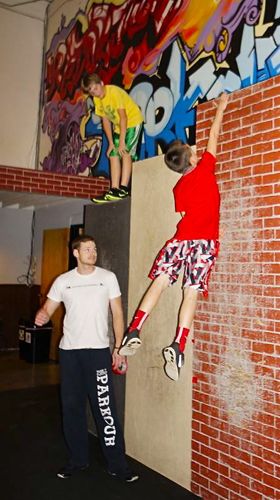 Whitney, sees the tremendous value that the discipline of parkour holds for kids and adults of all ages. She considers herself blessed to be able to meet and spend time with individuals and families through the gym. Whitney says she receives calls from concerned parents who see that their kids are jumping off things at home. They may be vaulting over couches or off the back deck. So by receiving instruction at Revolution Parkour they can instead learn to do it safely. "While parents may have reason to worry", Whitney says,  "there are fewer injuries than one might think. A huge part is learning how to do the techniques safely." Classes are designated by level: beginner, intermediate and advanced.
Matt says, "Mentorship happens naturally as I hang out with my students. I'm Facebook friends with many of them and as they post to the world their thoughts about God and what they are struggling with then I get to speak truth into their lives by sharing Jesus. I care about my students and so I always ask them how they are doing. If it sounds like they need prayer I let them know that I'll keep them in my prayers. I find I have opportunities to speak about Jesus and the Bible with people while at the front desk. It's a great place to listen to people and [understand] what their needs are."
Much of the philosophy of parkour is what Matt identifies as the dynamic aspects that enhance a person's spiritual strength and walk with God. For example he sees gaining the ability to conquer fear as a parallel to the Bible's account of God telling Joshua to be strong and courageous. He feels overcoming obstacles in parkour can reinforce the good news of Jesus promising good things to those who overcome. Matt says, "If there is truth in the philosophy then you'll also find that it's Biblical as being a doer has a lot to do with right living."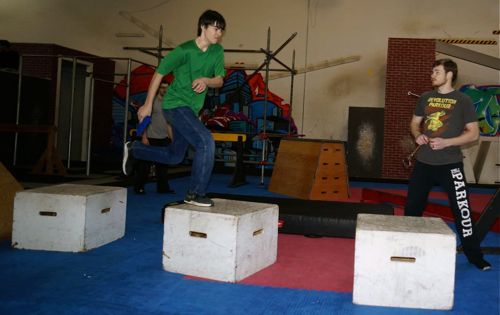 A defining difference that Christian faith makes in fitness according to Brad Bloom, publisher of Faith & Fitness Magazine is when you become less self-focused and more "other-minded". You're not just making personal gains, you are improving with the intentional purpose to benefit others. Parkour can really strengthen this selfless Christian spirit.
Antis explains, "While training, having no thought about 'self' is huge. To [avoid] injury, a practitioner's mind has to be active as she or he goes over obstacles. They're thinking of what has to be done. They take themselves out of the equation. As instructors in movement ability we [observe] and help them without thought of anything but their benefit and safety. There's nothing else attached. Ego must die. There's no room for it and when you can die to yourself then you're that much better of a training partner. Pride is the enemy. Pride will only hurt you."
At first glance you might you might assume Matt and Whitney are simply gym owners for a unique form of physical training. The more you listen to them share from their heart you begin to see that what they are doing is quite honestly a calling God has given to them. Through the day-to-day training, mentoring, relationship building and support of families, God is crafting that calling into authentic ministry something much more than simply helping people physically train and safely perform parkour.
PARKOUR WHERE YOU LIVE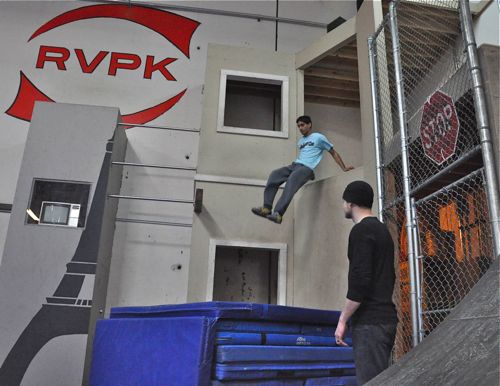 Is parkour something to offer as fitness ministry in your community?  Do some serious research and consider how this sport could open avenues of Christian ministry where you live. If gymnastics, running, youth team-building camps, or skateboarding are activities in your area then there may be strong interest in parkour. Nature settings, local parks, playgrounds, suburban and urban spaces are all outdoor settings where people can parkour.
Matt advises that having someone who knows what they are doing is paramount. We at Faith & Fitness Magazine agree. All fitness ministry needs to be led by someone who is well trained and has the specific skills along with Christian ministry training. Antis says, "We always say that 'parkour is for life.' An instructor should be able to demonstrate all of the techniques that they are teaching." Matt continues, "Once you know the basics and have a plan to develop those basics  then you'll need space. There are parkour studios or gyms in the United States that range from 800 to 12,000 square feet. The two Revolution Parkour facilities are about 4,500 square feet in area.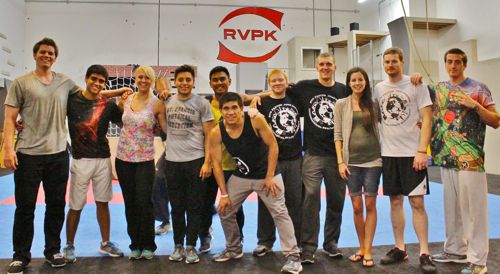 Marketing your parkour ministry is about growing a positive presence in your community. Matt says you do that by practicing kindness and respect. He says, "Prepare yourself to communicate what you're doing if asked. Natural growth (the best kind) takes time in a community." Regarding liability and insurance, parkour is newer and so it's important to find a knowledgeable insurance agent or broker. Rates for parkour can vary more than any other discipline. Matt consults with those who are considering starting a parkour gym.
Taking a big leap of faith with parkour isn't about offering a program or doing ministry that you fear could be a risky business venture or a potentially more dangerous sport. It is about creating a new opportunity for you to BE LIFE in your community. You can redefine fitness.  
---
Christian Parkour and Freerunning Society webpage
Inspire Tour 2015 video (USA East Coast)
Inspire Tour on Facebook webpage
Daniel Ilabaca video talking about parkour, faith and training youth
Daniel Ilabaca video teaching about parkour philosophy and the Christian faith
Daniel Ilabaca video L.A. Found concept video demonstrating the range of parkour