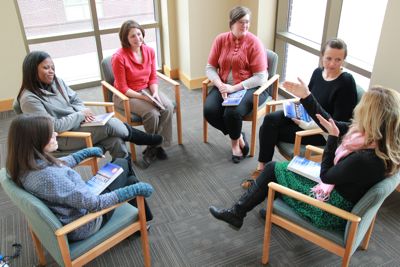 By Scott Reall, Founder and Executive Director, Restore Small Groups
For the first ten years of my 25-year career at the YMCA, I was the Senior Wellness Director at the Green Hills YMCA in Nashville, Tennessee. I was meeting one-on-one with people every day, prescribing plans to help them change their health and fitness through exercise and diet. The Y's motto says they change lives in "spirit, mind and body", but I was having trouble finding the spirit and mind connection. I worked out every day, ate according to a strict, nutritional diet, and by all appearances was a fit and healthy human being. Nothing could have been further from the truth. In secret and isolation, I was battling with life-controlling issues and low-level depression.
I realized that no amount of exercise or right diet was ever going to impact those areas of struggle because I was in a spiritual dilemma. I needed spiritual answers. Around the time that I had my epiphany, I was doing a fitness assessment with a new member who had recently gained 30 pounds. At the end of the assessment, I asked her if something had precipitated her weight gain. With tears in her eyes, she shared with me that her husband had died the year prior. It hit me. No exercise program or nutritional plan would impact why she was using food for comfort. I wanted to build a community that was intentional about providing the spiritual and emotional healing that we all need.
It was in a small group that God changed every aspect of my life.
In group was the first time that I was honest with people about everything that was going on in my life. That was such a foreign experience for me.
In a small group of men, for the first time in my life, I began to develop intimacy, which means, "in to me you see." By allowing others into my life, I allowed the grace of God to begin to flow and heal those places that had been my dark secrets for a long, long time. That is the beauty of the small group.
The mission of Restore Small Groups is to invite anyone desiring positive life change into a supportive small group centered on the transforming grace of Jesus Christ.
-Scott Reall
---
RESTORE SMALL GROUPS OVERVIEW
THE SMALL GROUP MODEL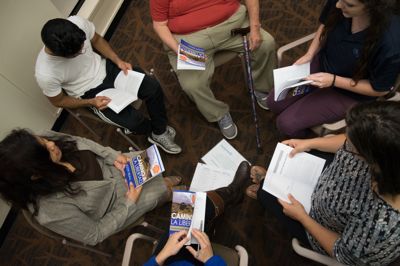 Many small group programs on creating a program-in-a-box, generic enough that anyone can lead using pre-formed resources like videos. Restore's approach is an intimate process where we invite 8-12 people together for 8 to 15 weeks in a closed group setting, founded on the principle that change is possible. Small groups create lasting community by building intentional and intimate relationships.
Three things happens in Restore Small Groups:
1. Identify the areas of our lives that need to change
2. Move towards a vision based on intrinsic motivation
3. Share personal plan of action
RESOURCES TO RESTORE

JOURNEY TO FREEDOM
An 8-week guided small group that lays the foundation for successful change in your life in a supportive, caring and confidential environment. Locate the areas of your life that need improvement; discover the roles that self-esteem, fear, relationships, faith, and your past play in your life, and find hope learning to live into your full potential.
After participants complete Journey to Freedom, we have seen that there are root issues that are universal: fear, low self-esteem, grief, and food/body image issues. Scott has written four books to act as springboards for small groups to meet filled with people who struggle in these areas specifically.
JOURNEY TO LIVING WITH COURAGE: FREEDOM FROM FEAR
Learn to live a faith-based life, instead of having a fear-based approach.
JOURNEY TO A LIFE OF SIGNIFICANCE: FREEDOM FROM LOW SELF-ESTEEM
Overcome negative thought patterns by understanding their origin, and come to develop self-compassion and resilience.
JOURNEY TO A NEW BEGINNING: FREEDOM FROM THE PAIN OF LOSS
Find freedom from the pain of disappointment and loss. Loss is a change to any normal pattern in life, not just due to death.
JOURNEY TO HEALTHY LIVING: FREEDOM FROM FOOD & BODY ISSUES
Get to the emotional heart of living a healthy, balanced lifestyle, focusing on the emotional healing surrounding negative body image.

BRING RESTORE SMALL GROUPS TO YOUR COMMUNITY
Learn more about Restore Small Groups and how you can partner to offer Small Group in your community. Restore Small Groups is ideal for:
• YMCAs
• Community Centers
• Churches
• Missionaries
• Jails
• Non-Profits
• Youth Programs