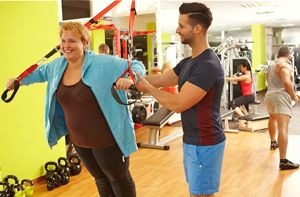 By Troy Ismir, Fitness and Lifestyle Coach
NOTE: This is a 4-page article to help you better understand the importance of a support network.  Be sure to read all four pages and then post your Facebook comments at the bottom and share it with others.
What do you think the biggest factor in deciding if someone will make lasting lifestyle changes?  If you guessed more knowledge, I am sorry but you are wrong.  The vast majority of people know what to do.  In a very simplified version everyone needs to eat more real whole foods and move more.  No big secret there.  How about getting a better skill set?  If I was just a better cook I would make the changes I need to.  Never hurts to improve your skill set, but that isn't the most important factor.    
Are you ready for the suspense to be over with?  Drum roll please….this may surprise you, but it is actually the quality of people's helping relationships.   The most important factor in making life-long change is the connection between them and their support network.
Lifestyle changes can mean different things to different people.    It is highly individualized and takes on a different meaning for each person who wants to make transformative changes in their life.   As a fitness and lifestyle performance coach that is faith based, I typically see five main areas that people want to make improvements on in their life.
5 COMMON LIFESTYLE CHANGES PEOPLE WANT TO MAKE
1. Nutrition:  Many people want to eat better quality foods.  They realize the food choices they make can have a big impact on both their health and body composition.
2. Movement:   We have become a sedentary society. A common goal is for people to want to build in purposeful movement into their day.
3. Recovery:  We live in a world that is fast-paced and often times 24/7 with technology at our fingertips day and night.  Sleep has become a precious commodity.  Wanting to get more sleep at night has become a common theme for people.
4. Mindset:  Our thought life can have a significant impact on our health.  A helpful lifestyle change is focusing on inner peace and joy.  This can be accomplished by incorporating some form of meditation or yoga into a person's daily routine.
5. Spiritual:  Having daily quiet time and drawing closer to God is another lifestyle change I often hear.  Carving out time each morning to study the Bible and pray is a change that many people want to incorporate into their daily routine. 
The best way for you to make lasting lifestyle changes is for you to build an alliance with people you know and trust.  An alliance is a relationship among people that have joined together for mutual benefit or to achieve some common purpose.  A strong alliance and support network will improve your readiness, willingness and ability to make progress.
---
Helping Relationships:  This type of relationship is characterized by empathic listening, clear communication, compassion and being non-judgmental with the goal of helping the person move towards positive change.
---
I want to explore two helping relationships that can help you on your journey of making lasting lifestyle changes.  The first helping relationship is between a fitness coach or personal trainer and a client.   The second helping relationship is a personal relationship between loved ones such as a husband and wife, boyfriend and girlfriend or a parent and their child.
Click/tap on the page numbers below to continue reading all of this article. 
PAGE BREAK
YOUR FITNESS AND LIFESTYLE COACH
Both professional and personal relationships are vital in this life change process.   They are key to making lifestyle changes that are sustainable over the long haul.  A professional helping relationship with a fitness coach is important because the stronger the coaching relationship is, the better results you will get as a client.  After all, isn't that the reason you hire a coach or a trainer?  To get results you weren't able to attain on your own.
A fitness professional that is invested in your change process will come from a place of empathy, compassion and being non-judgmental.    Think back to a teacher, coach or mentor in your life that had a significant impact on how your life was shaped.   My guess is that those people came from a place of deep compassion, caring and empathy.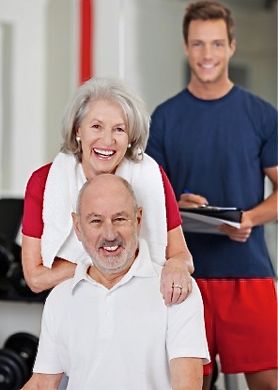 Often times the forgotten component of a lifestyle transformation is the spiritual aspect.  By working with a faith based fitness coach or personal trainer it ensures that a holistic approach is taken.  Working towards a goal of weight loss is great, but for a transformation to be sustainable and successful it has to go much deeper than that.  Getting stronger spiritually, physically and mentally can help you have more energy, better health, and a more powerful and joyful life. 
Working with a faith based personal trainer or fitness coach can help you go deeper beyond the number on a scale.   Deep health comes from a balanced diet of real whole foods.  It comes from getting an adequate amount of movement every day.  It comes from having healthy relationships in our life.  Ultimately, it comes from living a life of purpose and loving God and loving others.   I want to encourage you to intentionally choose a fitness professional that will make spiritual and mental training as big a part of your transformation as the physical training. 
A big part of what I do as a fitness and lifestyle performance coach and personal trainer is to provide support and accountability in a caring and compassionate environment.   My clients know that I will hold them accountable to what they told me they want to accomplish.   I will provide tough love if I need to ensure they are giving their best and working towards accomplishing all of their goals and dreams.   Without this level of accountability and support it is very easy to fall into a certain level of complacency.  A great coach will continually find ways to get the best out of their clients by believing in them more than they believe in themselves.
Click/tap on the page numbers below to continue reading all of this article.
PAGE BREAK
YOUR MOST PERSONAL FRIEND
As important as a professional relationship is to the change process, a personal relationship with a loved one can be the make or break point in sustainable lifestyle changes.  If you work on making all of these life changing habits with a fitness professional, but you don't have the support at home, it's going to be very difficult to move into sustainable lifestyle changes.  Professional and personal helping relationships work hand in hand in getting the best results possible.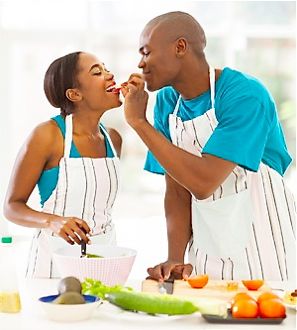 Let's take for example a husband and wife relationship.   The husband decides he wants to get healthy, lose weight and get in great physical condition.   Without the husband and wife working together on meal planning, having discussions on where to dine out and how to carve out time for movement, it's going to make it very difficult to make lasting changes.    
Even more important is the emotional support that is needed to make these difficult behavior changes.   It's critical for the significant other to provide compassion, empathy and being non-judgmental in this change process.   Any negativity, resistant attitudes or poor communication in a personal relationship can sabotage any efforts that a person is making with a fitness professional. 
Let's examine the dynamics of a personal relationship through this lifestyle change process.   Ideally in a perfect world both people in the relationship make a decision together that they want to move towards deep health in all areas of their life.  They have made a decision that they are going to work together in a supportive and compassionate environment to make the necessary changes to live the life that God created them to live by taking care of the temple.
WHY CHRISTIANS CALL THE BODY 'THE TEMPLE'
The definition of temple is: A building [space] devoted to worship regarded as the dwelling place of God. The mindset is that God intends for no place to be more sacred than our body. He authors that close level of relationship with us and we are to likewise to recognize, understand and esteem our bodies. It is described in the Bible as created with dignity, sacred and valuable to God. We live in a physical body and through faith find completeness in Christ Jesus.
But often times this isn't the case.  One person in the relationship decides that they are ready for some lifestyle changes, while the other person is still resistant.  What are the expectations, fears, attitudes and needs of both people in the relationship?    Let's look at three ways lifestyle changes can affect a personal relationship.
1. FEELINGS OF FEAR:  When one person in the relationship decides that they want to make a lifestyle change and the other person isn't ready, it can bring up a whole host of feelings.  The non-changing significant other or the person pursuing change can have feelings of fear.  This fear may come from losing the life that they are accustomed to.  They may not be able to enjoy the same foods they shared together or one person may want to go to the gym while the other one prefers to sit at home and watch TV.  There may also be feelings of fear that they may lose the other person because of all of the efforts that the person is making in becoming healthy and losing weight.  There is a fear that once this person changes, they may not love them anymore.
2. FEELINGS OF GUILT:  Often times we project our own feelings about ourselves on to others.  A significant other may try and make you feel guilty for spending time at the gym or make you feel guilty about not wanting to enjoy a pizza together any more.  This may be a projection of their own guilt of not taking care of their health or not wanting to make the necessary changes in their life that they know they need to make.  They may try to sabotage your efforts to decrease their level of guilt they are feeling themselves. 
3. FEELINGS OF CONDESCENSION:    When one partner changes and starts to get healthy and lose weight, it is easy for that person to start to look down on the other person and judge them for not changing along with them.   Feelings of pride come into play.   It's easy to judge another person, especially when you have overcome your own bad habits.  It's important to realize at this point that you can't make other people change and that everyone is on their own journey.
Click/tap on the page numbers below to continue reading all of this article.
PAGE BREAK
STRONG RELATIONSHIPS + BIBLICAL WISDOM = LASTING CHANGE
Regardless of the circumstances, making lasting lifestyle changes can be hard.  Both personal and professional relationships can be the defining factor in successful change when done properly.    So what is the best way to support each other in this change process?  Here are 5 Biblically based ways you can show love and support through this change process.
1.
LISTEN
:  The Bible says everyone should be
quick to listen
, slow to speak and slow to become angry.   Take the time on a daily basis to listen to each other.  What hopes, dreams, fears and expectations do each of you have through this change process?  Be quick to listen and understand and slow to speak.
2. ENCOURAGE:   The words of the tongue can build someone up or it can tear them down.  There is nothing better than words of encouragement from someone you care about to help lift you up.
3. GRACE-BASED JUDGMENT:  We all have areas in our life where we fall short.  It's not our job to judge others.   We need to look at our own lives rather than judge others.  God has given us the power of free will in which we each have the ability to choose for ourselves how we treat our body.  God gives us the ability and intends for us to exercise good judgment, but always with the filter of grace.
4. EMPATHY:   Think of this change journey from each other's perspective.  As the old saying goes, "walk a mile in their shoes."  Be kind and compassionate to one another.
5. UNCONDITIONAL LOVE:  Regardless of where you or your loved one is in the change process, by showing them unconditional love, you are showing them that you love their spirit.   By loving the people closest to you unconditionally, it gives them the space to be who they are and make the changes in a loving and safe environment. 
A shining example of how both personal and professional relationships is instrumental in the change process is exemplified by the story of one of my client's, Andrew.   Andrew had been struggling with his weight for many years.  He went from being a college athlete to someone who was struggling with obesity and on seven different prescription medications in his fourth decade of life.  He is a seriously devoted Christian and after a great deal of soul searching and prayer, he was able to align his thoughts with God and realized that he was doing a disservice to his temple by the way he was treating it. 
Through attending my Divine Wellness Academy and working with me as his fitness and lifestyle performance coach, he was able to lose 50 pounds and get off all of his prescription medications.    This lifestyle transformation had a great deal of impact on his life physically, mentally and spiritually.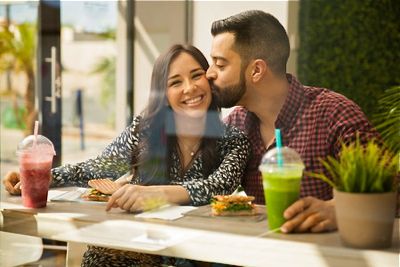 The best part of this story is my client and his wife are in complete alignment on their health goals.  It wasn't easy as they realized they had to work together in order for this change to be sustainable.   It took a while for them to get on the same page in regards to nutrition and dining out.  Once they were able to communicate and support each other through this change process, the results have continued to come for Andrew.   This move towards better health with Andrew has led to a closer relationship with both God and his wife. 
The bottom line is connections create change.  You can find this connection with a friend, loved one, or a qualified personal trainer or fitness coach.  I purposely designed the Divine Wellness Academy, a 10 week transformational health and wellness course, so that participants have weekly accountability and support partners.  This connection creates change.
It is God's design that all of life is to be lived in relationship with others.  Lifestyle changes can be hard, but are best achieved when we follow God's design.  Start building your support network today.  Find a faith based fitness coach or personal trainer that can guide you through this holistic change process. Find ways to continually strengthen your relationship with those closest to you.  
A strong alliance and support network of loved ones and faith based fitness professionals can help support you in getting in the best spiritual, physical and mental shape of your life.   This connection ultimately creates change.
---
More Faith & Fitness Magazine articles related to this topic:
Biggest Looser Gains It All Back And Then Some
Get Passionate Personal Training With A CIT
This article, Relationships 101 - The 1 On 1 Of A Fit Lifestyle, appears in the October/November 2016 issue of Faith & Fitness Magazine.