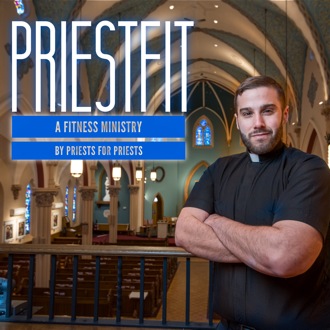 A VISION FOR THE FUTURE
Recently through a generous gift we were able to launch our website. Priestfit is already getting attention. We are humbled but also convinced that the Holy Spirit is doing something big. The people in the pews want happy and healthy priests. Our brothers want that too, though some live in denial and some without hope of change. What about the Priestfit message is strong and what are the challenges to sharing it?
We have identified a problem and a need in the Church. We have the witness of proven weight loss and methods of support and accountability. Having been obese men, we understand the battle with obesity as it pertains to men. We understand the priesthood, the complexities and the stresses of ministry in the Catholic Church, and the strength of our fraternity. The ability to connect the journey to this spiritual element is key, because there is a lot in the fitness industry that seeks to dissuade men who want to live chaste and holy lives.
We do recognize we have a long way to go and, like any good ministry, there will be spiritual attacks and resistance. As any addict experiences, there is a certain amount of denial that must be breached. We are looking at developing a means of informal and compassionate intervention, which invites our brother priests to join our support without fear of judgment or punishment.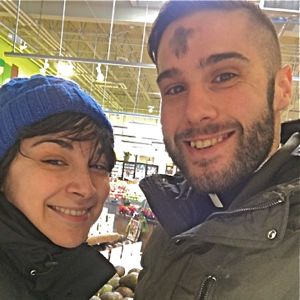 We also see a certain amount of shaming in the Church for brothers who seek to better their own lives through diet and exercise regimens, which sometimes may conflict with the idea that priests are always on call. Having supportive family and friends is critical. Self-care isn't selfish, it is necessary for long term and sustained ministry in the church. The tendency to over-spiritualize the priest, or to forgive Father's over-indulgences is something that priests and laity suffer from greatly. Priestfit must also learn to become as inclusive in experience as possible, as we seek to highlight the witness of older priests with difficult health issues that prevent them from strenuous exercise or challenge their nutritional needs. Beyond social media we plan to offer a smartphone application and developing more one on one and small group accountability. We stand in faith that God will provide finances as our outreach continues to grow.
AN INVITATION TO HELP PRIESTFIT GROW
Father Casey and I are truly blessed to share our story with the readers of  Faith & Fitness Magazine. The moment we received the invitation from a primarily protestant focused magazine we thought, this is awesome! We are thankful for the quantity and scope of faith and fitness content and initiatives that are protestant generated. There is so much to be done in the Catholic Church on this subject.
We know too that those in ministry in other denominations also suffer from similar challenges, and so we encourage the wider church to support ministers who desire to lead healthy lifestyles yet are struggling. Priestfit welcomes the public to follow our journey and contact us on our website and public social media.
Prayer is so important in this journey. So, we ask you to pray for us, other church pastors and leaders and many more on staff serving congregations throughout the world. By praying first and foremost and then by engaging in compassionate friendship and support, you can demonstrate your solidarity and communicate, "You are not alone".
QUESTIONS FOR GROUP DISCUSSION AND PERSONAL REFLECTION:
1. Father Ryan identified that anger was a factor that worked against his spirit and his recovery to being whole in Christ. What do you think fuels the many expressions of anger we see in individuals that pervade much of today's culture? Honestly reflect and consider what may cause ongoing anger in your life. How does that affect you physically and spiritually? What can you do to get rid of that anger and also to promote greater peace in your areas of influence?
2. Obesity continues to be a dominant health condition for many with many contributing circumstances. If you identify as obese, what do you feel are the leading causes for you? Consider someone you know who is obese. How can you help that person? What makes a supportive environment, fueled by faith, ideal to bring about change and improvement? What barriers (real or imagined) keep you from being as supportive of others? What are some tangible ways you can demonstrate support to others?
3. For the person who invests in a Fixer Upper there are some identifiable qualities: They see potential beauty that others don't, they won't be deterred by surprises or challenges, and they see that their action brings value to the greater community. Consider how these qualities can be evident in you as you come together with others to give support and help them experience that they are not alone.
---
This cover story appears in the Church Fitness Department and the Men's Interest Department of the April/May 2017 issue of Faith & Fitness Magazine.
DONATE TO THE MINISTRY OF FAITH & FITNESS MAGAZINE SO WE CAN CONTINUE TO PROVIDE INSPIRING STORIES LIKE THIS FREE TO PEOPLE WORLDWIDE.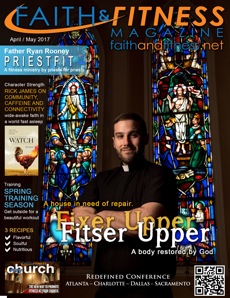 Pages