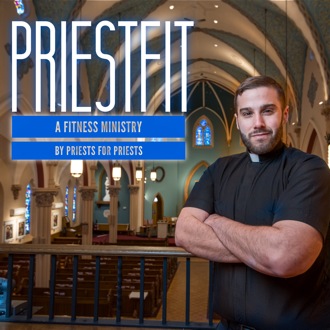 PRIESTFIT IS BORN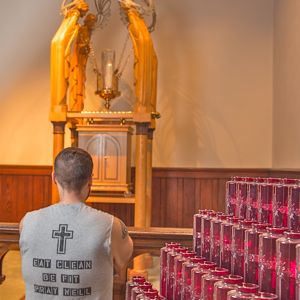 "Shortly after Christmas we knew it was time." Both of us had experienced some setbacks over the holidays and knew it was time to hold each other to a new level of accountably and reach out to brother priests. Thus was born Priestfit and the "Priestfit Presentation Challenge".
Since the fourth century, Christians have commemorated the presentation of Jesus in the temple. We thought this would be a good time to challenge our brothers and to present [our] bodies as a living sacrifice, holy and acceptable to God. We reached out to brothers over social media offering daily videos and reflections to help them begin their journey into health.
Priestfit started from two priests needing encouragement, prayer and support. Today we are building a network of support and casting a vision to Eat Clean, Be Fit, Pray Well. We want to show the power of God's grace to bring strength amidst weakness. As we've noted, priests are sadly dying on the job. Our message is to save lives and strengthen callings.
WHAT PRIESTFIT OFFERS
We are a very young ministry of fraternal outreach to priests. Very quickly we recognized the desire for a network of support and a means of sharing our stories. Facebook seemed to be a very easy first step in the process. Creating a closed priests only support group enabled priests to share their particular stories and struggles in a safe and private format. Our initial month long challenge provided a time table which would motivate our participants to develop virtues past the typical American two-week dropping-off point. Priests started to share their stories. They were ready for a change too.
As of April 2017 the group counted 120 members, with about 30 actively checking material every day. They are from all across the country, and Rome. Priests are losing weight. For some it isn't about loss, but maintenance or dedication to their current way of life after transformations. The challenge gives priests hope for a better and healthier ministry.
Our Presentation Challenge topics are archived and include: how to stay motivated, how to track calories in versus calories out, developing accountability and fitness routines, and how we may be a witness in the church and in the gym. Our tag line, eat clean, be fit, pray well serves to hit three areas of importance in an overall healthy lifestyle for a priest: a good diet, a good exercise plan, and an integral spirituality. In Lent we are focused on biweekly meditations.
Click/tap on the numbers below to read all the pages of this story.
NEXT PAGE: A Vision For The Future – Your invitation to take action.
Pages