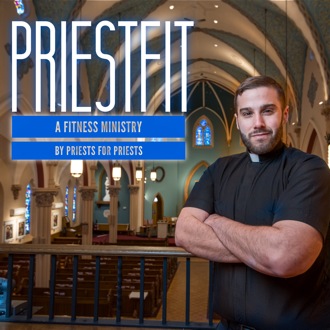 ANOTHER WITNESS IN THE FIGHT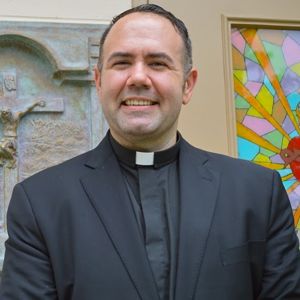 Father Casey Jones, having struggled with weight all of his life, was aware of a need for a change in his first year of priesthood.  "As priests we are always called to offer a gift of self, we are constantly giving, which can be exhausting on all levels: spiritual, emotional and physical. Within my first year of priestly ministry I realized that my own lack of self-care was inhibiting my own ability to fully give myself to the people of God."
A Florida native, having fought obesity his entire life, Father Casey had limited success in various weight loss programs. Seminaries challenge men preparing for the priesthood to set goals in the area of Human Formation, which includes psychological and physical health along with social integration. Together with Spiritual, Pastoral and Intellectual Formation, Human Formation is one of the main "Pillars" or components of priestly formation. "But no matter how convincing someone's reasons are for encouraging you to move into health, unless you are convinced that this is God's plan the true motivation just isn't there, and you will run out of steam."
The reality of priestly ministry and the necessity of a renewed vision of health became apparent. "As priests, we have so little accountability to our own health and I knew that I had to make some changes and challenge myself." While Father Casey, made some changes his first year, he still was unsuccessful in the long-term battle with obesity. "I realized that I needed help. I would lose and gain, constantly. Both parishioners and brother priests would offer encouragement, but when it came to the reality of needing to find time to budget exercise, prayer and healthy eating, the support did not seem consistent with the words of encouragement given. I realized that alone, I was bound to fail."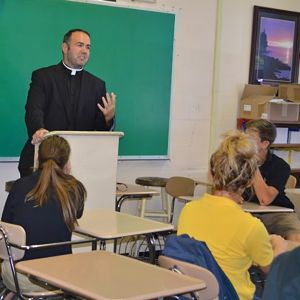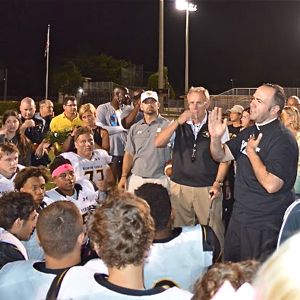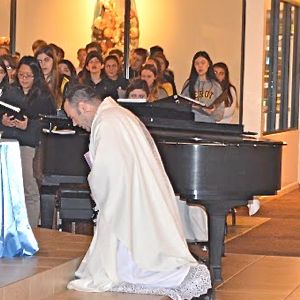 Then a friend who had recently become dedicated to healthy lifestyles among members of the Church told Father Casey about my story.  "I knew I had to reach out to this guy.", Jones observes. We connected first through the Internet and then through phone conversations.
These conversations would almost always turn to the need for an outreach to brother priests. "I literally know priests—young priests who have died because of inattentiveness to their own health. We do not exaggerate when we say lives are on the line. I know mine is as I still continue the battle." Father Casey has lost over a hundred pounds. Having started the journey at close to 350 pounds, he knows he's not "out of the woods" yet.   "There has been progress, and what Father Ryan and I have been for each other in terms of support has been irreplaceable."
Click/tap on the numbers below to read all the pages of this story.
NEXT PAGE: Priestfit Is Born – A practical solution to address the urgent need.
Pages