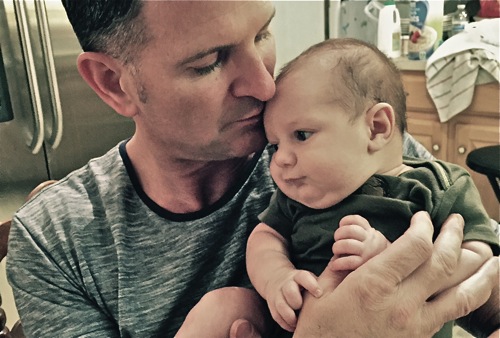 By Brad Bloom, Publisher
In the world of fitness I often talk with people that relate to me and others the significant influence strength training has in his or her life. "When I hold weights in my hands, I come alive," is the kind of sincere enthusiasm expressed. Truth is we touch and hold onto many things: money, ambitions, agendas, pain, regrets, insecurities  --- to name but just a few. I'm thankful that as a son, husband, father and grandfather I also have family to hold. I've learned that the "hold" has an intense power that I believe God has wired deep into each of us. I've learned it because I've felt it. Holding my youngest grandson close to me is powerful. Him grabbing hold of my finger is intensely intimate.
I'm not talking about intimacy that is sensual or erotic in the jaded context of a fallen world and sinful nature. I'm describing the remarkable interface that I believe God has created for our spirits to translate dynamics from the spiritual realm into our physical world by means of tactile moments that are valued. The contact may be deliberate or by chance. Either way it is cherished. It could be subtle or brief but it most certainly works deeper and becomes more indelible as we learn to linger on the bridge between spirit and body.
If you stand amazed that Jesus Christ, the Son of God became human flesh to dwell among us then stand prepared to do a sort of reverse engineering where you as flesh dwell in the realm of the spirit. "On earth as it is in heaven" isn't a nice idea to happen someday in the future, it is a present reality that God facilitates exclusively through His human creation --- YOU! What is profound about this is WE are the vessels commissioned and empowered to facilitate a fresh spiritual release from our finite physical presence.  We're certainly not the center of the universe but as far as we (through scientific observation) can see this is the only place and we are the only physical beings functioning in this capacity.
I'm suggesting that every time we pause from our learned reality, cross the bridge and re-enter the presence of God is a "Big-Bang".  It happens here and now and not only shapes what we can feel and see today but is also a release of God's energy that forever ripples through our universe and shapes eternity.
Pause – Play. Yes, in that order. The mandate is to take a break, then go.


Taking time to pause FIRST before we press the play button and do the workout is a must. If you're not, you are just doing and not being. Nike's slogan, "Just Do It" is a cool motivational catch phrase. But, it falls short of what God has for you. We are more than functional machines we are human --- BEINGS. If you can bring yourself to start regularly practicing the art of pause you'll find something quite remarkable – there is in fact a strong God holding you closely, intimately. Listen and you'll hear His breath – you'll feel it and know it. Now, grab hold of His finger. Hold Him in your hands. Come alive!
Train strong in Christ,
Brad Bloom, Publisher
---
Read the full issue focusing on the theme Pause/Play.