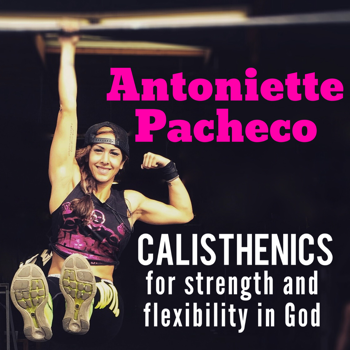 Transformation – it happens to the human body through exercise and it happens to physical fitness the more we do it. One way that fitness evolves is as people weave specific components and experiences creatively into fresh expressions. EXTREME CALISTHENICS is one such expression that combines dramatic forms of body weight training, elements of gymnastics, playground or everyday environments and even mime.
One of the best and most recognized extreme calisthenics athletes is Frank Medrano. His videos and photos inspire a rigorous, almost superhuman, level of physical performance. Often photographed with him is Antoniette Pacheco. Her physical strength, agility and physique is extremely motivational.
Yet, it's her personal story of faith – her spiritual journey, relationship with God and her commitment to share that hope with others that we believe inspires more than an ultimate transformation. Antoniette shows that deep and lasting peace, genuine and robust joy and purpose rooted in the saving grace of Jesus Christ are core strengths that create results and truly make a difference.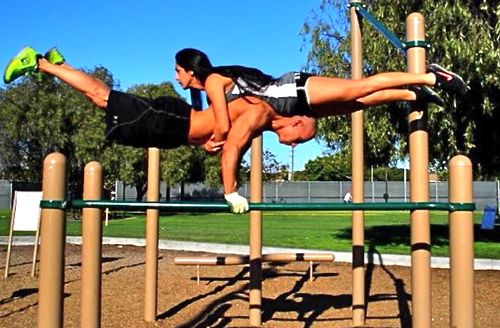 In
this interview which begins on the next page 2, I ask Antoniette to talk about calisthenics, fitness and her faith in God. Then on the following page 3 she shares her personal life story. It is her own testimony of how God has moved in her life. Read both and consider how you can make fitness lively with the creative zest of God.
CLICK TO CONTINUE TO PAGE 2: Read my interview with Antoniette Pacheco.
All photos on this page have been provided by Antoniette Pacheco and are Copyright by their respective owners.
PAGE BREAK
THE INTERVIEW
Faith & Fitness Magazine: Antoniette, it's great to be featuring you in our magazine that focuses on the theme of making fitness lively with the creative zest of God. I've watched the videos of you and Frank Medrano doing Calisthenics Training and Extreme Calisthenics.  Tell us what that is and how you feel it is more lively or creative than traditional types of exercise or gym workouts.
Using your body weight, the workouts will help you discover exactly where your strength and mental grit truly lie. You can do this.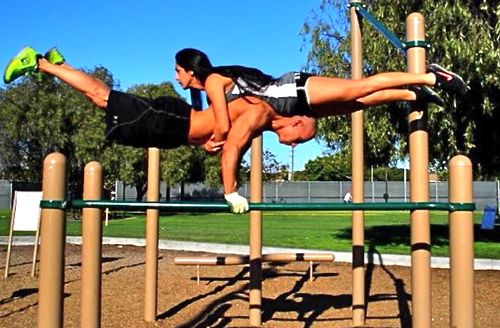 Antoniette Pacheco: Well, calisthenics is any type of body weight training, such as push ups, pull ups, squats, dips, lunges, planks, etc. The beauty of incorporating this training is that it can be done anywhere and at any time. You can modify all the exercises to your level of fitness and goals. While exercising in the gym with weights has it's benefits, I find that body weight workouts unlock a potential to really get creative and make exercising more challenging and fun.
Faith & Fitness Magazine: You and Frank make these calisthenics moves look easy when in fact it takes some significant training and strength to perform at this level. I understand though that you're developing a resource designed to help the beginner or less conditioned get into doing calisthenics.  Explain why you feel calisthenics isn't just for the elite athlete and highlight what our readers can expect to get out of a calisthenics workout.
Antoniette Pacheco: Yes, I'm currently in the works to having a program for those that see the movements, but think it may be too difficult, or even intimidating, for them to try.
My first taste of calisthenics was when I was in the military (U.S Marine Corps). We didn't have access to a gym, but we had to be conditioned for combat. It didn't matter what your background was, in the end, we were all going to meet the requirements of what it took to be a Marine.
That's what inspired me to develop this program. You can do this regardless of your level of fitness or your gender. We're all created equal. You can expect to be humbled during a calisthenics workout. It LOOKS easy, and you think that just because you're only using your body weight, it can't possibly be difficult. The workouts will help you discover exactly where your strength and mental grit truly lie.
All bodyweight exercises are compound exercises, which means multiple muscle groups are being utilized for strength. This is going to help you drastically improve your physique and fitness levels. However, my program will also include some bodybuilding exercises as well. I personally see benefits from both. Ultimately, I want people to be able to choose what works for them by providing a larger spectrum of choices.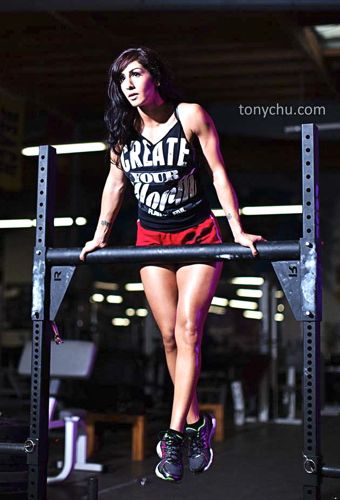 Faith & Fitness Magazine: You don't just do calisthenics, in fact you've described your own workouts as being "training for performance" that are "never planned until that day". How do you do that kind of creative approach to fitness?
Antoniette Pacheco: What I mean by that is I have a general idea of what I want to work out (Legs – Strength/stamina, back, arms, sprints, etc.), but I base my exercises on how much flexibility and mobility I have after I warm up.
When I was training for the Marine Corps I had to make sure I was able to run three miles in twenty-one minutes and circuit train to prepare for the semi-annual Combat Fitness Test. Yet, I had my own physique and strength goals. So that had me changing-up my workouts all the time. This came over time, learning different methods of training from various other athletes teaching me their ways. After a while, I would know what worked for me and what didn't. So getting creative [is intuitive] because I have learned so much about my body.
That's what I feel we should all strive for; to learn what our bodies respond to in order to achieve the results we want. The best advice I give to clients, friends and even myself, is to set a performance goal on which to focus like: Run a mile under six minutes, do five unassisted pull-ups or hold a plank for two minutes.
Looking at the scale won't motivate you as much as getting stronger or faster will. Give yourself a realistic timeline to accomplish this too. If you've never run a mile in your life, it won't happen over night or even in a week. With those performance goals and a healthier approach to your diet, YOU WILL transform physically. It's inevitable.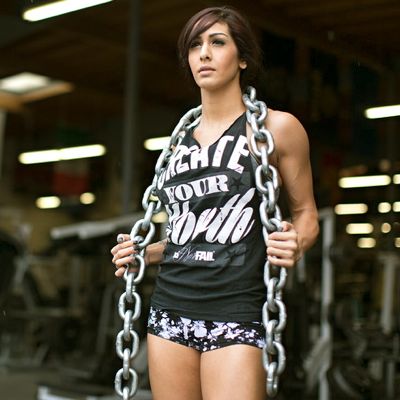 When I have those days I feel lost and unmotivated, I look to His Scriptures or call a friend to grow in confidence.
Faith & Fitness Magazine:  Fitness can be a focused and intense lifestyle. Yet your personal life testimony reveals a very different side to you, one that is introspective, at times fearful or unsure and certainly willing to pursue, submit to and rest in the leadership and peace of God. How do you feel people can move beyond the intensity of fitness into true spiritual freedom and confidence?
Antoniette Pacheco: That's tough to say… I feel like we all have our own unique walk with our Heavenly Father. What has helped me might not be the same for someone else.
Personally, getting to know His Word (the Bible) and surrounding myself with like-minded people has been the root of my strength. I have a couple of friends that I communicate with pretty regularly that are devout Christians as well as fitness addicts. When I have those days where I feel lost and unmotivated, I can look to His Scriptures or call upon a friend to grow in confidence. That's pretty much what I would recommend to someone else as well.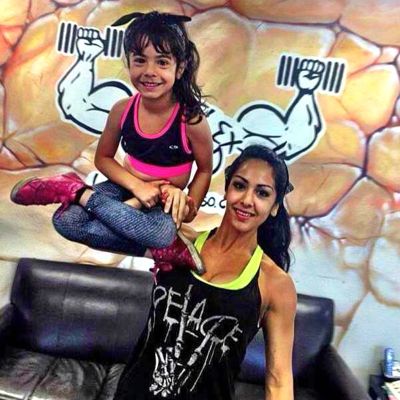 Faith & Fitness Magazine: You're a mom. What does that role mean to you? How do you maintain your relationship with your daughter as a priority and how has that impacted her?
Antoniette Pacheco: It's the greatest honor I could ever have. I love my daughter dearly. She changed my life and is the reason why I became so passionate about fitness. I had complications during my pregnancy and as a result I gained an additional sixty pounds.
After she was born, I was hit with a bad case of post-partum depression. I was overweight, and just felt sluggish and awful. I couldn't do one push up or even one bodyweight squat. The experience forced me to change my diet and join a gym. I went from training once a week, to three, and then five times a week.
Because of my new obsession, I would workout with her, even though she was six months old. I would hold her while I did squats, or lunges. I would kiss her while doing lunges. I would play tag outside with her and climb on the monkey bars. Now more than seven years later, I'm blessed to say we still do all of those things together --- and then some! She does pull ups now, and participates in partner push ups… Her teacher tells me that she motivates and challenges other kids to exercise too! It's the best feeling.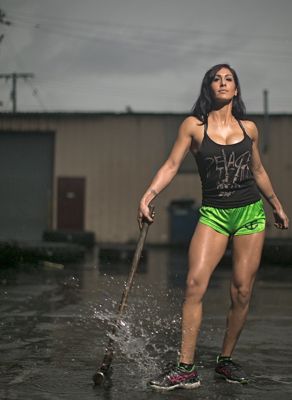 Faith & Fitness Magazine: What do you feel is the difference between living a fit lifestyle and being the life of Christ to others? In what ways do you feel God has most recently been guiding you to step up your game, stretch further and influence others spiritually?
Antoniette Pacheco: I feel those two go hand-in-hand, at least they do in my life. Our bodies are our temples. So I want to take care of it physically as well as spiritually to honor God.
That being said, I can't just expect my body to transform or my relationship with the Lord to get stronger if I don't dedicate the time and work necessary to awaken those changes within me.
Recently, I feel God has been opening up some amazing opportunities. I pray and ask The Lord to guide me on my decisions and to close doors that He knows are not meant for me. This has given me so much peace and sense of purpose. I now get to share my testimony here [in Faith & Fitness Magazine], as well as with others asking me about my business endeavors. This allows me to easily bring up how I pray and seek wisdom about decisions to all sorts of people. I have a tattoo of a scripture on my arm written in Arabic. It's Galatians 6:7: "Be not deceived. God is not mocked; For what a man sows, that shall he reap."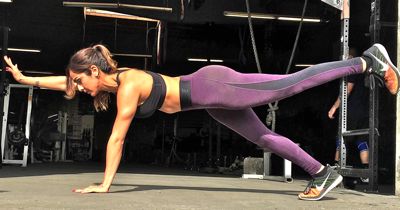 Anyone I train with or that sees it on my pictures or videos asks me about it. It's my way of getting to talk about God. This allows me to minister to others, and at least get them to hear my testimony and so far, it's made people a lot more curious and wanting to learn more about my Savior.
CLICK TO CONTINUE TO PAGE 3: Read Antoniette Pacheco's personal life story. It is her own testimony of how God has moved in her life.
All photos on this page have been provided by Antoniette Pacheco and are Copyright by their respective owners.
PAGE BREAK
THE PERSONAL LIFE STORY
I was nine years old when I converted from Catholicism to Christianity. I came from a traditional Hispanic family that practiced the Catholic faith, so when my step-mother introduced the Christian faith to me and my dad, the change wasn't really accepted by the rest of my family.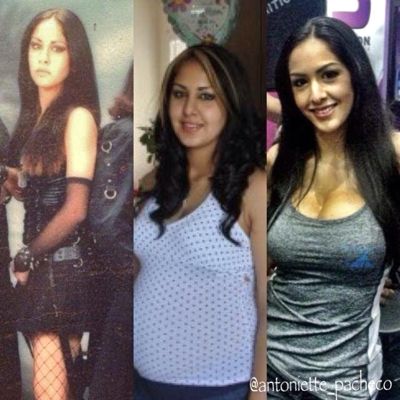 From there, my walk with God grew, but when I hit the teen years, I battled with a lot of inner demons. I went through a very dark period in my life due to a custody battle between my dad and biological mother. For years, I suffered with depression and anger issues. I even dressed Gothic all throughout high school and became very anti-social. For a while, I didn't do anything with my faith; I believed that Jesus Christ dies for my sins, but I didn't maintain a relationship with Him anymore. I ended up getting married at 17 years old and left for the military where my relationship with God definitely took a back seat.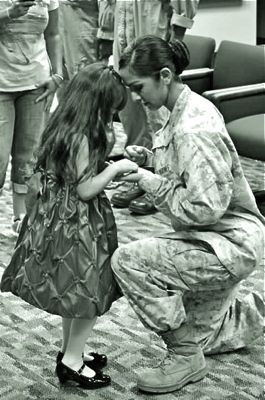 At twenty years old, I was filing for divorce. I had given birth to my daughter and was starting a whole new life as a single mother. During my pregnancy, I had gained a lot of weight from complications. All of this combined, I was going through post pregnancy depression. It was at that point that I knew I had to change if I wanted my life to get better.
I started opening up my Bible again, working out and eating healthier. Everything began to change from there into a much more positive lifestyle. After a year of staying consistent with the routine of going to church and exercising every week, I was growing stronger than ever before from the inside out. That's when my passion for both my faith and my fitness took flight.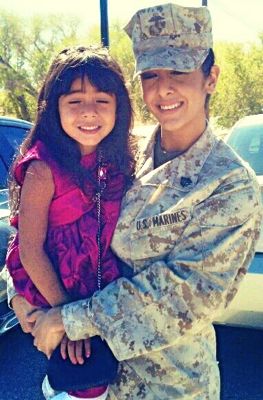 What started out as losing the "baby weight" and getting ready for my Personal Fitness Test with the Marine Corps, turned into so much more. I started training Jiu Jitsu five times a week, hiking every weekend, along with weight training almost every day. After doing that for about another year, I decided to become a personal trainer to help others transform the way I did. Not just physically, but mentally and spiritually as well. It was during that time that I came across a video of Frank Medrano doing Extreme Calisthenics on YouTube. I was so inspired and wanted to take my training to that level.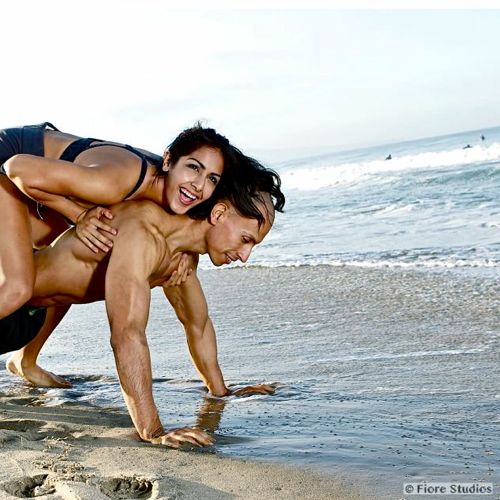 After meeting Frank for our first workout session, I was immediately drawn to learning more about that type of calisthenics training. Being a Marine, I was familiar with intense body weight training, but nothing quite like this. I dove right into it, and we recorded our first video together that went viral world wide, showcasing bodybuilding through both weight training and calisthenics. It was and still is a big part of my training.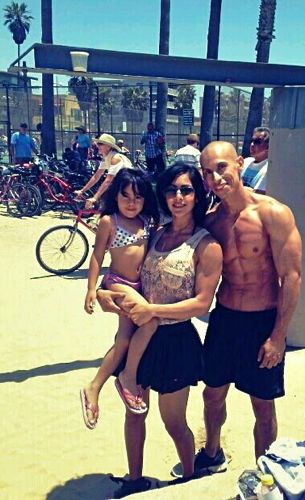 I did suffer a few injuries along the way that have forced me to modify my workouts, but this is a lifestyle. That's what I try to share with anyone who is following my journey. There is no finish line and we can all continue to progress every single day. It all starts with our willingness to seek and find something greater than ourselves.
All photos on this page have been provided by Antoniette Pacheco and are Copyright by their respective owners.