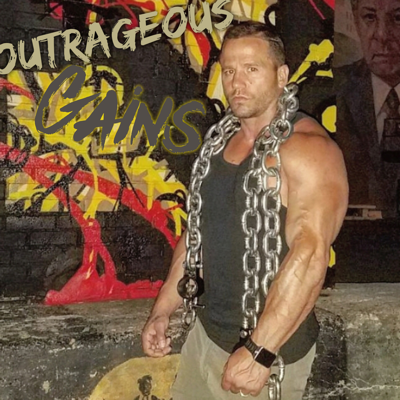 By Anthony Dispensa Jr., Owner, Body Is The Temple
I know a lot about an obsessive interest in bodybuilding. I had one for several years. I became a recluse. I became antisocial. I enclosed myself in a bodybuilding shell. I had no time for anyone who talked or wrote about realistic goals. I labeled those people as whimps and underachievers. I wanted to be huge!
- quote from Hardgainer.com at Bodybuilding.com
If you want to make some outrageous gains in strength and muscular growth then you'll need to commit to some intense training. But that training and the gains that come with it don't have to be obsessive chains that keep you bound to self-centered agendas and out-of-control desires. Even a good thing can be sin.
Instead break free and find how God can give you even greater strength. OUTRAGEOUS training is tough and aggressive yet thoughtful and balanced. Philadelphia based trainer Anthony Dispensa brings a little Italian attitude and a lot of spiritual wisdom to some intense training that will help you have:
- Outrageous Faith
- Outrageous Love
- Outrageous Sacrifice
Use the numbers below to continue reading all the pages in this article. They include videos to help you get some Philly style outrageous gains.
NEXT PAGE – Outrageous Faith + Abs Exercises
OUTRAGEOUS FAITH
Earlier in life I used to make excuses as to why I could never have 6-pack abs, "I was stabbed, I have scar tissue, and I don't have the genetics." But, that was for sure the furthest thing from the truth. I began to have faith. With the right diet, discipline and especially faith those unseen abs began to be revealed. The physical training helped me realize a deeper spiritual truth: God's Word always comes to fruition and never returns void.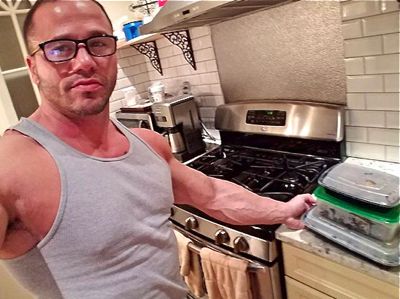 The truth of the matter is you can workout six days a week, twice each day and have all the muscle in the world. If your diet isn't right YOU WON'T SEE YOUR ABS!!!! Well, unless you're the rare genetic freak. Diet, discipline and training go hand and hand. It's a lifestyle. What you do outside the gym reflects in the gym and vice versa.
Like a great 6-pack of abs, outrageous faith requires you to believe in something that you can't immediately see.
The Bible talks about outrageous faith and says, it is the firm foundation under everything that makes life worth living. In strength training and in daily life we all need to do what ever we do with a firm foundation. Stories in the Bible tell of people having tremendous faith - and like a great 6-pack of abs they had to believe in something that they couldn't immediately see. It took persistent and unwavering faith --- outrageous faith to believe in the outcome.  Not one of these people, even though their lives of faith were exemplary, got their hands on what was promised. God had a better plan for us.
Use the numbers below to continue reading all the pages in this article. They include videos to help you get some Philly style outrageous gains.
NEXT PAGE – Outrageous Love + Chest Exercises
OUTRAGEOUS LOVE
I think everyone loves Mondays (in the gym anyway). You know, the one day that every bench is taken? More commonly known as international bench day. I absolutely love training chest, probably because my shoulders stick out further than my chest. They almost make my chest invisible.
So I crush it as hard as possible. If you have issues like me with ginormous front delts, then you know what I'm talking about. Here's a tip to help with this common problem: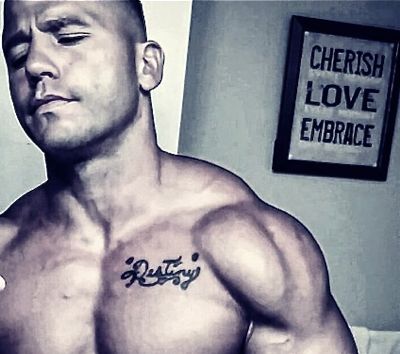 Throw some decline exercises into the beginning of your routine. Shock your body – don't start with the same old flat bench or an incline bench fly routine. Mix it up. Keep the body guessing. Decline presses target the lower division of the pectoralis major.
I absolutely love training chest. Mix it up to create a proportioned balance.
There are two divisions of the pectoralis major. The upper portion is the clavicular head and the lower is the called the sternal head. Because of the angle that the decline provides it will target the sternal head. When the lower portion of your chest begins to grow and protrude, it will create a proportioned balance to the upper chest and front delts causing an appearance of a much larger chest.
Can you tell I have a love for working the chest?! Watch this video for some of my chest training tips.
ANTHONY'S OUTRAGEOUS GAINS CHEST ROUTINE:
DECLINE PRESSES
Begin with decline presses, dumbbells or barbell or even both.
Barbell's make it easier to add more weight hence gaining mass, because of the weight you can add.
BARBELL VS DUMBBELLS
The Bilateral movement behind the barbell press makes it easier to add more weight to where as dumbbells give you a better stretch because of the greater range of motion they are unilateral in movement. Though simultaneous they are unilateral in mechanics.
DUMBBELL FLYES
Dumbbell flyes or a great addition to the lower chest. It is a complete isolated movement. Give it a try you won't regret it.
Superset any of these movements or to really challenge yourself Do a giant set with all of them. A SUPERSET  is when you do two exercises done one after the other. A GIANT SET is when you do all the workouts done one after the other.
Cable crossovers,dips and Pullovers are great finishing/detail moves.
THE SPIRITUAL LESSON I'VE LEARNED ABOUT OUTRAGEOUS LOVE:
At times I get so caught up with training my chest that I begin to neglect my delts/shoulders, because they are far more genetically advanced or developed than my chest is. That reminds me that sometimes as a Christian I forget the grace that was given to me. I know we all have these feelings at times.
We have three enemies; The devil, the world and our flesh. They war against us constantly. Do not forget your first love.
When I was eleven I met a young girl who broke my heart. I cried out to God , "Why can't I have her?'" For years I would run into her briefly. I always wondered why, I somehow felt connected to her. Twenty-two years later that changed. God heard my youthful prayer. But, I had to spend '40 years in the wilderness' (well 22 to be exact) to become the man God wanted me to be in order to have the wife He had planned for me!
She is now my wife, best friend, swole mate, and business partner in our very own Philadelphia gym, Body is the Temple. Instead of showing off our gains alone, we train together and gain together.
We share a common interest other than the gym, Jesus Christ! He is the center of our universe. Without God reigning in my Temple (body) it is just a building.
Here is an outrageous love training tip: invite your spouse to the gym. Help each other. Mold each other. Encourage each other constantly. Satan wants to divide us like he did in the garden. Instead, brothers love your wife as Christ loves the church. Sisters support your husband. Help each other grow in the gym and more importantly in God!
Use the numbers below to continue reading all the pages in this article. They include videos to help you get some Philly style outrageous gains.
NEXT PAGE – Outrageous Sacrifice + Leg Exercises
OUTRAGEOUS SACRIFICE
One thing I've learned throughout my journey as a Christian is:
If it's easy, then you're not doing it right! 
I train six days a week in the gym. Sometimes I train twice per day in order to obtain my physical goals. I discipline my mind and my body.  I abstain from cheat meals and sacrifice wonderful dishes of treats that I would love to have.
It's not like I'm preparing for a competition or anything. I just do it for the discipline. It is through the sacrifice that I grow physically and spiritually. I push myself to levels that I never knew existed or were even possible. I show up to the gym when no one else does. When no one else sees me I'm training hard. I diet right. I study harder. I stay up late. While physical rest is important, sometimes I may only sleep three or four hours.
When it comes to sacrifice and discipline I lead by example. How can I fully train or mentor someone in the Biblical matters of sacrifice if I don't practice those beliefs? Christ-like sacrifice is one of the most outrageous qualities of the Christian faith.
We can take part in the sacrifice that Jesus Christ made every time we die to our self-will.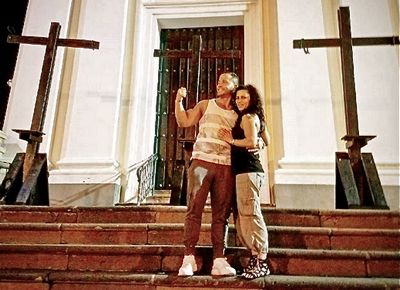 When Jesus took our sins upon Himself at the cross that was the ultimate sacrifice. If my Lord could die for my sins then I want to take part in that and die to myself. Why shouldn't I crucify my flesh daily? We are to be in the world, not of the world.
Sure, I miss the mark --- Everyday! But I am sure willing to get up and sacrifice over and over to be more like Jesus – the one who is my ultimate example and the one I respect the most. Sacrifice is keeping my eyes on God so that I can honor Him as I pursue and obtain goals even when they seem impossible. If you never try you will never know your true potential. 
As you train intensely, make outrageous gains and start to achieve your big size goals, the concept of 'narrow' may seem to be the total opposite of what you think you want. If you truly want outrageous gains spiritually then God requires you to pursue 'the narrow way'. The Bible puts it this way:
Enter by the narrow gate; for wide is the gate and broad is the way that leads to destruction, and there are many who go in by it. Because narrow is the gate and difficult is the way which leads to life, and there are few who find it.
Are you willing to lose your life to find it?
---
This article appears in the Intense Intents section of the Training department of the August/September 2017 issue of Faith & Fitness Magazine.
Save the social media graphic for this article to your device and then share this story, training tips and videos with your contacts through your social media.