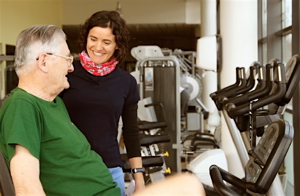 Are you getting the most from your personal trainer? These days, first-class personal trainers know that in order to help their clients achieve their best they must incorporate all aspects of wellness. Mind, body and soul or physical, mental and spiritual training are vital for optimal results. Many clients miss the opportunity to have all of these needs met if they are not seeking a "Christ-influenced trainer" (CIT). From my experience, when spiritual needs are challenged, the overall achievement and success of reaching individual goals is much more attainable. Clients tend to connect more emotionally with "why" they are exercising in the first place. Meet five Christ-influenced trainers that strive to truly train the mind, body and soul.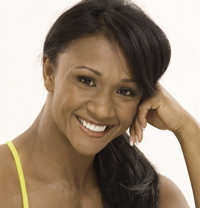 Tanji Johnson, IFBB Figure pro and trainer, Washinton
The fitness industry as a whole is often painted with the broad brush of sexualized images and the obsession with self-representation. Tanji Johnson would like to change that perception. Tanji says fitness gives her a platform to give God credit. Fitness professionals have an incredible opportunity to share their love for Christ with their clientele and fans. Tanji is a great example of how a trainer can use his or her profession to change peoples' lives both spiritually and physically. Passion and genuine concern are the most common characteristics evident among CITs. Trainers have to be motivating, disciplined and inspiring for their clients. Many have those professional traits but may not sense the spiritual calling of having a compassionate heart for helping others. CITs understand how important the spiritual side of training can be when helping clients progress and accomplish their goals.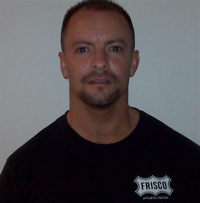 Robert Todd, Personal Trainer, Texas
Robert says one of the biggest benefits of a CIT is that they are able to apply biblical principals like truth, honesty, dedication and integrity. These qualities are often lacking with many trainers these days. Todd says, "A good fitness professional puts the needs of his clients before his own." Trainers must serve and lead. That will earn respect from clients, which will in turn help them become more likely to reach their goals.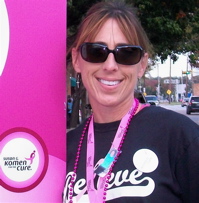 Stacy Nicolas, Personal Trainer, Kentucky
There are many correlations with one's spiritual growth and fitness progression. Nicolas feels that her physical strength would not be possible without her faith. Stacy states, "I truly believe that my faith in God has made me a stronger athlete. The dedication I put into my fitness goals has in turn made me a stronger Christian. I put a lot of time towards my fitness goals. When I think about the time and dedication I put towards my fitness goals, I realize I should be putting double that time toward my spiritual goals. For instance, studying the Bible and volunteering in my community are ways that I spend time with God. There has to be a correlation between the time, dedication and discipline in my spiritual and fitness journey. I know I must use the healthy body God has given me to give back to others."
When trainers have this type of passion the client benefits from the overall experience. Consider working with a CIT even if you aren't a Christian. It is a way to get the most from your training session. You will find that a CIT is a passionate and caring trainer.
Shelle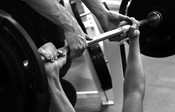 y Tyler, Personal Trainer, California
Shelley says that personal faith should influence every part of a person's life. The Bible says, that whatever you do (no matter what it is), whether in word or deed, do it all in the name of the Jesus giving thanks to God. Tyler states, "Working out may not seem very spiritual, but it can be part of the personal spiritual sacrifice we give to God." Shelley explains that to remain on track with your health and fitness goals requires a lot of discipline. She says, "Getting out and moving whether you feel like it or not can be challenging at times. Someday we may just not feel like reading the Bible or praying, but if we want a deeper walk and an intimacy with Christ, we've got to push forward regardless of how we feel."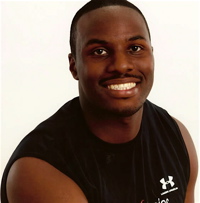 Eric Johnson, Personal Trainer, Texas
Johnson says, "Before you open your mouth people are observing your appearance and forming their initial impression of you. How do you look? Are you approachable? Are you fit? Staying connected to God can bring about a peace and trustworthy aspect to your personality that is transmitted." When you work with a trainer of this caliber you can't help but give a little more. When you sincerely trust your trainer the benefits are limitless physically, mentally and emotionally. Eric states, "To get something you've never had you must do something that you have never done."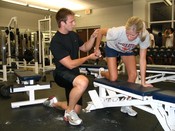 Many of these trainers feel that professional development is intentional in leading the trainer to not connect emotionally or personally with clients. They feel however that unless they are able to connect on that level with clients they can't really address the true "why" that leads a person to seek a trainer.
This is just another reason CIT's should be the most sought after trainers in the industry. When your trainer can motivate you through your emotional "why" then your own personal faith will play a huge role in your growth. Shelley says when she is teaching a class she tries to us words like "us" and "we". She will encourage her clients saying, "We can do this!" Tanji says, "I remind clients that their physical ability is a gift from God." Robert says, "Often God pushes us out of our comfort zone. In order for us to improve physically we have to do the same spiritually." Stacy states that she is her clients' biggest cheerleader. They know she is sincere and that helps them.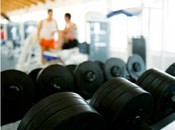 Christ-influenced trainers not only help you achieve your health and wellness goals, they can help you walk closer to God by challenging you spiritually. As a personal trainer, I share my faith more openly because there is more to life than just the here and now. I like the Bible perspective that we should fix our eyes not on what is seen, but on what is unseen. What is seen is temporary, but what is unseen is eternal. If you are looking for a personal trainer then start asking for a Christian trainer. Whether you are a Christian or not you will be challenged through mind, body and soul. Be bold. The greater the demand for trainers that have studied the Bible and are motivated to bring value to the training experience from a godly mindset, the more expectation there will be for fitness companies to hire them.
You won't find true happiness in your physical appearance or self-accomplishment. It is found when you truly train the mind, body and soul. Passionate personal training will help you discover everything you need to know about God and exercise.


Eric Wrona
received his Bachelors degree in Exercise Physiology from McMurry University and his graduate degree in Kinesiology from the University of North Texas. Currently he works with the Cenegenics Medical Institute and Dr. Rexford Anderson Jr. as an Exercise Physiologist and Nutritionist, in Dallas, Texas. He is an all natural bodybuilder. Read
Eric's blog
to get his latest fitness perspectives.