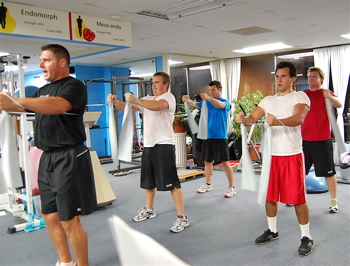 A privately owned fitness facility in Orange County, California is filling the gap between club and church for its members. Michael Mednick and his wife Stacy Rae founded BODY TECHNIQUES, a multi-dimensional, faith-based personal training studio in Huntington Beach that serves all ages and all body types. This "Surf City" couple is part of a growing number of fitness professionals who are pioneering advances in fitness ministry.
Instead of pursuing fitness industry buy-in or Christian leadership approval they have applied their professional knowledge with spiritual wisdom to respond to the needs and interests of their clients. This is an amazing shift away from the assumption that only established fitness clubs and churches can lead in their respective fields. Most traditional health clubs refuse to venture anywhere close to seriously addressing the spiritual concerns of their members. Similarly many churches make a laughable attempt at meeting the physical needs and the active lifestyles of those they serve. So, initiatives like those at Body Techniques provide micro-examples of how individuals with professional excellence and a confident embrace of their faith can create on-target and solid solutions.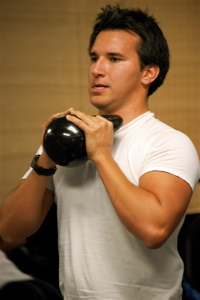 People gain little additional value by simply exercising in the shadow of a big cross. Rarely do they find true satisfaction from club programming that focuses on religious technique. So neither basic group exercise at a church or a fitness club class teaching meditation principles will achieve the results of a truly blended faith and fitness initiative. This new genera of programming demands vulnerability, authenticity, boldness and brokenness.
 
Mednick describes their wholistic approach, "We believe that living healthier and gaining knowledge is essential in empowering members to reach their fitness goals. Unlike most fitness instruction, we feel that it's important to identify a person's specific body type before jumping into exercise. It is the first step toward getting the most beneficial results through any exercise program. Our trainers are certified, experienced, and qualified. Moreover our studio offers a private, fun, safe and energetic atmosphere that gets members motivated to meet their fitness goals." This perspective underscores the commitment to quality that every fitness facility must offer to be viable in the wellness marketplace.
With that same level of professional integrity Michael and his wife have developed both a Men's and Women's Prayer & Fitness Ministry. The mission of these Prayer & Fitness Ministries is to proclaim victory in the health of the men and women who exercise at Body Techniques.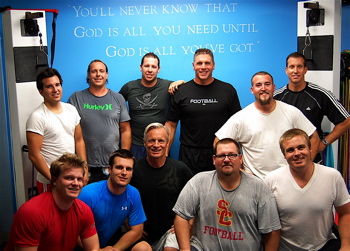 Men participating in the Men's Prayer & Fitness program meet every Thursday evening. The program includes group fellowship, stretching and cardio workouts prior to a group discussion. The group discussion takes place while participants exercise on stability balls and the floor. It gives the men an opportunity to boldly share about what is happening in their lives and with humbleness receive support from the group through prayer. After the group spiritually stretches in prayer they physically stretch doing a variety of workouts. It may include circuit training, jump roping or weight lifting. The workout is never the same so that the exercise maintains a challenging level. Then in the midst of the challenge, rather than the trainer being the primary motivator of the group, the men encourage one another. By ministering to each other in this way a natural environment forms that is conducive to the Spirit of God.
The Women's Prayer and Fitness is held on Wednesday evenings. It is lead by Stacy Rae and follows a similar format.
Body Techniques is a 1,750 square foot studio located one block from the beach. The interior design incorporates signage with inspirational Bible verses. The facility is equipped with treadmills, elyptical trainers, bikes, benches, cable units, a squat rack, barbells, dumbells, kettle bells, bands, steps and more. Since the club is located in such close proximity to the beach the owners provide one more level of service to the community. Body Techniques has an open door approach to those in the area who are hungry and homeless providing them with a place for rest and conversation. In some instances this approachable presence has led to people receiving much needed access to and support at the local detox center. By extending a safe and loving environment, Body Techniques takes wellness into a head-on intersection with the Christian mandate to serve both members and those in need.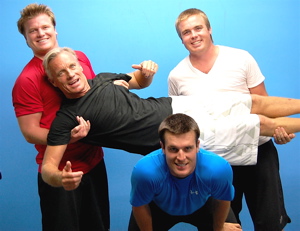 That may not be the kind of environment you would expect to find at a fitness facility where people pay for a membership. It doesn't fit into the usual marketing, features and benefits of a contemporary health club. Nor does it reflect the old and distorted models of a church environment where everyone is pretty, perfect and sanitized. However, this is exactly what members of Body Techniques like most. They are physically AND spiritually engaged on many different levels. As Mednick explains, "We serve our members with an opportunity to get connected with others while working out their body and mind as well."
PREREQUISITES FOR THIS MODEL TO WORK IN YOUR COMMUNITY
- A strong leader needs to be identified to create and drive a vision and strategic plan. A leader committed to a successful business, passion for ministry and strong in professional skills and training will be better equipped to lead with strength.
- A commitment to exploiting the benefits of a "small model" is important. This doesn't mean that the work can't have growth. It is to say that the mega-church or super-club model likely can't facilitate the advances that this kind of work can have within a simple-church or personal-studio environment.
- A community of people eager to be progressive in social concerns, vigorous living and engaged faith are desirable for building a solid foundation of members. Their commitment to the formation of active friendships is key to taking this model of fitness beyond theory into tangible and ongoing results.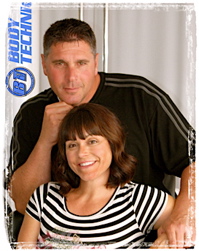 Michael and Stacy Rae Mednick
are the founders and owners of Body Techniques in Huntington Beach, California. For more information about their personal training studio go to
body-techniques.com
.