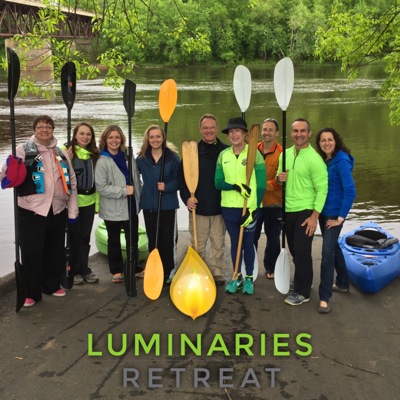 By Amy Sotis, Founder, Luminaries Retreat
Listen to the companion podcast to this article while you exercise, run or drive to work.
You've probably seen the beautifully decorated paper bags holding an illuminated candle or small light marking a pathway, perhaps at Christmas, a wedding, graduation or some other event.  Those luminary bags are the inspiration for the name and philosophy of health and wellness at Luminaries Retreat in St Croix Falls, Wisconsin.
A faith-centered fitness retreat does so much more than illuminate the mind and activate the body. It provides rest, reflection, focus and inspiration --- a well-lit path back to daily life where spirits shine bright.  
A luminary is defined in three ways:
1. a celestial body, as the sun or moon.
2. a body, object, etc., that gives light.
3. a person who has attained eminence in their field or is an inspiration to others.
Beyond the basic definition of luminary, we draw on the Bible where light is a central theme. 
"You are the light of the world, a city on a hill cannot be hidden.  Nor do people light a lamp and put it under a basket, but on a stand, and it gives light to all in the house.  In the same way, let your light shine before others, so that they may see your good works and give glory to your Father who is in heaven. "  Matthew 5:14-16.  "I am the light of the world, he who believes in Me will not walk in darkness but have the light of life."  John 8:12.
The Luminaries Retreat metaphor is that the luminary bag represents the physical body.  Each of us  have a responsibility given to us from God to treat our body with respect and honor as a temple of the Holy Spirit.  If your "luminary bag" is broken (sick, weak, unhealthy, etc) it will affect your ability to shine His light (like the candle inside a luminary).  If wind blows on a candle, it will immediately go out.  However, the luminary bag offers protection to the light inside from the elements outside of it.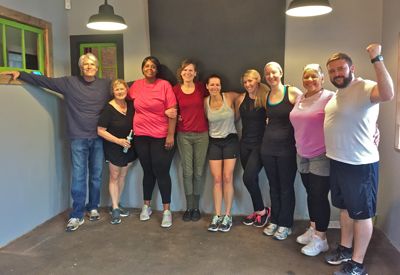 Your body belongs to God. He lives in you and wants to shine His light of hope and grace through you.  A focus on wellness, weight loss, and physical fitness glorifies God in that we are stronger to protect and shine forth the light He's put inside us. 
FITNESS RETREATS FROM ONE DAY TO FIVE WEEKS
We do traveling retreats that last one to two days in length. This can serve as a jump-start for people ready to make a true lifestyle change and begin the process in their own sphere of influence and groups. I share at Faith & Fitness Magazine's Redefined Conference about how we help all kinds of groups organize these retreats and how that can be an important regular part of their programming.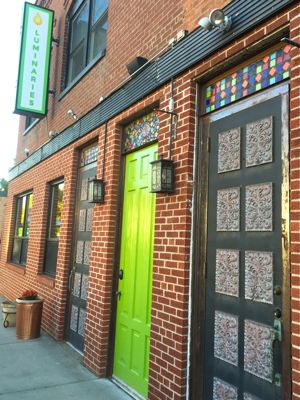 One of my longer-term guest who came for a 5-week retreat to our St. Croix, Wisconsin retreat location shared that before arriving she was using food as an escape route for the stressful life of being a pastor's wife.  She felt she had been sucked dry by all the serving and ministry she had done through the years. Overeating was a way of coping with this.
As the nutritionist, retreat coordinator, and sometimes-counselor, I started off our first week by reminding her (and our other guests) that our bodies can either hinder or help us accomplish what we hope to do in life.  The first step toward healing is establishing that our value is in being a light-bearer.  Often obesity, lethargy, and sugar addiction are the symptoms of much deeper issues that won't be "fixed" by simple dietary plans or workout regimes.
Part of the reason one to five week stays have been effective is because it removes the daily temptations and stresses of normal life and our guests can focus on getting healthy from the inside out and asking the tough "why" questions.  Why do I overeat? Why can't I stick with an exercise program? Why do I feel bad about myself?
FAITH-CENTERED FITNESS RETREATS ACTIVATE THE BODY AND SPIRIT
Certainly we have a lot of fun in at a Luminaries Retreat. There is biking, hiking, kayaking, and other outdoor excursions in nature. These can help build confidence and fuel a wide range of physical fitness.
---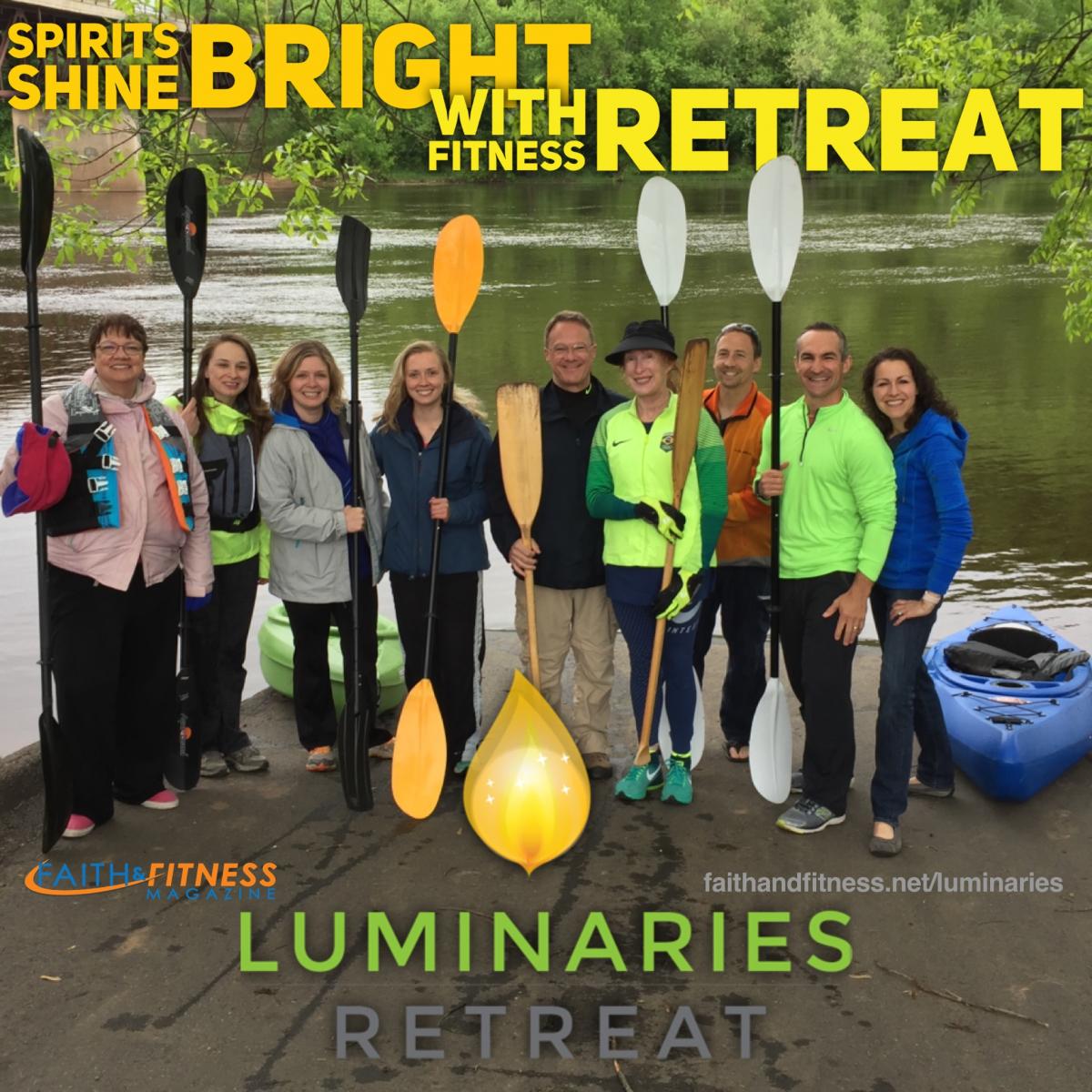 Imagine the possibilities. Read Shout! Outdoor Lifestyle Magazine to get ideas on all kinds of outdoor-activities that people do to be active and celebrate their faith. Amy can work with you to organize outdoor fitness retreat experiences that make the human spirit shine brightly. [Save this graphic and use it to share this story on your social media.]
---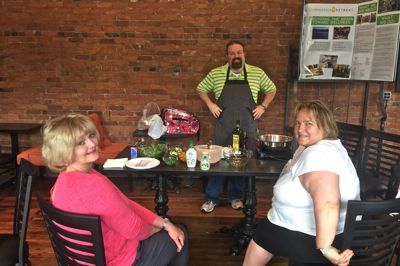 We prepare, cook, and eat a lot of vegetables, lean meats, natural shakes, probiotic-rich foods and beverages that are delicious.  Equally important, we pray together, encourage each other, and serve one another and the community while on retreat.  True health and wellness isn't a quick fix, its a journey.  There is no destination except heaven and while here on earth we have a brilliant light to shine and a strong purpose for using our bodies to glorify God - whatever shape they are in, we have a unique purpose to live as light-bearers in a world of darkness.
One retreat guest recently said that he 'knows' he 'should' make healthier choices to combat his obesity. We presented and helped him embrace a different perspective that God actually cares about those choices. His heart was truly touched and his eyes of understanding were opened as he discovered that it is pleasing to God for him to be free from sugar addiction, the ensuing problems of overeating and a lack of dedicated exercise.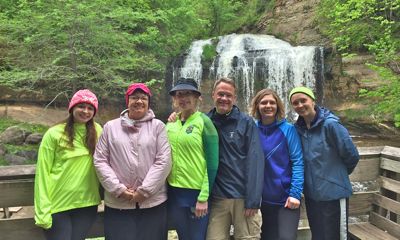 Although we have physicians, nutritionists, and wellness coaches that give seminars on retreat, often times it is the spiritual component that makes the greatest impact on true lifestyle change. Ready to experience that same level of impact? A consistent exercise schedule and diet along with daily spiritual practice are the foundation of a healthy lifestyle. However, budgeting a regular retreat into that lifestyle schedule is important to help you disengage from the normal routine and provide that dedicated break for you to connect with God, reflect, plan and celebrate.
I encourage you to shine your light in whatever sphere of influence you have, and to make food, movement, and sleep choices to strengthen your luminary bag, it is worth it!
---

Make your faith-centered fitness retreat happen.  Amy presents a session on fitness retreat at Faith & Fitness Magazine's Redefined Conference and connects directly with attendees to help them plan and organize their own locally-based fitness retreat or one at their Luminaries Retreat in St. Croix, Wisconsin.
---
PODCAST
Listen to the companion podcast to this article while you exercise, run or drive to work. Troy Ismir of the Divine Wellness Academy talks with Amy Sotis.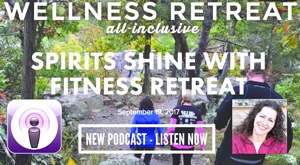 ---
This article appears in the August/September 2017 issue of Faith & Fitness Magazine. Print copies of our EcoPrint Edition to distribute at your church, gym, office, retail location, school or other group location.