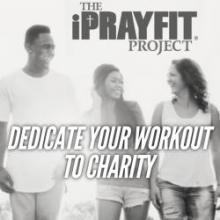 28Nov

Posted by
Brad Bloom
Wow! The onslaught of holiday advertising is fully underway. My unlimited email box is full. It is about this time every year that I want to disconnect from the Internet until after all the voracious calls for my money have subsided. I suspect you and I won't go cold turkey on the web. Instead I hope you'll find this to be a season where you can dig into the free pages of Faith & Fitness Magazine and simply enjoy reading.  This season is a good time to rediscover the art of "chill".
But back to your buying habits for a moment --- If you want to SPEND your money, time and effort in an absolutely brilliant way (and when I say 'brilliant' I mean – let your light shine before people in such a way that they will see your good actions and glorify your Father in heaven.
Jimmy Pena and his wife Loretta do their PrayFit Ministry with a sharp focus on "Seeing health through the Gospel's lens". They have a good grasp of doing fitness for all the right reasons. It's about being mindful of God in every way.
So, I'm totally walking alongside them when I see their iPrayFit Project.  It is a way you can do your physical fitness and your GIVING with a keen attention to being others-minded. It is a bedrock principle of the ministry of Faith & Fitness Magazine and central to my conversations on why the church should be doing fitness and the how-to's of moving beyond faith-based fitness.
The iPrayFit Project helps you to give to others in some very practical ways – not just during the holidays but as part of your ongoing lifestyle. If you really want to increase your purchasing power, this is the way to do it.