Illustrated with photography of FAME/WNSO fitness model Andre Bland.
NOTE: This is a multi-page article (14 pages total) providing you with illustrations to do exercises that strengthen you to do common chores and tasks.  Use the numbers at the bottom of each page to navigate and read all of the pages. CONTACT US, we can help your church, gym or group do the Training For the Honey-Do List exercises as part of a MEN'S FITNESS PROGRAM, which is ideal to do just before a Valentine or Mother's Day holiday.
---
Why do you train? Is your training just for self-gain, or do you train with a specific goal in mind? Do you train with purpose? If you are not enjoying your workouts or feel beat down by your exercise regimen, you may need to reevaluate why you do what you do.
While you are pondering these questions, let me help you expand your perspective. Exercise with a servant's heart. Your workouts, your chores, whatever you do, you should work at it with all your heart, as though you are doing it for God, not for yourself or others. Let me be even more specific --- train for the one you love.
When you get down to the real purpose of exercise, past all the performance, aesthetic, and even health benefits, we exercise to maintain optimal daily function. I can remember my dad one day showing me how to mow the lawn. Shortly after that, the job was mine. Sure, I was being taught discipline, but could it also partly have been because it was getting more difficult for him to complete the chore.
You can design an exercise program that strengthens you to show your love for your wife or girlfriend. By doing specific exercises you'll gain strength to complete the list of chores for which she needs help. Think about your "honey do" list. Not only do I want to make sure that I can physically complete each chore as I get older, but I also feel that completing tasks my wife has asked me to complete is another way for me to show my love for her.
What if we designed an exercise program to better assist the ones we love? What is on your "honey do" list? It might include mowing the lawn, repairing things around the house, lifting and moving furniture, painting, carrying groceries and more. As you know the list goes on and on… The point is you can change the focus of your fitness regime away from yourself and more towards a servant heart attitude. You'll discover that taking your exercise to this new level is key to better helping the ones you love.
CHORE: MOWING THE LAWN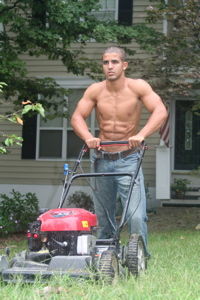 A variety of tasks on your honey-do list like mowing the lawn may require stamina and endurance for an extended period of time.
CARDIOVASCULAR EXERCISES: walking/running/cycling/swimming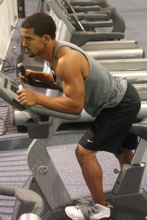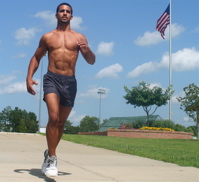 Improving cardiovascular health is certainly at the top of the list when discussing how to best maintain a healthy active lifestyle. An adequate cardiovascular routine will help improve energy levels, maintain a healthy body fat percentage, and decrease risks of several diseases. If you are a beginner, then walking is one of the best forms of exercise. If you are a frequent exerciser then various forms of interval training will be more beneficial.
Of course your options are endless like jumping rope, running, swimming, biking and much more.
Proceed to the next page for squatting and lifting exercises. that help you do chores like lifting and moving furniture and heavy objects.
Pages