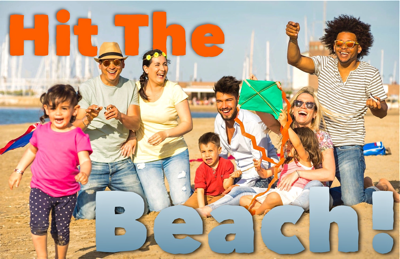 It's summer time! The weather is perfect to get outside and have some fun. Get going and map your way to a local pool, river or lake to be active near home. There are also plenty of travel deals to find cheap flights and a hotel so you can hit the beach.
Wherever you go we have the ideas and resources to help you make a splash with both your fitness and your faith. Don't leave either at home because this summer being physically and spiritually active is the best way to celebrate summer with family and friends AND get social.
By Kelli Calabrese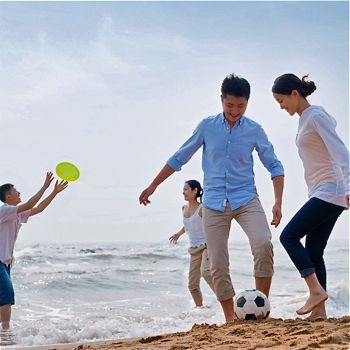 There is something about the beach that soothes the soul, connects hearts, gets the body in motion and clears the mind. Kelli Calabrese shares beach activities your family will love. Kelli says, "I strongly encourage you to start now to plan a beach vacation. We all need to get away with Him, rest and allow time for recovery. There is no better place to do it than in His creation with the ones you love the most." Even families who live close to a beach can find it challenging to take time to "Hit The Beach!" So, as a family do some planning. Mark your calendar, select a location, plan fun and easy activities, commit to a modest budget, think about ways to keep your faith embedded into your activities and experiences then make it happen.
By Jim White

The summer is here and whether you want a 6-pack, broader shoulders, a chiseled chest or A beach-ready body, strength training should be a key component of your fitness plan. Even though hitting the weights will get you toned, there is a method to building a body like Atlas! Trainer and nutritionist, Jim White offers men a simple yet effective approach to training with the beach in mind. Women will find the exercise tips are equally applicable. No matter if you plan to "Hit The Beach" today, a month from now or even once the summer season is passed, you'll find this training advice is what you need to get and stay beach body ready. Look for other articles authored by Jim White in Faith & Fitness Magazine for additional training and nutrition guidance. AND - If you go to Virginia Beach to "Hit The Beach" plan to visit his training studio or do a workout with him on the beach.
By Cove Paddle Fitness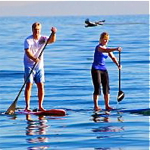 Stand-Up Paddleboarding (SUP) is a relatively new and exciting paddle sport that combines a little bit of surfing and little bit of kayaking to make a fun and excellent upper body workout. Sure, you can buy the gear (and if you're going to do this sport/fitness activity regularly then you should) but many beach and lake destinations have an outfitter. You can search the American Outdoor Association directory or search the destination where you plan to "Hit The Beach".  Though it is a great way to get some physical exercise, it is easier than you think. Away from the busy beach you'll find it a quite retreat to pray and worship God. This is a great activity for all ages. Do it as a group, family or individual experience.
By Jason Rhymer, Training Department Editor
Time to pack for your trip to the beach. Cooler? Check! Sunscreen and umbrella? Check! Towel and camera? Check! Kettlebell?  WHAT??? That's right, Jason Rhymer is here to show you how you can throw that kettlebell around the beach when you throw it into your trunk to "Hit The Beach". Once you watch Beach Training Video #1 for the basics then check out Beach Training Video #2 and add some additional activities to really get you moving. They're both short and loaded with easy-to-do fitness ideas that will add tons (ok just pounds or kilograms) of fun to your beach time.  You may even find some other beach goers watching.  Invite them to join in your impromptu outdoor workout. Who knows, that could lead to a chill beach side Bible study or at least some good conversation and fellowship and maybe a new fitness friend.
---
This article appears in the Family Fitness department of the June/July 2017 issue of Faith & Fitness Magazine.