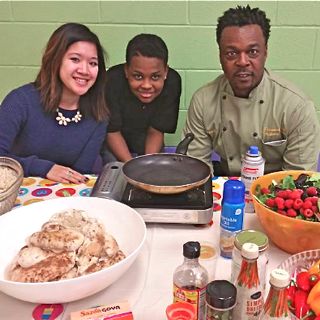 By Anthony Jordan, Invito Personal Chef
Publisher's Note: While re-visiting the Lord's Gym in Cincinnati, Ohio to do an update to my
Faith & Fitness Magazine
story,
Small Cincinnati Gym Is Big Inner City Ministry
, I connected with Chef Anthony Jordan where he is a member. I'm always pleased to find a person that loves God and loves to make incredible food that brings out the nutritional value God intends.
Ethnic foods are some of the most flavorful. However, they can sometimes be especially unhealthy.  Soul food by most accounts is by it's very nature and design "unhealthy". You just can't get the flavor and feel unless it's loaded with fat, sugar, salt and more. At least this is what my African-American friends tell me.
So I set out some time ago in pursuit of healthy soul food. Try all three recipes and I think you'll agree --- Anthony Jordan, the Invito Personal Chef, delivers three Soul Food sensations you can confidently take to your church or gym or next family get-together.
As an African American male that grew up in Cincinnati, Ohio and being 2 generations removed from Alabama, eating soul food was more than just a necessity it was a ritual. Conversations around the table during the Holidays could cause a fight about who made the best Candied Yams, Crispy Juicy Fried Chicken or Savory Collard Greens.
African American family folklore says that some of the best soul food cooks are legends much greater than Hank Aaron or Jim Brown. What's most important about Soul Food is the technique at which it is made. Lemons and secret spices put into my uncles homemade B.B.Q sauce that went on the pork ribs, my mother's delicate Chess Pie or my grandmothers greens. As I reflect I realized that Soul Food is an intuitive style of cooking and that there was never any hand written recipes because the secrets lay in my ancestors 5 God-given senses.
Our nervous system has a specific sensory system or organ, dedicated to each sense. Sight (ophthalmoception), hearing (audioception), taste (gustaoception), smell (olfacoception or olfacception), and touch (tactioception) are the five traditionally recognized. Soul Food demands the full attention of each of the 5 senses.
SIGHT- Seeing the right texture, color and evolution of the food as its being prepared for consumption from start to
finish. We eat with our eyes first. If it's not visually appealing, we might not eat it.
HEARING- The foods way of giving us feedback on if it's being boiled, fried or baked to fast or slow. A fast rapid sound
could mean that's its being cooked to fast and no sound could mean that it's being under cooked.
TASTE- Activates all the 5 senses at the millisecond the food hits our tongue. Classic Soul Food has no recipes because
you cannot measure or calculate intuition.
SMELL- Lets me know if its fresh, spoiled and if the right ingredients were used. Smell releases happy endorphins to
the brain.
TOUCH- Gives me a finished product to hold, savor and share. The finished product is my trophy.
Creative Vision. Listening to your inner chef. Tasting Mother Earth's resources. Fragrance of Victory. Touch of Inspiration. That's Soul Food.
---
ABOUT ANTHONY JORDAN THE INVITO PERSONAL CHEF
Invito Personal Chef provides 5-star Lifestyle Specific Meal Plans that support the nutritional needs of clients. Invito Personal Chef provides high protein, low carb, raw, cleanse, vegan, vegetarian, paleo, and alkaline meals minus the synthetic pesticides, genetically modified organisms and artificial ingredients.
Invito Personal Chef works to improve the health of those served and to help to reduce the carbon footprint. Invito Personal Chef assesses and identifies the risks, needs and problems related to unhealthy eating and nutrition.  For more information go the the Invito Personal Chef website.
---
TIME FOR SOME GOOOOOOOOOD COOKIN'!
Chef Anthony Jordan has crafted three healthy Soul Food recipes: black-eyed peas with turkey necks and greens, chicken-fried with gravy, and one-bowl chocolate cake.  The complete recipes are on the following pages. Cook them for a home meal the first time.  Then cook them again for your church or gym.  They're perfect for doing sweatworking and feeding everyone's apetitite for fellowship.
This is a 4-page article that includes three recipes. Use the page numbers below to read all four pages.
Pages