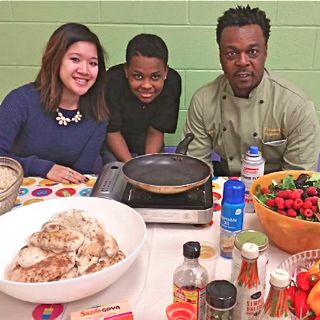 By Anthony Jordan, Invito Personal Chef
Publisher's Note: While re-visiting the Lord's Gym in Cincinnati, Ohio to do an update to my
Faith & Fitness Magazine
story,
Small Cincinnati Gym Is Big Inner City Ministry
, I connected with Chef Anthony Jordan where he is a member. I'm always pleased to find a person that loves God and loves to make incredible food that brings out the nutritional value God intends.
Ethnic foods are some of the most flavorful. However, they can sometimes be especially unhealthy.  Soul food by most accounts is by it's very nature and design "unhealthy". You just can't get the flavor and feel unless it's loaded with fat, sugar, salt and more. At least this is what my African-American friends tell me.
So I set out some time ago in pursuit of healthy soul food. Try all three recipes and I think you'll agree --- Anthony Jordan, the Invito Personal Chef, delivers three Soul Food sensations you can confidently take to your church or gym or next family get-together.
As an African American male that grew up in Cincinnati, Ohio and being 2 generations removed from Alabama, eating soul food was more than just a necessity it was a ritual. Conversations around the table during the Holidays could cause a fight about who made the best Candied Yams, Crispy Juicy Fried Chicken or Savory Collard Greens.
African American family folklore says that some of the best soul food cooks are legends much greater than Hank Aaron or Jim Brown. What's most important about Soul Food is the technique at which it is made. Lemons and secret spices put into my uncles homemade B.B.Q sauce that went on the pork ribs, my mother's delicate Chess Pie or my grandmothers greens. As I reflect I realized that Soul Food is an intuitive style of cooking and that there was never any hand written recipes because the secrets lay in my ancestors 5 God-given senses.
Our nervous system has a specific sensory system or organ, dedicated to each sense. Sight (ophthalmoception), hearing (audioception), taste (gustaoception), smell (olfacoception or olfacception), and touch (tactioception) are the five traditionally recognized. Soul Food demands the full attention of each of the 5 senses.
SIGHT- Seeing the right texture, color and evolution of the food as its being prepared for consumption from start to
finish. We eat with our eyes first. If it's not visually appealing, we might not eat it.
HEARING- The foods way of giving us feedback on if it's being boiled, fried or baked to fast or slow. A fast rapid sound
could mean that's its being cooked to fast and no sound could mean that it's being under cooked.
TASTE- Activates all the 5 senses at the millisecond the food hits our tongue. Classic Soul Food has no recipes because
you cannot measure or calculate intuition.
SMELL- Lets me know if its fresh, spoiled and if the right ingredients were used. Smell releases happy endorphins to
the brain.
TOUCH- Gives me a finished product to hold, savor and share. The finished product is my trophy.
Creative Vision. Listening to your inner chef. Tasting Mother Earth's resources. Fragrance of Victory. Touch of Inspiration. That's Soul Food.
---
ABOUT ANTHONY JORDAN THE INVITO PERSONAL CHEF
Invito Personal Chef provides 5-star Lifestyle Specific Meal Plans that support the nutritional needs of clients. Invito Personal Chef provides high protein, low carb, raw, cleanse, vegan, vegetarian, paleo, and alkaline meals minus the synthetic pesticides, genetically modified organisms and artificial ingredients.
Invito Personal Chef works to improve the health of those served and to help to reduce the carbon footprint. Invito Personal Chef assesses and identifies the risks, needs and problems related to unhealthy eating and nutrition.  For more information go the the Invito Personal Chef website.
---
TIME FOR SOME GOOOOOOOOOD COOKIN'!
Chef Anthony Jordan has crafted three healthy Soul Food recipes: black-eyed peas with turkey necks and greens, chicken-fried with gravy, and one-bowl chocolate cake.  The complete recipes are on the following pages. Cook them for a home meal the first time.  Then cook them again for your church or gym.  They're perfect for doing sweatworking and feeding everyone's apetitite for fellowship.
This is a 4-page article that includes three recipes. Use the page numbers below to read all four pages.
PAGE BREAK
Black-Eyed Peas with Turkey Necks & Greens
My boldly flavored spin on Black-Eyed Peas and Greens replaces salt pork with no sodium Turkey Necks, plus I have added a power green—in this case kale—. With its special cholesterol-lowering benefits, fiber-related components and its support for the body's detoxification system. Soul Food Powerhouse. Serve with cornbread. Super cheap, easy, and a delicious soul food classic. Its Diabetic Approved, Gluten Free, Low Sugar, Low Calorie and Low Sodium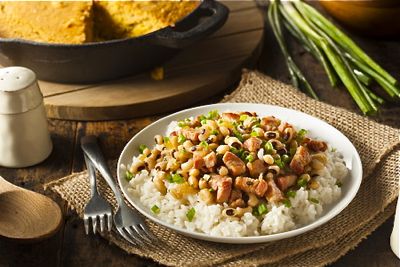 WHAT YOU NEED
· 1 pound turkey necks
· 1/4 teaspoon Mrs. Dash
· 1/4 teaspoon freshly ground pepper
· 1 tablespoon olive oil
· 1 medium onion, chopped
· 2 tablespoons tomato paste
· 1 cup instant brown rice
· 8 cups roughly chopped kale leaves, (about 1 small bunch), tough stems removed
· 4 cloves garlic, minced
· 1 14-ounce can reduced-sodium chicken broth
· 2 tablespoons cider vinegar, or sherry vinegar
· 1/2 teaspoon smoked paprika, preferably hot
· 1 15-ounce can black-eyed peas, rinsed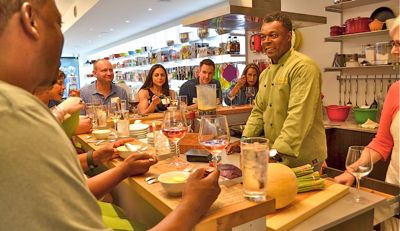 PREPARATION
Active: 30 minutes/Ready In: 45 minutes
1. Sprinkle turkey neck with 1/4 teaspoon Mrs. Dash. Heat oil in a large nonstick skillet over medium heat. Add
the turkey neck and pan sear until golden brown on outside on all sides, then set aside.
2. In medium size pot add onion, tomato paste and rice to the pan and cook until the onion softens, about 4 minutes. Add kale and garlic and cook until the kale begins to wilt, 1 to 2 minutes. Stir in broth, vinegar, paprika and the remaining 1/4 teaspoon salt. Bring to a boil. Cover, reduce heat and simmer until the rice is
done, 15 to 20 minutes. Stir in the reserved turkey neck and black-eyed peas and heat for 1 minute.
· Tip: Smoked paprika is a spice made from grinding smoke-dried red peppers. It's available in sweet, bittersweet and hot. Find it in the spice section of large supermarkets.
Serving size: 1 cup
Per serving: 195 calories; 7 g fat(1 g sat); 4 g fiber; 24 g carbohydrates; 18 g protein; 38 mg cholesterol; 2 g sugars
This is a 4-page article that includes three recipes. Use the page numbers below to read all four pages.
PAGE BREAK
Chicken-Fried and Gravy
Who says you can't make Chicken-Fried and Gravy that isn't loaded with saturated fat and salt? Invito Personal Chef can. My Pan-Fried, Crispy Chicken has less than one-third of the fat and about 80 percent
less sodium. BOOM. It is low sugar and low calorie.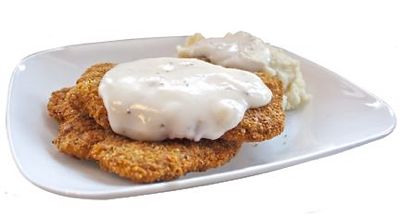 WHAT YOU NEED
· 1/4 cup of coconut flour
· 2 large egg whites, lightly beaten
· 1/4 cup cornmeal
· 1/4 cup whole-wheat flour
· 1/4 cup plus 1 tablespoon cornstarch, divided
· 1 teaspoon paprika
· 1 pound chicken breast, cut into 4 portions
· 3/4 teaspoon sea salt, divided
· 1/2 teaspoon freshly ground pepper
· 2 tablespoons olive oil, divided
· 1 14-ounce can reduced-sodium beef broth
· 1 tablespoon water
· 1/4 cup plain yogurt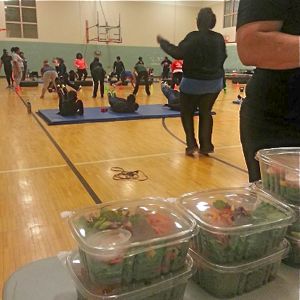 PREPARATION
Active: 35 minutes/Ready In 35 minutes
1. Preheat oven to 350 °F. Coat a baking sheet with olive oil cooking spray.
2. Place coconut flour on a large plate. Place egg whites in a shallow dish. Whisk cornmeal, whole-wheat flour, 1/4 cup cornstarch and paprika in another shallow dish. Season both sides of chicken breast with pinch each of sea salt and pepper. Coat the chicken in the flour, shaking off excess; dip in the egg whites, then coat in the cornmeal mixture.
3. Heat 1 tablespoon olive oil in a large nonstick skillet over medium-high heat. Reduce heat to medium and add 2 pieces of the chicken and cook until browned on both sides, turning once, 3 to 5 minutes total.
Transfer the chicken to the prepared baking sheet and repeat with the remaining 1 tablespoon oil and 2 pieces of chicken. Transfer the baking sheet to the oven and bake until cooked through, about 10 minutes.
4. Meanwhile, add broth to the pan and boil over medium-high heat, stirring occasionally, until reduced to about 1 cup, 3 to 5 minutes. Whisk water and the remaining 1 tablespoon cornstarch until smooth. Remove the pan from the heat and stir in the cornstarch mixture. Return to the heat and cook, stirring, until thickened, 1 to 2 minutes. Stir in half-and-half; season with the remaining 1/4 teaspoon salt and pepper. Serve the chicken topped with the gravy.
Serving size: 3 oz. steak & 1Tbls gravy
Per serving: 243 calories; 12 g fat(3 g sat); 1 g fiber; 18 g carbohydrates; 30 g protein; 83 mg cholesterol; 1 g sugars
This is a 4-page article that includes three recipes. Use the page numbers below to read all four pages.
PAGE BREAK
ONE-BOWL CHOCOLATE CAKE
Easy Bake Chocolate Cake is dark, moist, rich—and no Soul Food Home is without one. I do not cheat with boxed cake mixes that often contain Trans fats. My simple recipe gives you a Soul Soothing cake
with heart healthy canola oil and whole-wheat flour. Vegetarian
Servings: 12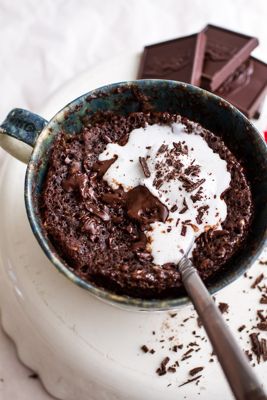 WHAT YOU NEED
· 3/4 cup plus 2 tablespoons whole-wheat pastry flour
· 1/2 cup granulated sugar
· 1/3 cup unsweetened cacoa powder
· 1 teaspoon baking powder
· 1 teaspoon baking soda
· 1/4 teaspoon salt
· 1/2 cup rice milk
· 2 Tbls Truvia sugar
· 1 large egg white lightly beaten
· 2 tablespoons canola oil
· 1 teaspoon vanilla extract
· 1/2 cup hot strong black coffee
· Confectioners' sugar, for dusting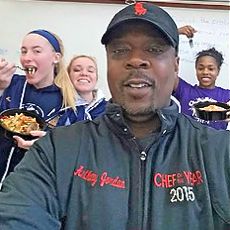 PREPARATION
Active: 25 minutes/Ready In: 1 hour 5 minutes
1. Preheat oven to 350 °F. Coat a 9-inch round cake pan with cooking spray. Line the pan with a circle of wax paper.
2. Whisk flour, granulated sugar, cocoa, baking powder, baking soda and salt in a large bowl. Add rice milk, Truvia sugar, egg white, oil and vanilla. Beat with an electric mixer on medium speed for 2 minutes. Add hot coffee and beat to blend. (The batter will be quite thin.) Pour the batter into the prepared pan.
3. Bake the cake until a skewer inserted in the center comes out clean, 30 to 35 minutes. Cool in the pan on a wire rack for 10 minutes; remove from the pan, peel off the wax paper and let cool completely. Dust the top with confectioners' sugar before slicing.
Per serving: 129 calories; 3 g fat(0 g sat); 2 g fiber; 27 g carbohydrates; 2 g protein; 3 mcg folate;16 mg
cholesterol; 19 g sugars
This is a 4-page article that includes three recipes. Use the page numbers below to read all four pages.
---
This article and recipes appear in the October/November 2016 issue of Faith & Fitness Magazine. Look for more recipes and healthy food content in our Nutrition Department. For more multiethnic faith and fitness resources go to our Enliven Department.