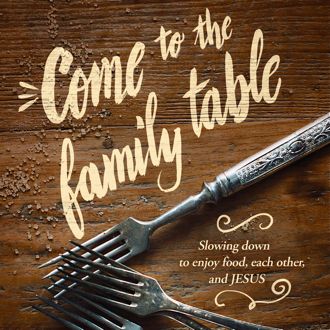 An excerpt from the book Come To The Family Table by Ted and Amy Cunningham with an introduction by Brad Bloom, Publisher, Faith & Fitness Magazine   [NOTE: This is a multi-page article. Be sure to read all 4 pages.]
Some content taken from COME TO THE FAMILY TABLE, by Ted and Amy Cunningham. Copyright © 2016. Used by permission of NavPress. All rights reserved. Represented by Tyndale House Publishers, Inc.
(Vigerous) Exercise + (Good and Proper) Nutrition = Physical Fitness. Many people wonder why all their workouts and diets never really have the results they desire. It's because they don't apply the simple formula above. They don't realize that all the exercise in the world is pointless if your food habits are bad. The same goes with faith in God. The depth of your journey with God is limited if you have low-functioning family and friends relationships.
This is one reason why Faith & Fitness Magazine has both a Family Fitness department and a Nutrition department. If you want to grow strong physically and spiritually then you need to learn how to come to the family table.  Don't make it a chore. Make it a celebration.  It can't be the rare occasion. It has to be the norm that you eagerly desire. I think people try to make God way too mysterious and aloof. He gives us meal times so we can meet our most basic needs through a continually growing dedication to each other and to Him. Chic-fil-A founder Truett Cathy understood this when he said, "Food is essential to life, therefore make it good."
If we are to truly embrace the spirit of this family value and more importantly discover the incredible life God has for us, we have to become connoisseurs of collaborative meals and knowledgeable in cooking spiritual gourmets. God wants you to eat well with those closest to you. You don't have to be a nutritionist or celebrity chef, you just have to be hungry for a better life in Christ.
Continue reading for a passionate perspective by Ted and Amy Cunningham.  Their book Come to the family table helps you to slow down, enjoy food, each other and Jesus. I've selected the following excerpts from their book because I believe they will inspire you to catch the vision and challenge you to do more, go further and be the life of Christ to others.
(Proceed to the next page for BOOK EXCERPTS and to discover how the tool for fellowship is the table.)
Pages